Alexander commits to LSU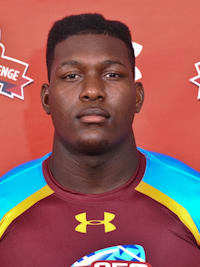 Click
Here
to view this video.
Class of 2016 defensive lineman
Edwin Alexander
didn't need to sit on his LSU offer for long.
The Hammond (La.) St. Thomas Aquinas sophomore committed to LSU on Saturday night after watching the Tigers demolish Texas A&M 34-10 at Tiger Stadium.
"It's close to home," said Alexander, who was offered by LSU assistant Brick Haley on Tuesday. "I've grown up watching LSU."
Alexander, LSU's first pledge in the Class of 2016, said he actually made up his mind a couple of days ago but held the news to deliver it in person.
"I was already going to commit like two days after I got the offer," he said. "I was in the lounge where they eat and the other recruits were at. The coaches walked in so I got with Coach Brick and told him I wanted to commit. He was excited."
Alexander followed up by telling head coach Les Miles.
"He was excited too," Alexander said. "He said they were glad to have me."
Alexander was impressed by the LSU defense that stifled the potent Aggies on a wet, chilly afternoon.
"They played pretty well," he said.
Alexander , who also had offers from Florida and Ole Miss, said he grew up watching LSU stars like Glenn Dorsey and Sam Montgomery. He has attended camp at LSU and regularly attends games, including the win over Auburn this season.
Alexander (6-2 1/2, 300) plays defensive tackle, defensive end and fullback for a St. Thomas Aquinas team (9-3) that saw its season end Friday night with a second-round playoff loss to top-seeded Episcopal, 28-21.
Alexander said he had around 15 sacks and 40 tackles for losses on the season.