Arkansas preview
This is the fifth of a series previewing LSU's Southeastern Conference Western Division opponents in 2016.
Bret Bielema has made steady progress in his first three seasons at Arkansas.
The Razorbacks have gone from no wins to two wins to five wins in the SEC. Last season, the Hogs finished in a tie with LSU for third place in the Western Division. Were it not for a late-game Anthony Jennings to Travin Dural touchdown pass, Bielema would have a 3-0 record against the Tigers.
The next step for Arkansas is to challenge for a division championship. Bielema has the defense for such a task in place with nine returning starters. However, a major rebuilding job lies ahead on offense.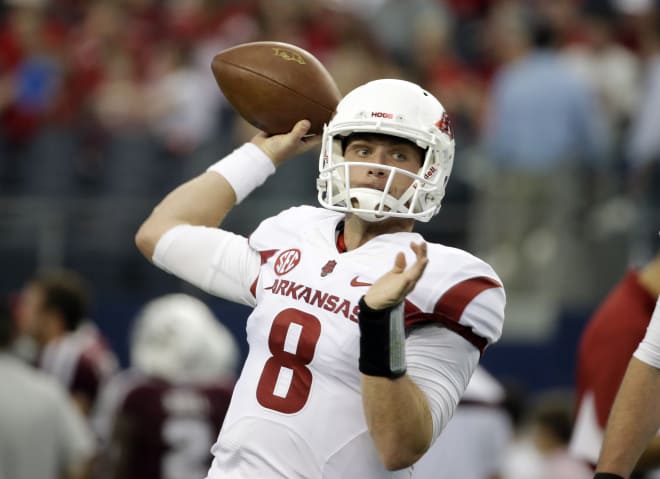 Three-year starting quarterback Brandon Allen has completed his eligibility. Three-time 1,000-yard rusher Alex Collins is in the NFL as is all-star tight end Hunter Henry. Three starters from the offensive line must be replaced.
However, Bielema is quite confident that the Razorbacks offense can be as productive as the one which produced 465 yards and 36 points per game last season.
"I hope everyone begins to understand what we did at Wisconsin when we got it rolling," Bielema said. "We were losing six to eight guys every year in the draft. Even though you don't know who those players are right now, I can tell you who they are.
"At Arkansas, we're not built very sexy. We're kind of a work in progress. We need a lot of time in the bathroom to get ready and come out and look great. At some point, we'll get to where we want to be. When we get there, it just means a little more."
Austin Allen, the younger brother of Brandon, has already been announced as the starting quarterback. Austin Allen threw only three players as Brandon's backup this season. Austin Allen is quickly gaining the confidence of his offensive teammates.
"Austin has been developing really well," said Jeremy Sprinkle, the next great Arkansas tight end. "I see a lot of things that I saw in Brandon with Austin's improvement during the spring. (Offensive coordinator Dan Enos) said that Austin can succeed pretty quick. It'll be fun to see him come in and succeed."
Bielema likes the bloodlines of the Austin family. He does acknowledge that that Austin is not the same person as his brother.
"Austin was raised in the same home as Brandon, but they are different cats," Bielema said. "They have different personalities and different temperaments. Austin's demeanor is different. He's a very aggressive person by nature. We'll have to calm him down rather than juice him up.
"Austin went to the Manning Passing Academy and Archie shot me a text saying that he's one of the more impressive players there. But, the way these defensive linemen are built, things can change in a dramatic way. We'll see how it plays out."
Allen will have a nice group of receivers with whom he can work. Drew Morgan, Dominique Reed and Jared Cornelius combined for 115 receptions and almost 1,800 yards and 19 touchdowns in 2015. Then, the tight end Sprinkle caught 27 passes – six resulting in touchdowns – a year ago.
Replacing Collins may be more troublesome. The two returning rushers are Kody Walker and Rawleigh Williams, who accounted for about 650 yards in backup roles last season. The two returning offensive linemen are center Frank Ragnow and tackle Dan Skipper.
The defense is another story as veterans abound. Five of the nine returning starters on defense are seniors. None are better than end Deatrich Wise and linebacker Brooks Ellis. Deatrich had eight sacks and five quarterback-hurries last season. Ellis had a team-high 102 tackles.
"When Deatrich got here, he redshirted," Bielema said. "He had a lot of good things going, but he didn't have a lot of things going in the right direction. We talked about taking a few things off his plate. Now, he could be one of the premier linemen in the league.
"I'm very, very excited to have Brooks Ellis as a fourth-year linebacker. His football IQ is off the charts, He's a big kid who runs like a deer."
Bielema looks at Alabama as the blueprint for being a championship team.
"It's simple," Bielema said. "Look at Alabama. There's not a team since I've been in the game in coaching that plays as good a defense year in and year out as good as they do. It's a reason they have won so many championships. It doesn't matter what you do on offense."
The Razorbacks closed the 2015 season with six victories in their last seven games. The only defeat came in overtime by one point against Mississippi State. Of course, Arkansas did have that miracle one-point overtime victory against Ole Miss in that stretch run.
"Our goal is to start the season the way we finished last year," Deatrich said. "We usually start getting into a rhythm at the end of the season. If we can have a season like we do at the end, we have great things coming."
LSU vs. Arkansas at Razorback Stadium
Saturday, Nov. 12; Kickoff: TBA
Head coach: Bret Bielema, 18-20 in three years at Arkansas
2015 record: 8-5, 5-3 in SEC (tied for third in Western Division)
2015 postseason: beat Kansas State 45-23 in Liberty Bowl
Returning starters: 16 (5 on offense, 9 on defense, 2 specialists)
Top offensive returnees
RB Kody Walker, Sr. – 90 carries, 394 yards, 6 touchdowns
QB Austin Allen, Jr. – 3 attempts, 1 completion, 33 percent completion, 35 yards, 1 touchdown
WR Drew Morgan, Sr. – 63 catches, 843 yards, 10 touchdowns
Top defensive returnees
LB Brooks Ellis, Sr. – 102 tackles, 6½ tackles-for-loss, 5 quarterback-hurries
DE Deatrich Wise, Sr. – 8 sacks, 5 quarterback-hurries
S Josh Liddell, Jr. – 2 interceptions
CB DJ Dean, Sr. – 2 interceptions
CB Jared Collins, Sr. – 9 pass breakups
Top special teams returnees
PR DJ Dean, Sr. – 7 returns, 93 yards
PR Jared Cornelius, Jr. – 7 returns, 93 yards
KR Eric Hawkins, Sr. – 10 returns, 223 yards
P Toby Baker, Sr. – 43 punts, 41.2-yard average
K Cole Hedlund, So. – 9-of-15 FGs, 58-of-58 XPs
All-SEC candidates: WR Dominique Reed, TE Jeremy Sprinkle, OL Dan Skipper, OL Hjalte Froholdt, OL Frank Ragnow, DL Deatrich Wise, LB Brooks Ellis, DB Henre Toliver.
Next: Texas A&M