Defense weathers storm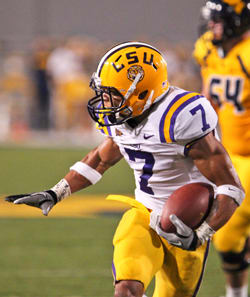 MORGANTOWN, W.V. - It was certainly a different type of challenge for the LSU defense against West Virginia on Saturday night.
For the third time this season, the Tigers faced a spread offense. But, for the first time, this spread offense was built entirely around the pass.
Geno Smith threw 65 passes against the LSU defense. He completed 38 for a school-record 463 yards. But, the Tigers forced four turnovers - two fumbles and two interceptions. The Mountaineers reached the end zone just three times as LSU pulled away for a 47-21 victory.
"This was a new look for us," safety Eric Reid said. "We have never seen anything like that. (Smith) did a good job finding holes in our defense. The quarterback did a great job reading our coverage.
"We have to disguise things better. When we get back on campus, Chief (defensive coordinator John Chavis) is going to tear us a new one."
As has been the case all season, West Virginia relied strictly on throwing the football. Mountaineers backs had 19 carries for 69 yards. But, Smith constantly threw the ball. Tavon Austin caught 11 passes. Smith wasn't sacked. The Tigers were not credited with a single quarterback-hurry.
"It was pretty tough out there," end Sam Montgomery said. "I was going against one of the best pass blockers. I have to increase my efforts. You have to be satisfied with a win and celebrate. But, then we have to go and get better."
West Virginia put together three long touchdown drives - 73 yards, 80 yards and 90 yards. Smith threw scoring passes of 20 yards to Stedman Bailey and 12 yards to Tyler Urban. On those three drives, Smith was 14-of-18 for 236 yards. He was barely over 50 percent - 24-of-47-the rest of the game.
Once again, Tyrann Mathieu made two spectacular defensive plays. First, he stripped the ball from receiver Brad Starks after a catch. LSU didn't turn that mistake into points. Just before halftime, Mathieu deflected and caught a Smith pass. He returned the ball 16 yards to West Virginia's 1 to set up a score.
"We just practice stripping the ball a lot in practice," Mathieu said. "We have a stripping period in practice. On the interception, I tried to anticipate the play. I knew he was trying to get the ball out to the back. I just wished I would have scored a touchdown."

Click
Here
to view this Link.Brandon Taylor and Lavar Edwards came up with LSU's two other takeaways. Taylor intercepted a pass and returned the ball nine yards to midfield. Seven plays later, Michael Ford ran 22 yards for a touchdown to put the Tigers in front 13-0.
Edwards recovered a fumble by Smith at LSU's 45 in the fourth quarter. The Tigers then drove 55 yards in eight plays for their final touchdown of the night - an 18-yard run by Alfred Blue .
Once West Virginia reduced its deficit to six points, the LSU defense stiffened. The Mountaineers got no closer than the Tigers' 43 and ran just two plays in LSU territory the rest of the game. Smith was just 7-of-13 for 58 yards after West Virginia pulled within six points.