Efficient offense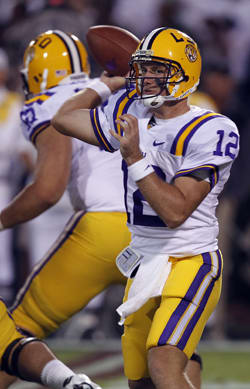 STARKVILLE, MISS. - The LSU running game was good, but not dominant against Mississippi State on Thursday night.
Spencer Ware had a 100-yard rushing night, but the Tigers were not able to merely relay upon their run game for a 19-6 victory against the Bulldogs.
LSU needed Jarrett Lee to complete some passes against a Mississippi State defense, which was designed to shut down the Tigers running game. Jarrett Lee answered with one of the best games of his career - 21 completions in 27 attempts for 213 yards and one touchdown.
"Mississippi State did a great job stopping our run," Lee said. "But, our receivers did a good job of getting open. I just kept getting the ball out there to them. We had to run the ball and then complete some passes. The quarterbacks and the receivers are on the same page right now."
Odell Beckham and Rueben Randle were Lee's favorite targets. The Tigers employed an I-formation with those two individuals as the wide receivers for most of the game. Beckham caught a team-high eight passes for 61 yards. Randle finished with six receptions for 98 yards and a touchdown.
LSU only scored one touchdown - a 19-yard pass from Lee to Randle early in the fourth quarter, which put the Tigers up by two scores. Drew Alleman kicked four field goals. But, three of LSU's five scoring drives covered at least 70 yards.
The Tigers went ahead in the first quarter 3-0 on a 21-yard field goal by Alleman on a 77-yard drive. Lee was 4-of-5 on that series with completions going to four players - Randle, Beckham, tight end Mitch Joseph and Jarvis Landry. An 18-yard completion from Lee to Landry set up the field goal.
LSU went on top 6-3 just prior to halftime on a 42-yard field goal by Alleman. The Tigers moved 70 yards for that field goal. Lee was 5-of-6 on that series, including a 31-yard completion to Randle from LSU's 5 to start the drive. An 11-yard completion to James Wright put the Tigers in field goal range.
The touchdown drive which gave LSU a comfortable ten-point advantage covered 80 yards. Lee was a perfect 5-of-5 on that series - two completions to Randle and three completions to Beckham. The touchdown came on a 19-yard toss to Randle.
"We set the touchdown up earlier in the game," Randle said. "We knew Mississippi State was going to be very aggressive. (Offensive coordinator) coach (Greg) Studrawa told me that I was going to be open, especially when we were in two tight ends. That would leave me with man coverage."
Randle had the most receiving yardage, but Beckham continued to impress everyone with his pass catching. Beckham, a true freshman out of Newman High School in New Orleans, has now grabbed a team-high 15 passes in three games.
"Jarrett knows where I am going to be," Beckham said. "He is putting the ball exactly where it needs to be. I like going deep, but I'll take the short routes any time. It gets your confidence going. It was a crazy feeling coming in here. My ears are still ringing from the cowbells."
LSU lost starting left tackle Chris Faulk to an ankle injury early in the first quarter. Greg Shaw replaced Faulk at that critical position. With the score tied at 6-6, Josh Williford took over for Will Blackwell at right guard. Tigers tailbacks Ware and Michael Ford managed to rush for 157 yards.

Click
Here
to view this Link."It was not a high-scoring game," said Ware, who ran for 107 yards on 22 carries. "They laid some licks on us and we laid some licks on them. We just took what the defense gave us."
LSU did enough on offense to back up a stout defensive performance to register its third victory of the young season and its first in Southeastern Conference play.
"The offense did the things that they needed to do," LSU coach Les Miles said. "Minus one pass, we threw and caught it very well. I felt like we were very accurate throwing. We threw the ball better than we did. At this point, we are playing to the strengths of the defense and getting some first downs."