Five available grad transfers that will impact the 2018 season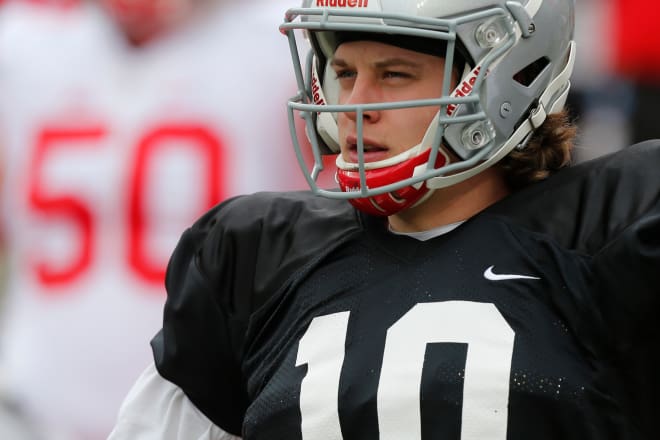 With spring practice officially wrapped up around the country, plenty of talented players are changing locations this offseason via graduate transfer in order to make the most of their remaining eligibility. Earlier in the spring we looked at players who have already found new homes and figure to have a major impact this fall, but there are still plenty of players popping up on the market looking for new homes for next season.
Today we look at five recent names to announce their intentions to transfer and analyze the potential impact they will have on the 2018 season.
As a recruit: Burrow elected to stay close to home and committed to the Buckeyes during the spring of his junior year over Maryland and Iowa State.
As a Buckeye: Burrow redshirted in 2015 and served as J.T. Barrett's primary backup in 2016, completing 22 of 28 passes for 226 yards and two touchdowns. But an injury in 2017 led to Burrow losing his backup job to Dwayne Haskins and by the time he was healthy he appeared as a reserve in five games, throwing for 61 yards on 11 attempts. After graduating, Burrow announced his intention to transfer and he will have two years of eligibility remaining at his new school.
Schools in the mix: Nebraska, LSU, Cincinnati, Florida, Arizona State, Arkansas
Farrell's take: Burrow was a mid-level three star with dual-threat ability coming out of high school who had a solid build and good size but was erratic with his accuracy and had some mechanical issues. His upside was there because he could extend the play and had a good feel for when to tuck and run, but he was a bit too raw to be ranked any higher. Now he's one of the most coveted possible transfers out there.

As a recruit: Ware's recruitment included plenty of twists and turns, including an early commitment to Florida State, then a commitment to Kentucky, followed by a decommitment and a flirtation with Florida, only to eventually end up back in the fold with the Wildcats.
As a Wildcat: After redshirting as a freshman in 2014, Ware made a major impact for the Wildcats, recording 39 total tackles in 11 games. His best season at Kentucky came as a sophomore in 2016, when he had 70 total tackles, including 12 or loss. Ware had another good year in 2017, finishing with 48 tackles and six sacks, but the end of his season was marred by a suspension for the Wildcats' bowl game. He recently announced his intentions to transfer for his final year of eligibility.
Schools in the mix: Florida State
Farrell's take: A mid-level three star, Ware had one big issue that kept him from a higher ranking and that was length and height. He was filled out, strong and had a good first step but he was not as long as you'd like to see in a defensive end. He had a terrific motor and worked off of contact very well.

As a recruit: Warmack collected several offers but made an early decision to follow in his brother Chance's footsteps and committed to Alabama during the summer prior to his senior year.
As a Crimson Tide: After enrolling early in Tuscaloosa in 2015, Warmack worked his way onto the field as a reserve as a true freshman. He saw an uptick in playing time in 2016, appearing in nine games, also as a backup. He took a step back in 2017, redshirting while not appearing in any games for the national champions. Following spring practice, Warmack announced his intentions to transfer and will have two seasons of eligibility remaining.
Schools in the mix: Oregon, Tennessee
Farrell's take: A Rivals250 guard, Warmack was not tall and a bit sawed off but had everything else you'd want. He was a good pass protector, a road grader in the run game and he reset well and showed excellent footwork. He was also very aggressive and physical at times. I thought he was going to be an interior star for Alabama and his upside is still excellent.

As a recruit: An Arkansas native, Gragg saw recruiting interest from programs all over the country, including Alabama and Texas. However, he elected to stay close to home and committed to the Razorbacks in the fall of his senior year.
As a Razorback: Gragg redshirted as a freshman in 2015 and didn't record any statistics as a sophomore in 2016 as he began his career buried behind future NFL tight ends Hunter Henry and Jeremy Sprinkle. In 2017, he showed signs of progress as the year wore along and finished the year with five catches for 61 yards. He announced his intentions to transfer earlier this spring and has two years of eligibility remaining.
Schools in the mix: Pittsburgh
Farrell's take: Gragg was a four-star tight end with good size, solid hands and the ability to make tough catches and stretch the field at times. I didn't see him as a deep threat tight end and didn't like his high end speed but I figured he'd get faster in college. He has talent and can be effective in the right system.

As a recruit: Kennedy had an impressive list of scholarship offers, but elected to stay close to home and play for the Tide over other Auburn and Clemson.
As a Crimson Tide: Kennedy redshirted his first year on campus before playing in seven games as a backup in 2016. He started the 2017 season as Alabama's backup center, but a foot injury prematurely ended his season after only three appearances. Kennedy announced his intention to transfer earlier this month and will have at least two years of eligibility remaining.
Schools in the mix: Tennessee
Farrell's take: Kennedy is similar to Warmack in a lot of ways although he didn't have the same footwork. He wasn't tall but could handle himself in a phone booth and looked to be a very good offensive guard or center for Alabama with some work. He can now live up to that potential someplace else.