Florida preview
This is the second of a series previewing LSU's Southeastern Conference Eastern Division and non-conference opponents in 2016.
In three of the past five seasons, Florida has failed to post a winning SEC record.
However, one cannot really blame the Gators defense for their 10-14 record against league opponents in the 2011, 2013 and 2014 campaigns. Florida gave up no more than 21 points per game in any of those three campaigns.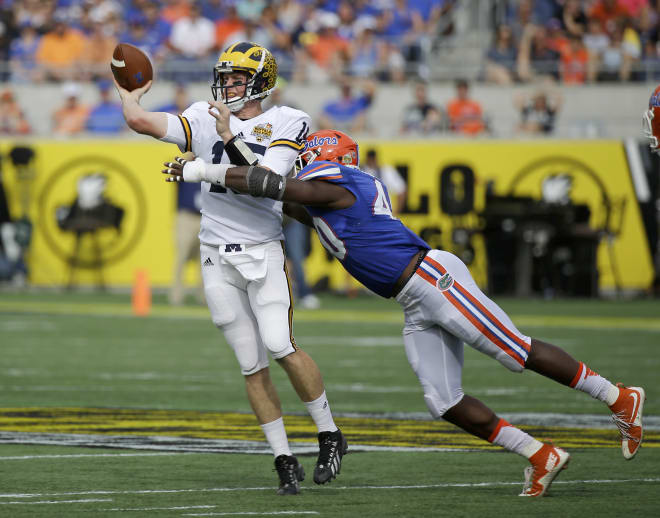 Last year, Florida was the surprise team in the SEC as it won the Eastern Division in Jim McElwain's first season as coach. The Gators went 6-0 against Eastern Division opponents. The only SEC East team which scored more than 14 points against Florida was Tennessee (27).
The Gators are picked to finish behind the Volunteers in the 2016 Eastern Division race. Florida has no significant experience at quarterback or running back this year. So, it will be up to the defense to once again perform at a high level if the Gators are going to be division title contenders.
Florida returns six starters on defense, but none is as productive as linebacker Jarrad Davis. A season ago, Davis was credited with 98 tackles – second to his linebacker teammate Antonio Morrison. Davis had 3½ sacks and seven quarterback-hurries.
"The defense we had last year kind of set the standard," Davis said. "It set the bar extremely high. Everything we do this year is going to be centered about taking it to the next level. You don't want to stay the same in anything you do. You want to get better.
"Our goal as far as the SEC championship (game) is to not only get there, but we want to win. It is a lot to say that you made it because not everyone does. But, we want to say we won it and moved on."
The Gators secondary members have challenged LSU as being 'DBU' in recent years. Florida's defensive backfield was the best in the SEC in 2015. Opposing quarterbacks completed just 54 percent of their passes and averaged 182 yards per game through the air.
The Gators return three starters in the secondary – cornerbacks Jalen Tabor and Quincy Wilson and safety Marcus Maye. Tabor intercepted four passes and broke up 14 others last season. Wilson had two interceptions and five pass breakups. Maye will be the senior leader for the group this year.
"I would like people to go to my side (of the field) because I want to make more plays," said Maye, who had two interceptions and six pass breakups last season. "I am one of those guys the offense has to look out for. So, I take pride in going out and working every day.
"If I'm in the box, I'm on the ball more and the running game is right there. Being deep and covering is also fine. Being able to do both is something I work at all the time. I wouldn't say one is more fun than the other."
The Florida linebacker group will be somewhat inexperienced with Davis the lone returning starter. Two seniors – Alex Anzalone and Daniel McMillian – and sophomore CeCe Jefferson are moving into the starting lineup. Jefferson had 29 tackles, including five behind the line of scrimmage, last season.
"We have a lot of young guys at linebacker," McElwain said. "I like that Alex Anzalone is coming back. Not a lot of people talk about Daniel McMillian. He had a great year for us last year in certain specialty group situations and special teams.
"We're going to have to count on some of the new names to come in and give us some valuable time. They're learning from two great guys in Jarrad Davis and Alex Anzalone."
But, the Gators must find some playmakers on offense. Their two quarterbacks a year ago – Will Grier and Treon Harris – left the program. Kelvin Taylor, who rushed for more than 1,000 yards, is in the NFL. Jordan Scarlett is the top returning rusher with only 181 yards.
The quarterback personnel include two transfers – Luke Del Rio from Oregon State and Austin Appleby from Purdue – and two true freshmen – former LSU commitment Feleipe Franks and Kyle Trask. Del Rio played in three games two seasons ago, while Appleby made 11 starts in three years.
"Luke has familiarity with what we do offensively since he was here last year," McElwain said. "Austin is someone who has played in big stadiums having started in the Big 10. We want to see that competition and what those do to help the two younger guys develop.
"It's been kind of fun to see the veterans who know how to study the install. From that standpoint, they can help the younger guys come along. Here's the good thing. We're really got good arm talent. I'm excited about being able to stretch the field vertically."
Last season didn't end in the best way for the Gators – a three-game losing streak in which they were outscored 97-24. The closest defeat was a 14-point setback to Alabama in the SEC title game.
"We have all talked about that losing streak a lot," junior offensive tackle David Sharpe said. "It was very disappointing to us, but we used it as motivation going into the offseason. Everyone is working hard. We are ready to have our strongest season so far."
LSU vs. Florida at Ben Hill Griffin Stadium
Saturday, Oct. 8; Kickoff: TBA
Head coach: Jim McElwain, 10-4 in one year at Florida
2015 record: 10-4, 7-1 in SEC (first in Eastern Division)
2015 postseason: lost to Alabama 29-15 in SEC championship game, lost to Michigan 41-7 in Citrus Bowl
Returning starters: 13 (6 on offense, 6 on defense, 1 specialist)
Top offensive returnees
RB Jordan Scarlett, So. – 34 carries, 181 yards, 1 touchdown
WR Antonio Callaway, So. – 35 catches, 678 yards, 4 touchdowns
Top defensive returnees
LB Jarrad Davis, Sr. – 98 tackles, 7½ tackles-for-loss, 3½ sacks, 7 quarterback-hurries
DE Bryan Cox, Sr. – 3½ sacks
LB CeCe Jefferson, So. – 3½ sacks
DT Caleb Brantley, Jr. – 3½ sacks
CB Jalen Tabor, Jr. – 4 interceptions, 14 pass breakups
Top special teams returnees
PR Antonio Callaway, So. – 28 returns, 435 yards, 2 touchdowns
KR Brandon Powell, Jr. – 24 returns, 510 yards
P Johnny Townsend, Jr. – 83 punts, 45.4-yard average
K Jorge Powell, So. – 2-of-3 FGs, 10-of-11 XPs
All-SEC candidates: WR/PR Antonio Callaway, OL Martez Ivey, OL David Sharpe, DL Caleb Brantley, DL Bryan Cox, LB Jarrad Davis, DB Jalen Tabor, DB Marcus Maye, K Eddy Pineiro.
Next: Wisconsin