Great opener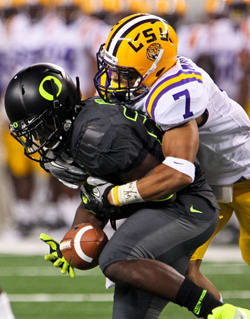 ARLINGTON, TEX. - Considering the recent circumstances surrounding the LSU football program, the team's performance against No. 3-ranked Oregon on Saturday was as good as it gets.
The Ducks certainly appeared to be the team dealing with recent distractions. Oregon was guilty of four turnovers and a dozen penalties. The Tigers were not mistake-free, but they didn't have anywhere the errors of their opponent.
Capitalizing on the turnovers, LSU pulled away for a 40-27 victory against the Ducks in the Cowboys Classic.
"The team played awfully well," coach Les Miles said. "We asked the players to put to the perimeter all the things that could be distractions. The sports media were going to define, clarify and rehash those things. That would play no part in that game. It was a job well done. I'm as proud as I can be."
The Tigers defense and special teams set up the victory by forcing three fumbles and an interception. Two of the fumble recoveries came on special teams. Both of those takeaways resulted in touchdowns. The third fumble recovery also led to six points.
"Turnovers are something Les Miles gripes on," running back Michael Ford said. "He says that you have to win the turnover battle if you are going to win championships. Our defense is very fast. That's why they do best - getting turnovers."
It should come as no surprise that Tyrann Mathieu delivered the first big play of the game for LSU. Eight months earlier, Mathieu was the Cotton Bowl Defensive Most Valuable Player here in Cowboys Stadium. On Saturday, Mathieu gave the Tigers a lead early in the second quarter with another standout play.
Mathieu stripped punt returner Kenjon Barner at Oregon's 7. As he did on more than one occasion last season, Mathieu then recovered the loose ball. Mathieu picked up the ball at the Ducks' 3 and brought it into the end zone to put LSU on top 9-6.
"I had a flashback to the Cotton Bowl," said Mathieu, who made a team-high and career-best ten tackles. "You make that play in front of these fans and it's a big one. That type of play drives our team to make another one.
"I definitely think I have a chance to strip the ball from the returner when he turns his back to me. Those guys are trying just to get away from me. They are not thinking about protecting the ball."
LSU's next two takeaways came in a two-minute span of the third quarter which enabled it take a 17-point lead. With the Tigers on top 16-13, Sam Montgomery knocked the ball loose from running back De'Anthony Thomas. Eric Reid grabbed the ball out of the air at Oregon's 21.
Five running plays later, LSU was in the end zone. Ford ran five yards for the touchdown after four consecutive carries by Spencer Ware.
"Playmakers make plays in crucial times," said Montgomery, who made four tackles - 1½ behind the line of scrimmage. "We have a lot of playmakers on this defense."
On the ensuing kickoff, Craig Loston hit Thomas and forced another fumble. Ron Brooks recovered the ball at Oregon's 41. Six plays later, the Tigers were in the end zone again with Ware scoring from one yard out. LSU had a 30-13 lead and total control of the game.
A key to the Tigers victory was the manner the defense kept the Ducks running game in check, Oregon finished with just 95 rushing yards on 28 carries. LaMichael James rushed for 54 yards on 18 carries. His longest run gained 13 yards.
"We knew we had to stop the run," Montgomery said. "On the films, we saw their speed and we saw their big plays when the defense was not disciplined. That was our goal tonight. We were going to be disciplined. We sat down, got in the gaps and played physical ball."

Click
Here
to view this Link.
Oregon did gain 335 yards and put together three long touchdown drives. However, two of those three possessions came in the fourth quarter after LSU had taken a 20-point lead. Darron Thomas was forced to throw 54 times. He completed 31 for just 240 yards. Tharold Simon had an interception.
"My hat goes off to coach Miles," said linebacker Ryan Baker, who had four tackles. "He came in from day one and said to forget about all the allegations. We had to get back to what we can do. He did a great job preparing things for us."