Hanagriff Says It Could Be the Year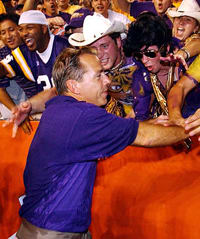 Hanagriff predicts a perfect regular season for LSU
When it comes to prognosticating football games and football seasons, there tends to be more debate than with any other type of football article.
I have always made picks based on what I thought and not what I thought other people thought. Sometimes that gets me lots of grief, but it doesn't really bother me. I pick LSU when I think they will win and against them when I think they will lose, and, despite what others thought, I got 11 of 13 games right last year. Since I started doing this in '93, the only season I missed more than two games was 1998. Of course, I pick on a week-by-week basis, which is far easier than picking before the season.
And, as I've said before, picking November games in August is nearly impossible. That is why I usually beg off on pre-season record projections. However, this year I have a feeling, and it is something that I've been thinking about since June.
I think LSU will win them all.
There, I said it. All twelve regular season games. Leave the SEC Championship Game and a bowl game for later, but I think LSU will run the table.
Why do I think this?
I think LSU will win them all because Michael Clayton is the best player in the SEC. Because they have a starting QB they have won behind (6-1), and have confidence in. Because they have a backup with experience. Because they have talented, young QB's if the bottom falls out.
I think LSU will win them all because they have a great offensive line (like Georgia last year). Because at LEAST three of them will play in the NFL. Because the TE is poised to fulfill his enormous potential. Because they have more than one TE that can play. Because Joseph Addai has waited his turn to be the man without complaint. Because the guys behind him are capable and versatile. Because they have a true fullback. Because they have freshman receivers whose hands are lined with tree sap. Because Jimbo Fisher has personnel more to his strengths.
I think LSU will win them all because nobody got into trouble this off-season. Because their graduation rate is climbing. Because Rodney Reed is one of the smartest players in America. Because good things have been happening to Devery Henderson. Because the academic center has been squared away. Because Matt Mauck's foot doesn't hurt as badly anymore. Because they have a former head coach on staff as basically a consultant. Because the NCAA/academic thing is almost over. Because Corey Webster got a year back and is on course to graduate. Maybe Ronnie Prude, too.
I think LSU will win them all because nobody transferred to Southern. Because the freshman reported in shape. Because the coach didn't chase any strippers, or go to any keggers, or bet in any office pool. Because Marquise Hill and Marcus Spears are lighter and tired of being called disappointments. Because one of those freshman DB's is going to be a stud. Maybe more than one. Because Blue Gay is a senior returning starter, and if it were not for Nick Saban, he might be at Alabama today. Because Kyle Williams was born to play football. Because Melvin Oliver can really rush the passer. Because Lionel Turner isn't selfish. Because Cameron Vaughn is too good to play bad for long. Because Adrian Mayes deserves a break. So does Eric Alexander.
I think LSU will win them all because the type of recruits they got this year have gone elsewhere in the past. Because all the big games are in Tiger Stadium. Because the Tigers have had lots of success in Tuscaloosa. Because the Auburn game is at night. Because Lee Corso was a year off. Because Steve Spurrier now coaches the Redskins. Because Tommy Tuberville has been talking about having the goods this pre-season (see Mike Archer, mistakes). Because the season starts at home like it should.
I think LSU will win them all because Arizona is about to mutiny against their coach. Because Georgia lost all five starting offensive lineman. Because Eli Manning doesn't have a running game. Because the Arkansas game isn't in Little Rock. Because the Tigers own Jackie Sherrill. Because Auburn has a suspect secondary. Because Alabama is going for a record number of coaches in a twelve month span. Because some cocky freshman QB at Florida (not Chris Leak even!) more or less declared himself the starter on media day. Because Lou Holtz is burned out. Because they never play more than five straight games. Because the off weeks are before Florida and Alabama. Because Tiger Stadium will be ROCKIN on October 25th.
I think LSU will win them all because they made good coaching hires. Because defenses shouldn't be able to double Skyler Green. Because more than once this season Dwayne Bowe is going to make a catch that makes everyone OHH and AHH. Maybe Craig Davis, too. Because Alley Broussard is going to run over people, and Justin Vincent is going to run around them. Because Joseph Addai is going to do both. Because good things happen to good people, and Matt Mauck and Marcus Randall are good people.
I think LSU will win them all because their starting running back hasn't gotten more negative attention than anyone not named Kobe. Because they don't have a tight end that nicknamed himself "the chosen one". Because the players didn't sell their 2001 SEC Championship rings on e-bay. Because their starting QB didn't go AWOL before spring practice. Because there was not a single "incident" this off-season.
I think LSU will win them all because I talked to one of the biggest LSU detractors in the world this week, someone who knows the game that I respect, and even he couldn't come up with a game that LSU would definitely lose. Nobody can look at this schedule and say, without a doubt, there is no way LSU wins that game.
I think LSU will win them all because sometimes the year that people point to comes a year early (see: Oklahoma in 2000, Miami in 2001, Ohio St. in 2002), and next year's schedule is a nightmare. Because it's easier when the team ISN'T picked to win a championship.
That is why I believe LSU will win them all. I think this is the year.
Charles Hanagriff is the Sports Director for Eagle 98.1, the LSU Flagship.
GIVE TIGERBAIT.COM A TRY!
The above article is the type of extensive coverage you receive with a TigerBait.com Ultimate Ticket subscription. TigerBait.com has expanded its staff to provide subscribers with the most up-to-date and extensive coverage of LSU football, basketball, baseball and recruiting. Try TigerBait.com's Premium Ticket for 7-Days FREE with no obligation by
Clicking here