His Brother's Keeper: John Emery's ode to his family, state and K'Amari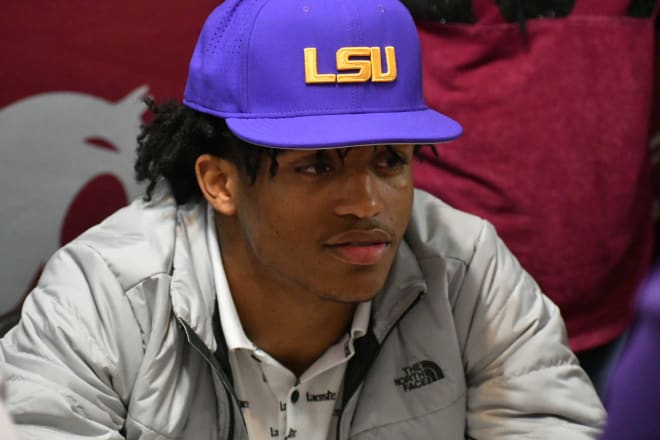 DESTREHAN, La. -- K'Amari is John Emery's best friend, his ride-or-die, and at times, his shadow. She's his biggest fan, his closest confidant, and unequivocally, his biggest soft spot.
She's the polarizing personality of the Trudeaux-Emery clan. She jokes, she dances, and she demands attention. John has no qualms about giving her just that.
K'Amari Trudeaux is 4 years old, but those closest to her suggest she acts at least 15 -- maybe even 30. She's a colossal reason why her Uncle John -- or as she tags him, Uncle Rare Breed -- is signed to play football at LSU.
K'Amari is Emery's niece, the daughter of his brother Mark Trudeaux, his older brother and actual best friend. A role model since birth, Mark has been in prison for two years stemming from a 2016 nightclub shooting in which he was charged with second-degree battery. Until Mark is released, K'Amari is John's smiling, dancing reason why. She is attached to her uncle's hip and had stood on the sidelines for the past two years as Emery blossomed into one of the nation's most sought-after college prospects.
Where else would she be?
Most of all, K'Amari embodies the reason why the All-American running back could not leave the state for college.
"With her dad being locked up, it made me become closer with her," Emery said, his eyes lit up and a smile forming as he discusses his niece. "She's like a little sister or a daughter. It's why I'm so close to Amari. I got to take care of her. That's how I see it."
"That's been going on for a long time," John Emery Sr. added, "since she came into our lives. John's a special kid. He has a heart of gold. That little girl … she demands attention and John don't mind giving it to her. She's a very sweet girl and John is very protective of her and his family, from the smallest one to the oldest one. He's a beast on the field, but a gentle giant off (it)."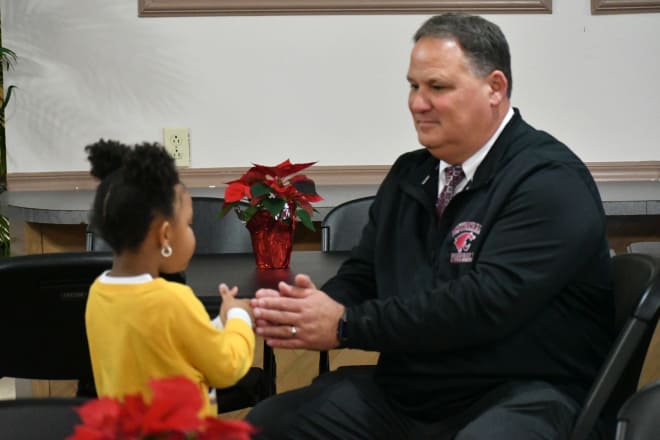 That gentle giant is the No. 3-ranked running back in America, according to Rivals, and five months away from officially enrolling at LSU. He's also quite the comedian.
There are nights Emery spends sprinting on the levees by his home in St. Rose, early morning workouts, post-practice lifts. In between, he's soft-spoken, stress-free and injects the humor into his household.
"When he's home, he's very laid back, funny, a comedian," Emery's mother, Nikki Trudeaux, claims. "Nobody knows that, but he really is a comedian."
Most nights Trudeaux puts in long hours at the hospital as a nurse. On her nights off, she practices interviews with her son in the kitchen, preparing him for the media circus that has tailed him the past year and change as he wrestled with a handful of critical life-altering decisions.
Trudeaux just wants the rest of the world to get to know her comedian as well as she does.
The unbreakable bond between a mother and son could not be more evident in Trudeaux and Emery. It was instilled from both John's mother's and father's sides of the family. On a given Saturday, there could be 30 different members of the family barbecuing, hanging around. That's a typical weekend.
"It originated from both of our parents, my parents, big John's parents. She keeps us very close-knit and always instilled that in us," Trudeaux explained. "Family is first. Family is taken care of. That's just a priority coming from a family-oriented family and it's instilled in my children to take those same values from what I tried to do. It's awesome to see the fruits of your labor come true in John."
It should come as no surprise that naturally, Emery's best friend is his older brother. They're each others' protectors, sources of inspiration and have refused to allow Mark's imprisonment impact their closeness.
Emery speaks to Mark daily, perhaps even more than that on certain occasions. They're the architects of "Rare Breed Only," a popular slogan in the Emery-Trudeaux families that's become a bit of a mantra in John's recruitment over the past year.
It's no riddle. Emery is not your average person, especially on the football field. He made that perfectly evident with a senior campaign in which he accounted for 1,883 yards on 218 carries, including 26 touchdowns. Emery added another 218 yards and two touchdowns receiving on 20 receptions, as well as one 88-yard kickoff return for a score in the second round of the Class 5A state playoffs. He's All-District, All-State, All-World with the rock in his hands.
If the statistics don't suffice as evidence, Emery has his mantra tattooed of his arm, representing the ambition of both him and his brother.
"John and his brother speak a lot," Emery Sr. said. "They came up with the 'Rare Breed Only' together. John's different, and it came from him and his brother. Next thing I know is I hear them talking about it and then it's a tattoo on his arm. We just support them."
Embedded in those daily conversations have been plenty of mentions about Emery's future endeavors. Every offer, every visit became a subject of discussion between brothers.
Those offers offered glimmers of hope for Mark, who has been absent from the bleachers on Friday nights the past two years as Emery established himself as arguably the nation's premier tailback. Living vicariously through his brother, Mark learned of his Emery's commitment to Georgia in July while scrolling through TV on July 29.
"Why did you commit there?" Trudeaux asked Emery. "What's your reason?"
It wasn't so much hostility as much as pure shock. That was widespread throughout the Trudeaux-Emery family, a rather large collection of Louisiana natives that held their tongues when the All-American picked Georgia before the start of his senior year.
Mark didn't mask his emotions like his mother.
Nikki Trudeaux was almost 600 miles away. She learned of her son's commitment from Georgia running backs coach Dell McGee.
A Cajun mother with roots in the ground in Lafitte, La., a passion for all things Louisiana, LSU and the New Orleans Saints, took a step back. Trudeaux, who quietly envisioned her son playing up I-10 in Tiger Stadium, conformed. She purchased custom T-shirts that read, "I'm a Bulldog on Saturdays and a Saint on Sundays."
Trudeaux played the role of supportive mother perfectly.
"What I tell everybody is that this is John's decision, so when he chose Georgia, I didn't know. I was shocked. I was shocked, you were shocked, Louisiana was shocked, everyone was shocked," she recalled. "I felt like if that was what he wanted to do … it was hard. That's my baby, but I'll always support him."
Mark's suspicion of his younger brother heading out-of-state paired with a nervous energy from his mother weighed on Emery. So did the notion that K'Amari wouldn't be around.
John and Mark support each other, perhaps in no more glaring way than Emery's amplified presence in K'Amari's life -- and vice versa.
They're attached, Trudeaux concedes, which isn't shocking considering she's the pulse of their home. She's a viral YouTube sensation because of her unadulterated humor, whether it's in Wildcat Stadium or the McDonald's Drive-Thru.
"Her and John are best friends," Trudeaux said. "John has been there to niece-sit. She thinks she's John's age. She kind of runs John, she keeps him in line. She keeps the whole house inline … She's 4 years old and they're very attached to each other. She doesn't say Uncle John; she says Uncle Rare Breed.
"All my kids are very close and she's my only grandchild. She lives with me and was raised in the household with us. She's not just a niece, but a little sister or daughter to John. He's her protector. The sky's the limit when it comes to what she wants. He spoils her rotten."
She's the reason Emery grew homesick before ever leaving Louisiana.
Mark wasn't there, but his daughter was. She served as a reminder to Emery of his first life lesson: family over everything.
Days after making his first visit to Baton Rouge for LSU's showdown with No. 2-ranked Georgia and witnessing the first signature victory of the Ed Orgeron Era at LSU, Emery rescinded his verbal commitment to the Dawgs. Publicly, he maintains the depth chart didn't offer many opportunities to play as early as he hoped.
Privately, Mark's hesitation transferred through the outspoken K'Amari flipped the light switch on in favor of the home-state team.
"She was gonna realize if I was still at Georgia," Emery points out.
Even K'Amari was silent when Emery committed to LSU on Nov. 13. The whole family was -- except his brother.
When Emery informed Mark of the new path etched, he finally received the reaction he had clamored for. Sheer joy broke through the phone as Mark started to imagine what watching Emery in Tiger Stadium would feel like.
"If I was going to school in California, my whole family would have my back. The only reaction I got was my brother," Emery recounts. "When I told him I committed to LSU, that was a whole mood change for him. His whole expression changed. It was crazy.
"When I committed to LSU, he was like, 'Man, we about to be lit, you know this?' It was amazing. Keeping him happy, everyone happy was great. It's close to family, it's local. If I have problems I can take an hour drive back home and be straight. Especially for my brother, keeping him happy and in good spirits … it was a big decision for sure."
Without question, Emery's commitment to LSU changed his entire life and that of his family.
Trudeaux's shirts -- they're gone.
As Christmas nears, there's a reef hanging on Trudeaux's front door. Half belongs to the Saints. The other half belongs to LSU.
"We're LSU Tigers all day," she smiled. "How it should be."
Orgeron has seen his prized running back on two significant occasions over the past month: an in-home visit, which he labeled as a "celebration," and an official visit on Dec. 14 weekend in which LSU played host to a quarter of the Trudeaux-Emery family.
Eight members of the family tagged along with John for the visit, which Emery deemed as a special experience for them to meet his future coach up close. The family posed for a photo with Tiger Stadium in the backdrop with Orgeron and his wife Kelly, and Emery's grandmother sandwiched in between.
Standing right in front was none other than K'Amari, who expanded her audience from St. Rose to Baton Rouge.
"She's gonna be remembered at LSU," Emery promised. "She brings that remark on people. She sparks people every time she goes into the room. She knows how to make a scene. She knows how to make people laugh. Every time we see Coach Orgeron, he asks Mari to dance. I'm so used it. I just sit back and relax.
"That's Mari," he shrugged. "That's what she do."
It's an impending T-shirt idea, by the way.
The 4-year-old matriarch of the family epitomizes the unspoken enthusiasm of Emery's family, which is only nine months away from seeing this vision become a reality.
The tight-knit group showed up in numbers to Destrehan High School's signing ceremony in numbers on Wednesday, filling the room with purpose and gold to display unrelenting support. Each family member waited patiently to take a photograph next to Emery and wish him luck, and likewise, Emery made sure he got to thank everyone.
Five months earlier, Emery's path was etched to Georgia. A future at LSU was a distant thought. His father drove him all across the southeast -- to Georgia as well as Auburn, Alabama, Florida, Florida State, Mississippi State -- with the purpose of finding Emery a college fit that wasn't too far from family.
Thanks to New Orleans area recruiter Mickey Joseph, who hosted Emery's father while playing quarterback for Nebraska and also maintained a longstanding relationship with Mark Trudeaux from Desire Street Academy and Langston University, LSU was able to remain in the picture. During countless interviews with Rivals -- while being committed to another SEC power -- Emery mentioned remaining in contact with Joseph, which ultimately led to his visit for the Georgia game and a post-game sit-down with Orgeron.
A month later, he was committed.
That resulted in a sea of purple and gold occupying Destrehan's banquet room as grandparents, uncles, aunts, cousins, parents, siblings and K'Amari poured in to witness Emery officially sign with the Tigers. It wasn't always the path Emery saw for himself, but was a hope his parents clung to.
"To be honest with you, that was my wish -- that my son would stay closer to home," Emery Sr. revealed. "There's nothing like having your family here. There are too many disasters. If he's way out in Georgia and they had a disaster out there, I'd be a nervous wreck until I could get my hands on him, see him, hug him and make sure he's good. In Baton Rouge, he's an hour away. I can run. I can get on a bicycle to see him.
"When he said he wasn't interested in LSU at first, we looked at Auburn, Alabama, Mississippi State, schools that were close by. Then, look what happened. It was harder to move 100 family members just to come visit him in his dorm. Everyone wants to be at the game. At the end of the day, we'll celebrate together."
"It was all for John. It was just awesome," Trudeaux added. "LSU is a place where I know they have the same family values we have. After meeting the whole LSU staff, the wives and the children this past weekend, it put a stamp on everything. If I had a question, I have no more. LSU is our family."
That family will be almost complete in the near future. Trudeaux estimates that Mark could be released from prison in about a year. The family is currently weighing a few potential avenues, but a year is a likely time frame.
The last time Mark saw his younger brother suit up, he didn't have a college offer. Georgia wasn't in the picture. Neither was LSU. Emery's current path to the SEC was an aspiration.
A year from now, Emery will be wrapping up his first season as LSU's running back, a vision the coaching staff sold him on as a junior recruit. A freshman All-American, a first-team All-SEC selection as a sophomore and a 2022 graduate before entering the NFL Draft.
More than accolades or hardware, Mark's return to the stands is the most-anticipated for this inseparable family.
"Man, he's ready," Emery affirms. "I talk to him almost every day and he tells me he'll be rocking that No. 4. He's hype about it. I can't wait for him to see me play. It'll probably be an emotional day for me, looking up to him as a big brother, it's gonna mean a lot. I'm looking forward to it because he's been locked up for two years and it's been a lot of our whole family's chest. We've been trying to stay strong and push through it, and everything will be fine when he gets out."