Jacksonville State preview
This is the fourth of a series previewing LSU's Southeastern Conference Eastern Division and non-conference opponents in 2016.
LSU football fans should have some knowledge of Jacksonville State.
That school was the landing point for quarterback Ryan Perrilloux after he was dismissed by coach Les Miles from the Tigers program some eight years ago. Perrilloux played out his college career with the Gamecocks.
Jacksonville State is LSU's FCS opponent on the 2016 schedule. The Gamecocks have a 23-4 record in John Grass' two seasons as coach. Jacksonville State, which has not lost a game while winning the Ohio Valley Conference title the last two years, was beaten by North Dakota State in the 2015 FCS title game.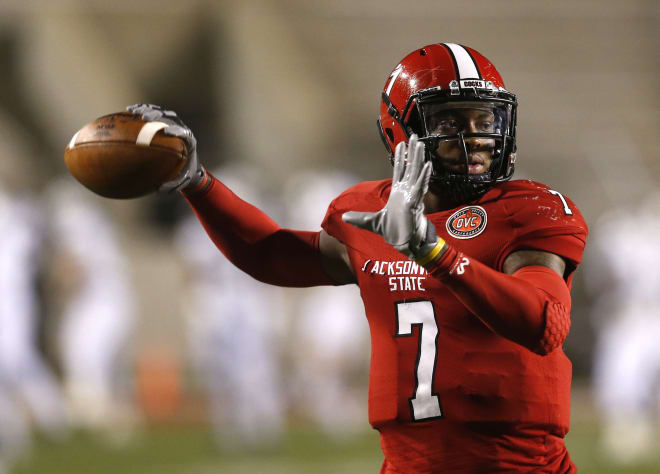 The leader of this surge is another quarterback – more productive than Perrilloux. Eli Jenkins is one of the best college players, regardless of division. Jenkins, Clemson's Deshaun Watson and Houston's Greg Ward were the only Division I quarterbacks to pass for 2,700 yards and rush for 1,000 yards last season.
Jenkins, the pre-season nominee for OVC Player of the Year, completed 61 percent of his passes for 2,788 yards and 21 touchdowns in 2015. He also rushed for 1,161 yards and 15 touchdowns. Jenkins has accounted for more than 8,300 yards in his Jacksonville State career.
Due to the fact that he earned his degree from Jacksonville State, Jenkins was free to be a graduate transfer. According to Grass, about a dozen FBS had behind-the-scene discussions with Jenkins. It was rumored that Auburn was one of those schools.
"There was never a thought of leaving," Jenkins said. "I have a family feel for my teammates. I always wanted to be a Gamecock. I started here and I wanted to finish here. There was a time I didn't even think I was going to college.
"Then, I did get a couple of offers and Jacksonville State gave me the offer to play quarterback. I give it all to (Jacksonville State). I feel like they don't owe me anything. I feel like I do owe them something. They gave me an opportunity that nobody else gave me."
The offseason was not an easy one for Jenkins, who was charged with misdemeanor domestic violence. Jenkins also needed surgery for a torn labrum. The domestic violence charge was dropped by a Jacksonville (Ala.) municipal judge.
"I think (Jenkins) has handled everything great," Grass said. "He has handled it like he handles everything else – with a lot of character and a lot of class.
The school conducted its own investigation into the incident involving Jenkins. Gamecocks Athletics Director Greg Seitz concluded that Jenkins did not violate the school's code of conduct. This issue had a huge effect on Jenkins.
"The experience opened my eyes big," Jenkins said. "I think about stuff more nowadays. Seven or eight months ago, I wouldn't think about my actions and what was going to come after I did it. Now, I think what's going to happen after I do something."
It will not be an easy task for Jenkins to lead Jacksonville State to a third consecutive OVC championship although it is the favorite. There are just two other returning starters on offense – one being standout wide receiver Josh Barge, who had more than 1,100 receiving yards last season.
The Gamecocks lost their top two running backs, including Troymaine Pope. Last year, Pope rushed for an OVC-record 1,788 yards. Roc Thomas, who transferred from Auburn, will now be Jacksonville State's No. 1 running back. Running back Josh Clemons was granted a sixth year of eligibility.
"Having Thomas definitely helps," Grass said. "You're sitting there and you lost two great running backs. We like to have three backs who are going to get a lot of carries."
The Gamecocks will need their defense to be more efficient than a season ago. In three of its four FCS playoff games, Jacksonville State allowed at least 35 points. The Gamecocks return five defensive starters – the best being end Darius Jackson and cornerback Jaylen Hill.
LSU vs. Jacksonville State at Tiger Stadium
Saturday, Sept. 10; Kickoff: 6:30 p.m. CDT (ESPNU)
Head coach: John Grass, 23-4 in two years at Jacksonville State
2015 record: 12-3, 8-0 in OVC (first)
2015 postseason: beat Chattanooga 41-35, beat Charleston Southern 58-38, beat Sam Houston State 62-10, lost to North Dakota State 37-10
Returning starters: 9 (3 on offense, 5 on defense, 1 specialist)
Top offensive returnees
RB Jarren Johnson, Sr. – 12 carries, 73 yards, 1 touchdown
QB Eli Jenkins, Sr. – 374 attempts, 227 completions, 61 percent completion, 2,788 yards, 21 touchdowns, 8 interceptions; 192 carries, 1,161 yards, 15 touchdowns
WR Josh Barge, Sr. – 92 catches, 1,145 yards, 11 touchdowns
Top defensive returnees
LB Joel McCandless, Jr. – 79 tackles
DE Darius Jackson, Jr. – 19 tackles-for-loss, 7 sacks
DE Desmond Owino, Sr. – 7 quarterback-hurries
CB Jaylen Hill, Sr. – 4 interceptions, 7 pass breakups
Top special teams returnees
PR Josh Barge, Sr. – 22 returns, 217 yards
KR Lawon DeBardelaben, Sr. – 18 returns, 410 yards
K Connor Rouleau, Jr. – 17-of-27 FGs, 65-of-68 XPs
All-OVC candidates: WR Josh Barge, OL Dylan Cline, OL Casey Dunn, OL Justin Lea, QB Eli Jenkins, DL Darius Jackson, DL Desmond Owino, LB Joel McCandless, DB Jaylen Hill, KR Lawon DeBardelaben.
Next: USM