Keeping juniors around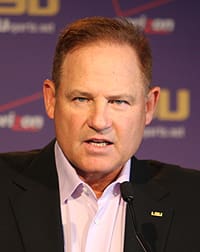 Very rarely does LSU coach Les Miles talk about the future during the course of a season.
Miles pulled a little bit of a reversal when asked about his plans for keeping the underclassmen around for their senior season. It was apparent that Miles does not want his program to take a hit like last year when ten players, excluding Tyrann Mathieu, gave up eligibility for the NFL.
There has been talk that almost as many underclassmen are considering put their name in the 2014 NFL draft.
"It is always going to be the (player's) decision, along with family and friends," said Miles at his weekly media luncheon Monday. "There is a different consciousness because of the guys who departed last year and the experience they have had there."
Just five of those ten early departing players last season are on active NFL rosters - Michael Ford (Chicago), Bennie Logan (Philadelphia), Barkevious Mingo (Cleveland), Kevin Minter (Arizona) and Eric Reid (San Francisco). Ford and Minter have seen very little playing time.
Sam Montgomery and Brad Wing are not with any team at this time. Chris Faulk, Tharold Simon and Spencer Ware are out with injuries. Ware (Seattle) was the only one of those three players who had earned a spot on the 52-man roster.

"I have been as animated and opinionated and forthcoming as I can be," Miles said. "Each guy has a different opinion and each guy has different criteria he holds. What we have done is ask them to take into account the advice they get back from the NFL.

Miles praised everyone involved in the program for the 34-10 victory against Texas A&M last Saturday.
"That game was a piece for our program," Miles said. "It was something for all the guys who contribute something to the program - trainers, equipment managers, coaches, the great performing players and the guys who play in anonymity. That's the kind of game plan we had.

With the victory against the Aggies, LSU still has an opportunity to win at least ten games for a fourth consecutive season. The Tigers must defeat Arkansas on Friday and win a bowl game to finish with ten victories. Miles believes the result Saturday will help this team reach that goal.
"Saturday's game was something the players pointed to," Miles said. "They wanted to play well. The energy they had was based on their want to play. That experience is something they can use for the rest of the season."
According to Miles, three players have injuries - Beckham and safeties Corey Thompson and Ronald Martin. Thompson may miss the game against Arkansas, while both Beckham and Martin should be available.