LSU-Alabama pre-game notebook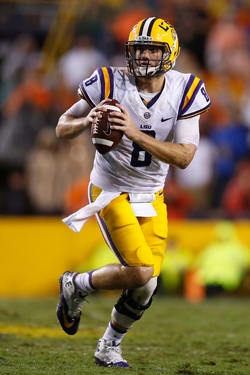 Since the Southeastern Conference expanded to 12 teams in 1992, LSU has represented the Western Division in the league title game five times - 2001, 2003, 2005, 2007 and 2011. In that period of time, those are the only five years in which the Tigers defeated both Auburn and Alabama.
If LSU defeats the Crimson Tide on Saturday, it will complete a sweep of the Alabama schools in 2013. But, the Tigers need help to represent the West in the SEC championship game. Both Auburn and Alabama must lose another league game for LSU to have a chance to reach Atlanta.
The Tigers have been the one team which has caused Alabama problems since 2000. The Tigers have beaten the Crimson Tide nine times since 2000, five times since 2005 and three times since 2007. No team has had more success against Alabama in that stretch.
For the 14th time in school history, LSU will be facing the No. 1 team in the country. The Tigers have a 2-10-1 record in those games. LSU beat No. 1 Florida 28-21 in 1997 and No. 1 Ohio State 38-24 in the 2007 national championship game.
Under coach Les Miles, the Tigers have lost three times to top-ranked teams - Alabama (27-21 in 2008), Florida (13-3 in 2009) and Alabama (21-17 in 2012). LSU has only played three No. 1-ranked teams on the road - losing 13-0 at Maryland in 1955, 42-18 at Florida in 1994 and 56-13 at Florida in 1996.
Since Miles became LSU coach in 2005, three games against Alabama were decided in overtime. The Tigers won overtime games in 2005 and 2011, while losing in overtime in 2008. LSU has a 5-2 record in games following an open date under Miles. The Tigers have a 3-1 record against the Tide in these games.
Comebacks have been the recent script in this series. The team which has been leading at halftime has won just four of the past 11 games - LSU in 2003 and 2006 and Alabama in the 2011 national title game and 2012.
The Tigers lead the SEC in passing yards per attempt (10.7), passing yards per completion (16.4) and third-down conversions (57.6 percent). LSU is tied with Auburn for No. 1 in rushing touchdowns with 28.
Only Oregon State's Sean Mannion has more passing plays of at least 20 yards than Zach Mettenberger this season. Mettenberger, along with Texas A&M's Johnny Manziel, has 51 such plays - six fewer than Mannion.
Only three running backs have more than Jeremy Hill's 12 rushing touchdowns. Colorado State's Kapri Bibbs is the leader with 15, while Navy's Keenan Reynolds has 14 and Auburn's Tre Mason has 13. Hill has nine 100-yard rushing games out of his 19 career games.
Hill needs 78 yards to become LSU's first 1,000-yard rusher since Stevan Ridley in 2010. Hill has rushed for at least 100 yards five times this year - including three of the past four games.
Alabama's Christion Jones leads the SEC in kickoff return average (32.7) and punt return yards (206). Menawhile, LSU's Odell Beckham leads the league in all-purpose yards (1,866) and kickoff return yards (616). Beckham needs three kickoff return yards to have the second most in a season for the Tigers.
Alabama has a comfortable advantage in the series with 47 victories as compared to 25 for LSU. There have been five ties. The Crimson Tide has won four of the past six games. Both teams have nine victories in games played in Tuscaloosa.
Over the last five years, Alabama has the best record among SEC teams at 69-7. The Tigers are second with a 58-17 record. Over the last ten years, LSU has the best record among SEC teams at 114-27. The Crimson Tide is tied for second with Florida at 102-37.
Since the start of the 2009 season, the Crimson Tide defense has allowed 78 touchdowns - the fewest in the country. The Tigers are next with their opponents scoring 115 touchdowns. Florida is third with its defense giving up 119 touchdowns.
Alabama leads the SEC in the following categories: scoring defense (9.8), rushing defense (101.9), passing defense (179.0), total defense (280.9), first downs allowed (14.2), third-down conversions allowed (29.5 percent), sacks allowed (7) and kickoff return average (27.3).
Saban has a 4-4 record against LSU. As Michigan State's coach, Saban lost to the Tigers in the 1995 Independence Bowl. Saban has a 4-3 record against LSU since he took over at Alabama in 2007.
Since the start of the 2008 season, Alabama has a 25-7 against teams ranked in the Associated Press, including a 15-4 mark against top-ten teams. In that time, the Crimson Tide has a 4-2 record against ranked LSU teams. The Tigers were No. 11 in 2010 and No. 1 in 2011 when they beat Alabama.
The Tide is undefeated in all 45 games in which it has won the turnover battle since the start of the 2008 season. During that time, the Tide has a 9-2 record when it was tied with its opponent in turnovers. The two defeats came against LSU in 2011 and South Carolina in 2010.
Among SEC quarterbacks who have made at least 23 career starts, AJ McCarron has the highest winning percentage at .943. The Crimson Tide has a 33-2 record in McCarron's starts. Both losses took place in Tuscaloosa - against LSU in 2011 and Texas A&M in 2012.
McCarron needs 107 yards to become Alabama's all-time leader in passing. John Parker Wilson is No. 1 with 7,924 yards. McCarron has the school record for touchdown passes with 65. McCarron has the best interception ratio of Division I players with 600 passes. He has thrown 11 interceptions in 899 passes.
There are seven Louisiana players on Alabama's roster - wide receivers Kenny Bell and Raheem Falkins, defensive lineman Tim Williams, linebacker Denzel Devall, cornerback Bradley Sylve, safety Landon Collins and punter Cody Manzell.
Bell has caught ten passes for 141 yards and one touchdown. Williams has made two tackles. Devall, who starts at outside linebacker, has made 19 tackles, including three sacks. Bradley Sylve, who starts at cornerback, has eight tackles and two pass breakups.
Collins, who starts at safety since Vinnie Sunseri is out for the year with an injury, has been credited with 34 tackles - second highest on the team. Collins has one interception and five pass breakups. Manzell is averaging 46.4 yards on 27 punts.
Three Alabama assistants - Kirby Smart, Lance Thompson and Bobby Williams - were members of Saban staffs at LSU. Crimson Tide strength coach Scott Cochran was an assistant strength coach at LSU, while equipment manager Jeff Springer was also an assistant equipment manager with the Tigers.
The LSU-Alabama game will be televised on CBS. The broadcasting crew will be Verne Lundquist (play-by-play), Gary Danielson (analyst) and Tracy Wolfson (sideline reporter). For the sixth time in seven years, the Tigers will be participating in a CBS prime-time game.
ESPN GameDay will be at a LSU football game for the 22nd time. The Tigers have a 14-7 record in those games - including a 4-2 record in true road games. This will be the seventh LSU-Alabama game for ESPN GameDay. The Crimson Tide has won four of the six previous games.
Team statistical comparison
LSU points per game: 40.2
Alabama opponents per game: 9.8
LSU rushing yards per game: 200.6
Alabama opponents rushing yards per game: 101.9
LSU passing yards per game: 279.4
Alabama opponents passing yards per game: 179.0
LSU pass completion percentage: 65
Alabama opponents pass completion percentage: 50
LSU turnovers: 14
Alabama opponents turnovers: 12
LSU sacks allowed: 14
Alabama sacks: 11
LSU red-zone touchdown percentage: 70 (30-of-43)
Alabama opponents red-zone touchdown percentage: 46 (6-of-13)
Alabama points per game: 41.2
LSU opponents points per game: 21.9
Alabama rushing yards per game: 210.8
LSU opponents rushing yards per game: 148.4
Alabama passing yards per game: 252.0
LSU opponents passing yards per game: 203.2
Alabama pass completion percentage: 69
LSU opponents pass completion percentage: 58
Alabama turnovers: 7
LSU opponents turnovers: 12
Alabama sacks allowed: 7
LSU sacks: 20
Alabama red-zone touchdown percentage: 69 (22-of-32)
LSU opponents red-zone touchdown percentage: 43 (12-of-28)
Individual statistical leaders
Rushing
LSU: Jeremy Hill - 128 carries, 922 yards, 12 touchdowns
Alabama: T.J. Yeldon - 115 carries, 729 yards, 10 touchdowns
Passing
LSU: Zach Mettenberger - 231 attempts, 151 completions, 2,492 yards, 19 touchdowns, 7 interceptions
Alabama: AJ McCarron - 209 attempts, 145 completions, 1,862 yards, 16 touchdowns, 3 interceptions
Receiving
LSU: Jarvis Landry - 58 catches, 882 yards, 8 touchdowns
Alabama: Christion Jones - 27 catches, 281 yards, 2 touchdowns
Tackles
LSU: LB Lamin Barrow - 64
Alabama: LB C.J. Mosley - 59
Sacks
LSU: DT Anthony Johnson, CB Jalen Mills - 3
Alabama: DE A'Shawn Robinson - 4
Interceptions
LSU: CB Jalen Mills - 2
Alabama: CB Cyrus Jones, S Vinnie Sunseri (out for the year with an injury) - 2
Punting
LSU: Jamie Keehn - 26 punts, 38.8-yard average
Alabama: Cody Mandell - 27 punts, 46.4-yard average
Kicking
LSU: Colby Delahoussaye - 9-of-10 on FG, 43-of-44 on XP
Alabama: Cade Foster - 8-of-9 on FG, 39-of-39 on XP
Kick returning
LSU: Odell Beckham - 25 kickoff returns, 616 yards; 11 punt returns, 108 yards
Alabama: Christion Jones - 13 kickoff returns, 425 yards, 1 touchdown; 17 punt returns, 206 yards, 1 touchdown