LSU-Arkansas pre-game notebook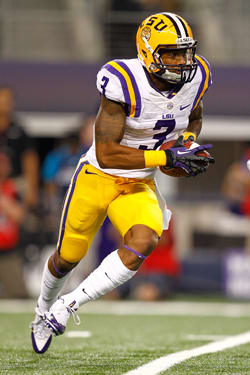 Saturday will be the ninth Senior Day since Les Miles became LSU coach in 2005. Under Miles, the Tigers have a 6-2 record on Senior Day with losses coming to Ole Miss in 2008 and Arkansas in 2007. Five of LSU's six victories have been by seven points or less.
There are four fifth-year seniors - Lamin Barrow, Tahj Jones, Craig Loston and Josh Williford. There are three fourth-year seniors - Kadron Boone, J.C. Copeland and James Wright. Zach Mettenberger is a junior college transfer, who was in the program for three years.
Seth Fruge is a former walk-on, who was given a scholarship this year - his fifth in the program. Alfred Blue and Jarrett Fobbs, both of whom have another year of eligibility, are going through Senior Day ceremonies. Blue has said that he may come back for a fifth season.
There are three senior walk-ons - Dexter Alexander, Jarrett Hardnett and A'Trey-U Jones. As many as seven underclassmen could be playing their final game in Tiger Stadium - Odell Beckham, La'El Collins, Ego Ferguson, Jeremy Hill, Kenny Hilliard, Anthony Johnson and Jarvis Landry.
LSU and Arkansas will be playing for the Golden Boot for the 18th straight time. The Tigers have won 11 of the previous 17 games. Since the Razorbacks entered the Southeastern Conference, they have won just twice at Tiger Stadium - 42-24 in 1993 and 50-48 in triple overtime in 2007.
With a victory against Arkansas, LSU will have an unbeaten record at home for the fifth time in the past ten seasons. The other years in that span in which the Tigers didn't lose a home game were 2004, 2006, 2010 and 2011.

LSU is No. 1 in the SEC in pass efficiency (175.6 rating), third-down conversions (58.6 percent) and kickoff returns (25.8-yard average). Arkansas has allowed the fewest sacks in the SEC with seven. The Hogs give up one sack for every 39 pass attempts.
Mettenberger has the top pass efficiency rating among SEC quarterbacks at 176.1. Beckham leads the SEC in all-purpose yards (2,175). Colby Delahoussaye is tied with Kentucky's Joe Mansour for the highest field goal percentage in the conference (92.3 percent).
Mettenberger needs 74 passing yards to become the third Tigers quarterback to throw for at least 3,000 yards in a season. The two quarterbacks are Rohan Davey with 3,347 yards in 2001 and JaMarcus Russell with 3,129 yards in 2006.

Beckham is now the LSU single-season record-holder for all-purpose yardage. Beckham has 2,175 yards. Domanick Davis had the record with 2,120 yards in 2002. Beckham needs two receptions to move ahead of Craig Davis into ninth place on the school's career list. Craig Davis caught 141 passes.
Beckham is on pace to have the highest yards per catch for a single season in school history. Beckham is averaging 19.7 yards per reception. Josh Reed averaged 18.5 yards per catch in 2001. Beckham needs 28 yards to have the third highest single-season total in LSU history. Beckham has 1,101 yards.

Beckham needs 126 all-purpose yards to move ahead of Harvey Williams into fifth place on the school's rankings. Williams had 4,066 all-purpose yards. Beckham needs 127 kickoff return yards to set the LSU record for a season. Patrick Peterson had 932 kickoff return yards in 2010.
Hill has nine 100-yard rushing games in his career. Three LSU backs have more 100-yard rushing games - Kevin Faulk (22), Dalton Hilliard (20) and Charles Alexander (16). Those three players and Steve Van Buren and Charles Scott are the only Tigers backs with more than Hill's five 100-yard games in 2013.

Landry needs one touchdown reception to tie Tony Moss for tenth place on LSU's career rankings. Moss had 16 touchdown catches in his career. Landry needs two scoring receptions to tie Dwayne Bowe for the most in a season for a Tigers player. Bowe caught 12 touchdown passes in 2006.
Landry has caught 67 passes in 2013. Only three LSU receivers have caught more passes in a single season - Josh Reed (94 in 2001), Wendell Davis (80 in 1986 and 72 in 1987) and Michael Clayton (78 in 2003).
Only one of Arkansas' seven SEC losses has been by a margin of fewer than ten points. The Razorbacks were beaten 24-17 in overtime by Mississippi State last week. The Hogs played one non-conference game which was decided by fewer than ten points - a 28-24 loss at Rutgers.

LSU is the fifth top-15 team Arkansas will play this season. The Razorbacks lost the previous four to No. 10 Texas A&M (45-33), No. 14 South Carolina (52-7), No. 1 Alabama (52-0) and No. 8 Auburn (35-17).
Alex Collins leads all freshmen in the country with 998 rushing yards. Collins opened the season with three straight 100-yard rushing games. The last true freshman to accomplish that feat was Oklahoma's Adrian Peterson in 2004.
Hunter Henry is the only tight end in the SEC and one of just three freshmen in the conference with a 100-yard receiving game this season. Hunter had 109 receiving yards against Texas A&M.

Arkansas coach Brett Bielema is 15th in winning percentage among active FBS coaches with five years of experience. Bielema has a 71-32 record (.689). Five SEC coaches are ahead of Bielema - Alabama's Nick Saban, Georgia's Mark Richt, South Carolina's Steve Spurrier, Miles and Texas A&M's Kevin Sumlin.
The LSU-Arkansas game will be televised on CBS. The broadcasting crew will be Tim Brando (play-by-play), Aaron Taylor (analyst) and Kristina Akra (sideline reporter).
Team statistical comparison
LSU points per game: 37.5
Arkansas opponents per game: 30.7
LSU rushing yards per game: 197.5
Arkansas opponents rushing yards per game: 173.0
LSU passing yards per game: 268.1
Arkansas opponents passing yards per game: 235.3
LSU pass completion percentage: 65
Arkansas opponents pass completion percentage: 65
LSU turnovers: 16
Arkansas opponents turnovers: 12
LSU sacks allowed: 18
Arkansas sacks: 25
LSU red-zone touchdown percentage: 67 (35-of-52)
Arkansas opponents red-zone touchdown percentage: 67 (29-of-43)
Arkansas points per game: 20.1
LSU opponents points per game: 22.3
Arkansas rushing yards per game: 211.1
LSU opponents rushing yards per game: 145.8
Arkansas passing yards per game: 145.8
LSU opponents passing yards per game: 202.9
Arkansas pass completion percentage: 48
LSU opponents pass completion percentage: 56
Arkansas turnovers: 21
LSU opponents turnovers: 14
Arkansas sacks allowed: 7
LSU sacks: 23
Arkansas red-zone touchdown percentage: 61 (20-of-33)
LSU opponents red-zone touchdown percentage: 47 (16-of-34)
Individual statistical leaders
Rushing
LSU: Jeremy Hill - 155 carries, 1.040 yards, 13 touchdowns
Arkansas: Alex Collins - 179 carries, 998 yards, 4 touchdowns
Passing
LSU: Zach Mettenberger - 274 attempts, 178 completions, 2,926 yards, 22 touchdowns, 7 interceptions
Arkansas: Brandon Allen - 229 attempts, 109 completions, 1,374 yards, 11 touchdowns, 9 interceptions
Receiving
LSU: Jarvis Landry - 67 catches, 1.059 yards, 10 touchdowns
Arkansas: Javontee Herndon - 29 catches, 420 yards, 4 touchdowns
Tackles
LSU: LB Lamin Barrow - 80
Arkansas: S Alan Turner - 86
Sacks
LSU: DE Jermauria Rasco - 4
Arkansas: DE Chris Smith - 8½
Interceptions
LSU: S Craig Loston, CB Jalen Mills - 2
Arkansas: S Eric Bennett, CB Jared Collins, DE Trey Flowers, CB Will Hines, CB Tevin Mitchel, S Alan Turner, DE JaMichael Winston - 1
Punting
LSU: Jamie Keehn - 31 punts, 38.6-yard average
Arkansas: Sam Irwin-Hill - 42 punts, 43.6-yard average
Kicking
LSU: Colby Delahoussaye - 12-of-13 on FG, 49-of-50 on XP
Arkansas: Zach Hocker - 11-of-13 on FG, 25-of-25 on XP
Kick returning
LSU: Odell Beckham - 30 kickoff returns, 806 yards; 13 punt returns, 130 yards
Arkansas: Korliss Marshall - 16 kickoff returns, 365 yards

Click
Here
to view this Link.