LSU brings 4-star LB Harold Perkins back to Louisiana for Signing Day win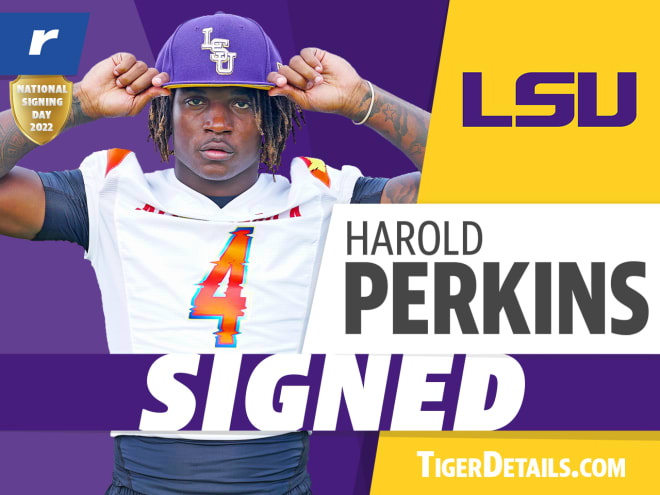 LSU and new coach Brian Kelly didn't reel in as many prospects Wednesday as they had hoped, but did eventually land one of the biggest fish shortly after 3:30 p.m.
Cypress Park (Texas) star Harold Perkins, the nation's No. 33 overall prospect, announced his plans to sign with the Tigers.
The New Orleans-born, but Houston-based four-star recruit chose to fulfill a childhood dream of playing in Tiger Stadium despite a rollercoaster final month of his recruitment that included a brief commitment to Texas A&M and a visit to Florida.
He spent this past weekend, though, in Baton Rouge with Kelly and most of the program's new-look staff and Louisiana native signees such as Laterrance Welch of Acadiana and Jordan Allen of Lafayette Christian and targets such as Jacoby Mathews of Ponchatoula.
His homecoming story helped salvage a day that had trended poorly with three straight misses since inking Waxahachie (Texas) cornerback Jaelyn Davis-Robinson to kick off the morning.
Lake Charles College Prep running back TreVonte Citizen, Westgate tight end Danny Lewis Jr. and Hightower (Texas) wide receiver Caleb Douglas chose Miami, Alabama and Florida, respectively.
Once the reception of his paperwork is announced officially, Perkins will mark the Tigers' 15th high school signee of the class and 27th new addition overall after its hot streak in the transfer portal this winter.
He joins five-star defensive lineman Quency Wiggins and quarterback Walker Howard as top-50 prospects headed to Baton Rouge, with offensive lineman Will Campbell listed just outside that mark at No. 53.