LSU-Oregon pregame notebook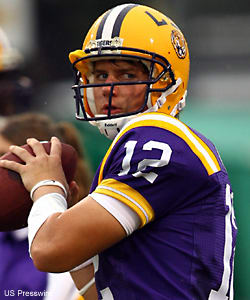 LSU enters Saturday's game against Oregon with the nation's longest non-conference regular-season winning streak. The Tigers have won 33 straight non-SEC regular-season games since losing to Virginia Tech in 2002. All but ten of those victories came while Les Miles was coach.
Both LSU and Oregon are ranked in the top five in the country. Only on two other occasions have two top-five teams opened a season with a game on a neutral field. No. 1 Nebraska beat No. 4 Penn State in 1983 and No. 4 Miami beat No. 1 Auburn in 1984. Both of those games were played at Giants Stadium.
LSU has won two of the three previous meetings with Oregon. All three contests were played at Tiger Stadium. The last matchup occurred in 1977 when the Tigers whipped the Ducks 56-17. The teams split two games played in the 1930s.
Since the start of the 2000 season, LSU has the best record among SEC schools in non-conference regular season games. The Tigers have a 38-2 mark with their only defeats coming against Alabama-Birmingham (2000) and Virginia Tech. Arkansas is second with a 37-3 record.
LSU is playing back-to-back games in a venue other than Tiger Stadium for the first time in six years. In 2005, the Tigers lost to Georgia in the SEC title game at the Georgia Dome. A few weeks later, LSU beat Miami in the Peach Bowl played at the Georgia Dome.
The Tigers have won a school-record eight consecutive season-openers since losing to Virginia Tech in Blacksburg in 2002. LSU has won 14 of its last 15 openers. Oregon is ranked No. 3 in the nation. LSU opened one other year with a No. 3 ranked team - Texas A&M in 1995. The Aggies won 33-17.
Over the last ten seasons, LSU has the best record among SEC schools at 102-29. Florida is next with a 98-32 mark. The Tigers, the Gators and Georgia are the only SEC schools to have appeared in a bowl game in each of the past ten seasons.
During that same stretch, the Tigers have won three conference championships - the most of any school. LSU and Florida have both won two national titles. The Tigers and Georgia have finished in the Associated Press Top 25 eight times in the last ten years.
LSU has a 20-4 record against teams currently in the Pac-12 Conference. The Tigers' last game against a Pac-12 team took place two years ago when they defeated Washington 31-23 in the season opener. Miles has a 5-2 record against Pac-12 teams - 3-0 while at LSU.
Saturday's game will be the Tigers' 30th in a domed stadium. LSU has a 22-7 record. The Tigers have won seven consecutive games in a domed stadium since losing to Georgia in the 2005 SEC title game at the Georgia Dome.
LSU has won 17 straight games played in September. The Tigers' last September loss came at Auburn in 2006. Miles has a 20-2 record in September games while at LSU.
ESPN GameDay will be present at Cowboys Stadium for Saturday's game. LSU has a 9-4 record in games played with ESPN GameDay broadcasting from the site. The Tigers are 4-1 in those games played away from Baton Rouge. The one defeat came at Florida in 2006.
LSU has a 44-4 record in night games since Miles became coach. The Tigers have won 15 of 17 night games played away from Baton Rouge during that time - 2005 at the Georgia Dome against Georgia and 2008 at Florida.
Miles is just the fifth individual to start a seventh season as LSU's coach. The other four coaches are Charles McClendon (18 years), Bernie Moore (13), Paul Dietzel (7) and Gaynell Tinsley (7). Miles has a 9-9 record at LSU against top-ten teams.
Miles has the third most victories of any LSU coach. Miles has 62 victories - trailing McClendon (137) and Moore (83). It took Miles 76 games to post 60 victories. Among active SEC coaches, the only one to reach 60 wins faster was Steve Spurrier, who picked up win No. 60 in his 72nd game at Florida.
Tight ends coach Steve Ensminger played quarterback when the Tigers defeated Oregon in 1977. Ensminger ran for a touchdown and threw a touchdown pass in that game.
Nine LSU players were selected to preseason All-SEC teams and national award watch lists - WR Rueben Randle, OL Alex Hurst and P.J. Lonergan, QB Jordan Jefferson (suspended), DL Sam Montgomery and Barkevious Mingo, LB Ryan Baker and DB Morris Claiborne and Tyrann Mathieu.
Thirteen Oregon players were selected to preseason All-Pac-12 teams and national award watch lists - WR Josh Huff, TE David Paulson, OL Mark Asper and Carson York, QB Darron Thomas, RB Kenjon Barner and LaMichael James, DL Terrell Turner, LB Josh Kaddu, DB John Boyett and Cliff Harris (suspended), K Rob Beard and P Jackson Rice.
Oregon was No. 1 in the country last season in scoring (47 points per game) and total offense (530.7 yards per game). LSU's highest team national ranking a year ago was pass defense - tenth (169.9 yards per game).
The Ducks have a 4-5 record against SEC teams. In the 2010 season, Oregon beat Tennessee 48-13 in Knoxville and lost to Auburn 22-19 in the national championship game in Glendale, Az. The Ducks have a 26-4 record in their last 30 regular-season non-conference games.
The Ducks have won 16 of their last 20 season-openers. With Chip Kelly as coach, Oregon has split its two openers. The Ducks were beaten by Boise State in 2009. Oregon has never opened its season with a game at a neutral site. The Ducks' No. 3 preseason ranking is their highest in school history.
Cowboys Stadium has synthetic turf. Oregon has won 20 consecutive games on non-grass fields. Its last defeat on artificial turf came at Boise State two seasons ago.
Kelly has a 22-4 record as Oregon coach and has won two Pac-10 titles. No coach had ever won a Pac-10 championship in his first year as coach in the league. Three of Kelly's four defeats came against non-conference opponents - Boise State, Ohio State (Rose Bowl) and Auburn.
Since Kelly became coach, the Ducks have a 3-2 record against teams ranked in the top ten. The two defeats came against Ohio State and Auburn. Oregon has a 7-3 record against top 25 teams under Kelly.
Four of Kelly's assistants have been on the Ducks staff for at least 19 years - Gary Campbell (running backs/29 years), Steve Greatwood (offensive line/25 years), Don Pellum (linebackers/22 years) and Nick Aliotti (defensive coordinator/19 years over three stints).
James needs 20 yards to become the leading rusher in Oregon history. Derek Loville (1986-89) is No. 1 on the list with 3,296 rushing yards.