LSU-Texas AM pre-game notebook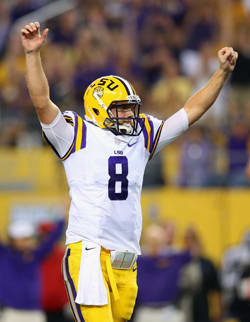 In only one of his nine seasons has a Les Miles-coached LSU football team not defeated an opponent ranked in the nation's top ten.
Miles' 2013 Tigers team will get its last chance to beat a top-ten team Saturday afternoon when Texas A&M comes to Baton Rouge. The Aggies are ranked No. 9 in the country. LSU lost games to two top-ten teams earlier this season - Georgia and Alabama.
The other season in which a Miles-coached Tigers team failed to beat a top-ten team was 2009. In that season, LSU lost to Florida and Alabama. Under Miles, the Tigers have a 13-13 record against top-ten teams.
A victory Saturday would assure LSU of its 14th straight season of at least eight victories. Boise State was the only other FBS team which had won at least eight games in every season beginning with 2000.
Texas A&M will be making its first appearance in Tiger Stadium in 19 years. The Aggies defeated LSU 18-13 in 1994. Texas A&M and the Tigers played nine consecutive years from 1987 through 1995. The Aggies won six of those games, including two in Baton Rouge.
Saturday's game will be the 52nd meeting between the two schools. LSU has won 28 games, while Texas A&M has won 20. There have been three ties. The Tigers have won the past two games - 41-24 in the Cotton Bowl following the 2010 season and 24-19 at Kyle Field last year.

Odell Beckham is No. 1 in the SEC in all-purpose yards (2,090). He is second in the nation behind Western Kentucky's Antonio Andrews in that category.
Beckham needs 31 all-purpose yards to set the LSU record for a single season. Domanick Davis had 2,120 yards in 2002. Beckham needs 307 yards to set the Southeastern Conference record. Kentucky's Randall Cobb had 2,396 yards in 2010.

Zach Mettenberger needs 93 passing yards to surpass Matt Mauck for third place on the Tigers' single-season rankings. Mauck passed for 2,825 yards in 2003. Mettenberger has started 23 straight games - the longest streak for a LSU quarterback since Herb Tyler made 37 consecutive starts.
Only Baylor's Bryce Petty is averaging more than Mettenberger's 16.3 yards per pass completion. Petty is averaging 19.6 yards per completion. Mettenberger needs two touchdown passes to move into fifth place on the Tigers' all-time rankings. Jamie Howard and Jordan Jefferson are tied for fifth with 34.
With three touchdown passes, Mettenberger can have the third most in a single season for a LSU quarterback. Tommy Hodson is in third place currently with 22 scoring passes in 1989.

Landry needs one catch to tie Jerel Myers for the seventh most receptions by a Tigers receiver in a season. Myers caught 64 passes in 1999. Landry needs 22 receiving yards to have the seventh best single season for a LSU receiver. Wendell Davis' 993 receiving yards in 1987 is the seventh highest total now.
Jeremy Hill needs 34 rushing yards to reach the 1,000-yard mark for the season. The last 1,000-yard rusher for the Tigers was Stevan Ridley in 2010. Hill has five 100-yard rushing games in 2013. Hill's next touchdown run will be the 26th of his career - tying him with LaBrandon Toefield for ninth place.
When Hill reaches the 1,000-yard rushing mark, LSU will have a 1,000-yard receiver, a 1,000-yard rusher and a 2,500-yard passer for the first time since 2003. In that year, Michael Clayton had 1,079 receiving yards, Justin Vincent had 1,001 rushing yards and Mauck had 2,825 passing yards.

The defensive players are end Jermauria Rasco, tackles Ego Ferguson and Anthony Johnson, linebackers Lamin Barrow and D.J. Welter and cornerback Jalen Mills. Of the 12 players, only Mettenberger and Barrow are seniors.
Center Elliott Porter continues to lead the team in knockdown blocks with 42. Both Alexander and Turner are next with 40. Tackle La'El Collins has 39 knockdowns, while Hawkins has 22.
Texas A&M is No. 1 in the SEC in scoring (49.2), passing offense (379.2), total offense (578.0), pass efficiency (180.7) and first downs (29.1). LSU is first in the SEC in kickoff returns (26.1) and third-down conversions (57.7 percent). The Tigers are second in pass efficiency (176.1).

Texas A&M has not played a road game since Oct. 12 when it won at Ole Miss. The Aggies can win a school-record 11 consecutive away games by beating the Tigers. Texas A&M's last road defeat occurred at Kansas State in 2011. The Aggies also won ten straight road games during the 1939-40 seasons.
Texas A&M has scored more than 40 points in each of its ten games this season. The Aggies' lowest point total was 41 against both Ole Miss and Auburn. Texas A&M beat the Rebels, but lost to the Tigers. The Aggies have given up at least 24 points in all six of their SEC games.

Texas A&M has played three one-possession games - beating Ole Miss 41-38 and losing to Alabama 49-42 and Auburn 45-41. All four of the Aggies' conference defeats the past two seasons have been at home. Texas A&M is 6-0 in SEC road games.
The Aggies are one of three teams in the country with at least 29 rushing and 29 passing touchdowns. Texas A&M has 29 rushing touchdowns and 34 passing touchdowns. The other teams are Florida State (33 rushing and 29 passing touchdowns) and Ohio State (32 rushing and 31 passing touchdowns).
Since Sumlin became coach, the Aggies have scored first in 22 of 23 games with the exception being this year's opener against Rice. Texas A&M has scored a touchdown on its first possession in 17 of the 23 games.
Johnny Manziel is the third player to participate in a game at Tiger Stadium having already won the Heisman Trophy. Florida' Tim Tebow won the award in 2007 and played in Tiger Stadium in 2009. Alabama's Mark Ingram won the Heisman in 2009 and played at LSU one season later.

Manziel has the top three total offense games in SEC history - 576 yards against Louisiana Tech last year, 562 yards against Alabama this season and 557 yards against Arkansas last season. Manziel has rushed for 100 yards and passed for 200 yards in the same game eight times in his career.
Evans needs eight receptions to be the Aggies' all-time single-season record-holder. Ryan Swope caught 89 passes in 2011. Evans needs one touchdown catch to be the school's single-season leader. Jeff Fuller also had 12 touchdown receptions in 2010. Evans already has the most receiving yards in a season.
Four Texas A&M players are semifinalists for national awards - Evans (Biletnikoff), Kaser (Guy), Manziel (O'Brien, Maxwell and Walter Camp) and offensive tackle Jake Matthews (Lombardi). Manziel is also a finalist for the Hornung Award.

Obioha (Brother Martin), Robinson (South Beauregard) and Stansbury (Franklin) all start on the defensive line. Claiborne (Port Allen) is the starting middle linebacker. Everett (DeRidder) and Raven (East St. John) start at cornerback and free safety, respectively.
The LSU-Texas A&M game will be televised on CBS. The broadcasting crew will be Verne Lundquist (play-by-play), Gary Danielson (analyst) and Tracy Wolfson (sideline reporter).
Team statistical comparison
LSU points per game: 37.9
Texas A&M opponents per game: 30.9
LSU rushing yards per game: 184.8
Texas A&M opponents rushing yards per game: 210.7
LSU passing yards per game: 275.6
Texas A&M opponents passing yards per game: 243.7
LSU pass completion percentage: 66
Texas A&M opponents pass completion percentage: 56
LSU turnovers: 16
Texas A&M opponents turnovers: 20
LSU sacks allowed: 18
Texas A&M sacks: 17
LSU red-zone touchdown percentage: 68 (32-of-47)
Texas A&M opponents red-zone touchdown percentage: 75 (27-of-36)
Texas A&M points per game: 49.2
LSU opponents points per game: 23.5
Texas A&M rushing yards per game: 198.8
LSU opponents rushing yards per game: 152.9
Texas A&M passing yards per game: 379.2
LSU opponents passing yards per game: 200.8
Texas A&M pass completion percentage: 72
LSU opponents pass completion percentage: 59
Texas A&M turnovers: 18
LSU opponents turnovers: 12
Texas A&M sacks allowed: 17
LSU sacks: 21
Texas A&M red-zone touchdown percentage: 73 (49-of-67)
LSU opponents red-zone touchdown percentage: 50 (16-of-32)
Individual statistical leaders
Rushing
LSU: Jeremy Hill - 141 carries, 964 yards, 13 touchdowns
Texas A&M: Johnny Manziel - 110 carries, 611 yards, 8 touchdowns
Passing
LSU: Zach Mettenberger - 254 attempts, 167 completions, 2,733 yards, 20 touchdowns, 7 interceptions
Texas A&M: Johnny Manziel - 315 attempts, 230 completions, 3,313 yards, 31 touchdowns, 11 interceptions
Receiving
LSU: Jarvis Landry - 63 catches, 972 yards, 8 touchdowns
Texas A&M: Mike Evans - 57 catches, 1,263 yards, 12 touchdowns
Tackles
LSU: LB Lamin Barrow - 75
Texas A&M: S Howard Matthews - 73
Sacks
LSU: DT Anthony Johnson, CB Jalen Mills, DE Jermauria Rasco - 3
Texas A&M: DE Gavin Stansbury, LB Shaan Washington - 3
Interceptions
LSU: CB Jalen Mills - 2
Texas A&M: S Howard Matthews - 3
Punting
LSU: Jamie Keehn - 28 punts, 38.8-yard average
Texas A&M: Drew Kaser - 31 punts, 48.5-yard average
Kicking
LSU: Colby Delahoussaye - 10-of-11 on FG, 45-of-46 on XP
Texas A&M: Josh Lambo - 6-of-7 on FG, 39-of-40 on XP
Kick returning
LSU: Odell Beckham - 29 kickoff returns, 790 yards; 12 punt returns, 116 yards
Texas A&M: Trey Williams - 17 kickoff returns, 478 yards