LSU-West Virginia pregame notebook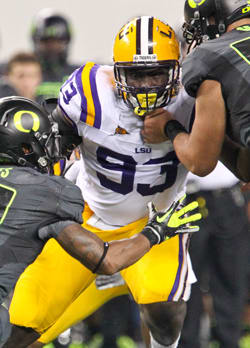 LSU will be the only team in the nation to have played three ranked teams in the first four weeks of the season. Oregon was No. 3, Mississippi State was No. 25 and West Virginia is No. 16. The Tigers have a 25-13 record against Top 25 teams since Les Miles became coach.
LSU will take three winning streaks into Saturday's game against West Virginia - 35 non-conference regular-season victories, 20 September victories and four non-conference Top 25 victories.
The Tigers have scored points on 40 straight red-zone possessions - 28 touchdowns and 12 field goals. The last empty red-zone possession occurred in the second quarter of last season's McNeese State game.
Under Miles, LSU has a 47-4 record in night games as compared to an 18-13 mark in day games. The Tigers have won 12 consecutive games when committing fewer turnovers than their opponent. With Miles as coach, LSU has a 28-4 record when winning the turnover battle.
The Tigers have a 19-9 record in road games under Miles. LSU is 3-0 in non-conference road games with Miles as coach - victories against Arizona State in 2005, Tulane in 2007 and Washington in 2009.
The Tigers have played just five games against teams currently in the Big East Conference. LSU defeated Syracuse in the 1965 Sugar Bowl and West Virginia last season. The Tigers lost to Syracuse in the 1989 Hall of Fame Bowl, Rutgers in 1922 and Cincinnati in 1897.
LSU had 15 tackles-for-loss against Mississippi State. That number represented the Tigers' highest one-game total since they had 17 tackles behind the line of scrimmage against Auburn in 1999. LSU has 30 tackles-for-loss this season - the most since it had 44 in the first three games of the 1999 season.
The Tigers have not allowed back-to-back opponents to score a touchdown for the first time in five years. In 2006, LSU shut out Kentucky and held Fresno State to two field goals.
Mississippi State was the first ranked team not to score a touchdown against the Tigers since Georgia Tech in the 2008 Chick-fil-A Bowl. The Tigers held a ranked opponent on the road without a touchdown for the first time since they beat Texas A&M 17-3 in 1987.
Since the start of the 2000 season, LSU has the best non-conference regular-season record among SEC schools. The Tigers are 40-2 with the losses coming against Alabama-Birmingham (2000) and Virginia Tech (2002). Arkansas is next with a 40-3 record.
Beginning with the 2002 season, LSU has the best overall record among Southeastern Conference schools. The Tigers are 95-26 with Florida next at 91-30.
After Alabama's shutout of North Texas last Saturday, the Crimson Tide is now tied with LSU for the most shutouts among SEC schools since conference expansion in 1992. Both Alabama and LSU have shut out 16 opponents. Auburn and Tennessee have 14 shutouts during that span.
Among SEC teams, the Tigers have the longest drive by plays and by time this season. LSU had a 16-play drive against Mississippi State which resulted in a field goal. The Tigers used up 8:13 on a series against Northwestern State which resulted in a touchdown.
LSU leads the SEC in red-zone touchdown rankings. The Tigers have scored touchdowns on 80 percent of their red-zone possessions (12-of-15). Arkansas and South Carolina are next at 77 percent (10-of-13).
For the first time since 2008, LSU will play two games in one season with ESPN GameDay broadcasting from the game site. GameDay was present for LSU's 40-27 victory against Oregon at Cowboys Stadium in the season opener. In 2008, GameDay televised from the Auburn road game and Alabama home game.
Bennie Logan and Michael Brockers had 3½ and three tackles-for-loss, respectively, against Mississippi State in the previous game. The last time LSU had two players with at least three tackles-for-loss in a game was 1999 against Auburn (three each by Kareem Mitchell and Jeremy Lawrence).
Jarrett Lee passed for 213 yards and Spencer Ware ran for 107 yards against the Bulldogs. It had been three seasons since the Tigers last accomplished that feat. In the 2008 Georgia game, Lee passed for 287 yards and Charles Scott ran for 144 yards. LSU lost to the Bulldogs 52-38.
Lee threw an interception against Mississippi State which snapped his streak of 131 attempts without a pick. That streak is the second longest in Tigers history. Alan Risher threw 137 passes without an interception in 1982.
Tyrann Mathieu needs one forced fumble to tie the LSU school record. Ali Highsmith forced seven fumbles during his career from 2004-07.
West Virginia has a 22-19-2 record against teams which are currently members of the SEC. All but seven of the victories have come against two schools - eight against Kentucky and seven against South Carolina. The Mountaineers have won 18 of their last 20 home night games.
West Virginia has won 18 consecutive home games against non-conference opponents. The last non-Big East team to defeat the Mountaineers in Milan Puskar Stadium was Virginia Tech in 2005. Two of those victories came against SEC teams - Mississippi State (2007) and Auburn (2008).
In its first three games, West Virginia has run 214 plays - 90 rushing and 124 passing. The 90 run plays have produced 236 yards and five touchdowns. The 124 passing plays have accounted for 1,068 yards and eight touchdowns.
Quarterback Geno Smith has recorded two 300-yard passing games in 2011 - 388 yards against Maryland and 371 yards against Norfolk State. Those two totals represent the sixth and eighth highest in Mountaineers history.
West Virginia has scored points on 16 of its 18 red-zone possessions - ten touchdowns and six field goals. Mountaineers opponents have scored points on eight of their nine red-zone possessions - four touchdowns and four field goals.
WEST VIRGINIA
Head coach: Dana Holgorsen (3-0, career record)
Overall record: 3-0
TEAM STATISTICS
West Virginia: 78.7 rushing yards per game
LSU opponents: 47.7 rushing yards per game
West Virginia: 356.0 passing yards per game
LSU opponents: 160.0 passing yards per game
West Virginia: 70 percent pass completion rate
LSU opponents: 58 percent pass completion rate
West Virginia: 434.7 yards per game
LSU opponents: 207.7 yards per game
West Virginia: 42.0 points per game
LSU opponents: 12.0 points per game
West Virginia: 3 turnovers
LSU opponents: 7 turnovers
West Virginia: 45 percent on third-down conversions
LSU opponents: 35 percent on third-down conversions
LSU: 166.0 rushing yards per game
West Virginia opponents: 116.0 rushing yards per game
LSU: 178.7 passing yards per game
West Virginia opponents: 200.3 passing yards per game
LSU: 69 percent pass completion rate
West Virginia opponents: 64 percent pass completion rate
LSU: 344.7 yards per game
West Virginia opponents: 316.3 yards per game
LSU: 36.0 points per game
West Virginia opponents: 18.7 points per game
LSU: 3 turnovers
West Virginia opponents: 3 turnovers
LSU: 48 percent on third-down conversions
West Virginia opponents: 29 percent on third-down conversions
INDIVIDUAL STATISTICS
Rushing leaders
LSU: Spencer Ware - 54 carries, 226 yards, 3 touchdowns
West Virginia: Vernard Roberts - 36 carries, 112 yards, 3 touchdowns
Passing leaders
LSU: Jarrett Lee - 59 attempts, 40 completions, 68 percent, 3 touchdowns, 1 interception
West Virginia: Geno Smith - 118 attempts, 82 completions, 70 percent, 1,008 yards, 7 touchdowns, 1 interception
Receiving leaders
LSU: Odell Beckham - 15 receptions, 111 yards
West Virginia: Tavon Austin - 20 receptions, 236 yards, 1 touchdown
Punting leaders
LSU: D.J. Howard - 7 punts, 38.9-yard average
West Virginia: Corey Smith - 6 punts, 42.3-yard average
Kick-scoring leaders
LSU: Drew Alleman - 6-of-7 on field goals, 12-of-13 on extra points, 30 points
West Virginia: Tyler Bitancurt - 7-of-8 on field goals, 15-15 on extra points, 36 points
Return leaders
LSU: Morris Claiborne - 6 kickoff returns, 138 yards
West Virginia: Tavon Austin - 9 kick returns, 265 yards, 1 touchdown; 6 punt returns, 132 yards
Tackle leaders
LSU: Tyrann Mathieu - 24 tackles
West Virginia: Najee Goode - 23 tackles
Interception leaders
LSU: Morris Claiborne - 2 interceptions
West Virginia: Darwin Cook - 1 interception; Terence Garvin - 1 interception; Eain Smith - 1 interception
Pass breakup leaders
LSU: Tyrann Mathieu - 3 pass breakups; Tharold Simon - 3 pass breakups
West Virginia: Pat Miller - 3 pass breakups
Sack leaders
LSU: Kendrick Adams - 1 sack; Michael Brockers - 1 sack; Anthony Johnson - 1 sack
West Virginia: Bruce Irvin - 1 sack
Quarterback-hurry leaders
LSU: Morris Claiborne - 1 quarterback-hurry; Tyrann Mathieu - 1 quarterback-hurry; Barkevious Mingo - 1 quarterback-hurry; Tharold Simon - 1 quarterback-hurry
West Virginia: None