Mickey Joseph has established himself as one of Louisiana's best recruiters
There wasn't much drama to open the early signing period on Wednesday.
LSU entered the day with 19 commitments. Nineteen recruits put their pens to paper and faxed in their national letters of intent by day's end. Two remains committed and there are six spots to fill before Signing Day rolls back around on Feb. 6, 2019.
Of the 19 who did sign early, three were a product of Mickey Joseph's work behinds the scenes.
Two years ago, Ed Orgeron tabbed Joseph to be LSU's wide receivers coach and to handle recruiting New Orleans, a fertile part of the state that has produced several current and former Tigers such as Kristian Fulton, Leonard Fournette, Malachi Dupre, Racey McMath, Andre Anthony and Ja'Marr Chase, among several others.
The path up from the Crescent City up I-10 to Baton Rouge has customarily been a reliable pipeline for LSU, but the departure of Jabbar Juluke, a former state championship-winning head coach of powerhouse Edna Karr ruffled feathers. Orgeron was able to overcome the backlash with the addition of Joseph in the same role.
Joseph was an All-American quarterback and the 1987 Gatorade Player of the Year in Louisiana for Hank Tierney's dominant Shaw teams in the late 80s. He's a living legend on New Orleans' West Bank and throughout the community. He was a natural fit to recruit the area for Orgeron.
Joseph took his talents to Nebraska after his storied prep football career had ended. That move out-of-state has since become his strongest selling point to prospective recruits. That group includes 5-star wide receiver Terrace Marshall Jr. and 4-star Ja'Marr Chase, who had flirted with TCU and then committed to Florida -- and nearly wound up at Auburn, if not for Joseph's steady, calculated press.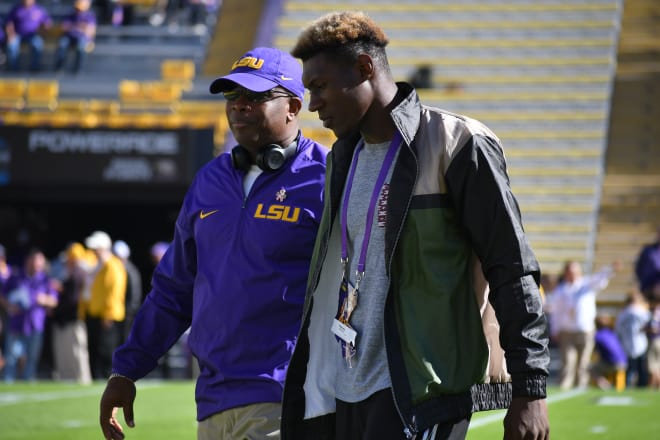 "Mickey was very vital in Ja'Marr's recruitment," Jimmy Chase, Ja'Marr's father, recalls. "He was the only one who knew how to understand Ja'Marr and how Ja'Marr operates. With Ja'Marr being a high-profile player, he was not your normal high school player. Ja'Marr didn't like all of the attention and wasn't crazy about being harassed.
"Mickey took it slow with him and didn't really talk about football or LSU all the time. That won Ja'Marr over. Ja'Marr let his guard down with Mickey and the rest is history -- even 'till today."
Joseph's patience with Chase paid dividends right away in Baton Rouge. As a freshman, the former Rivals100 wide receiver caught 17 passes for 220 yards and two touchdowns, with the Fiesta Bowl still on deck.
Chase was one of four highly sought-after receivers to sign with LSU a year ago. Marshall was the most celebrated boom of the early signing time last December. He was joined by 4-star Kenan Jones and 3-star Jaray Jenkins, two of the best-kept secrets in The Boot and potential breakout players for the 2019 campaign.
That was Joseph's first big recruiting cycle as LSU's wide receivers coach. In 2019, he got a crack at multiple blue-chip talents.
Like Chase, 5-star Trey Palmer didn't embrace the attention.
Palmer was focused on football, and his mother, Raymonda Callahan — the "Boss Lady" — handled recruiting. Joseph was able to establish a unique bond with Mom that distinguished LSU from the pack.
"When I first met Coach Mickey, it was like I have been knowing him all my life," said Callahan, Palmer's mother. "It wasn't all about just recruiting. Since Day 1, he always called and checked on my son. Alone with recruiting Trey for football, he was also focusing on how Trey was doing on and off the field. Coach has been truthful to my family during the entire process and that's what I love about him.
"Coach Mickey is the best recruiter I've meet during the my son's recruiting journey. Coach has done such a wonderful job that my son is a Tiger for Life."
Among those that signed on Wednesday was Palmer and 4-star linebacker Donte Starks and 4-star running back John Emery Jr., one of the most coveted prospects in all of America.
Joseph coaxed Starks to commit in July, Palmer in August and was able to help lead the flip of Emery from Georgia to LSU a month prior to the December signing period. As the area recruiter, Joseph has successfully developed unbreakable bonds with not only the prospects, but their entire families. Eventually, that surfaced as the different in Emery staying in his home state.
"Mickey is close family," John Emery Sr. indicated. "We've been knowing Mickey for a long time. Mickey was my host when I visited Nebraska when I was 18 years old. When John committed to Georgia, Mickey said, 'I'm gonna fight 'till the end.' He called me and I said, 'That's your job.' Mickey consistently paid attention, kept with the text messaging throughout the whole process. Mickey stayed there, he coached the whole family and has a good rapport with the family."
With Starks, Palmer and Emery all signing this past week, his attention has already shifted to February and the Class of 2020.
Joseph is working feverishly on a loaded junior class that already features commitments from 4-star quarterback TJ Finley out of Ponchatoula and 4-star wide receiver Kayshon Boutte of Westgate.
However, the next priority for Joseph and LSU is Rivals100 athlete Devonta Lee, who has the Tigers on his short list of finalists. No coach has done a better job of recruiting the 4-star, Lee's mother affirmed, just weeks removed from the assistant coach sitting in the stands beside her as Amite captured its first state championship in 14 years.
"He's been nothing but good to us. He's a good person and I love him," Lacresia Brown raved. "To be honest, Mickey has been recruiting us for the longest. He's so good. You could not meet anybody better. He's been the best one recruiting us and he's been recruiting Devonta before anybody else. He does a good job texting us, putting in more work than any of the coaches."