Miles looking for improvement in the trenches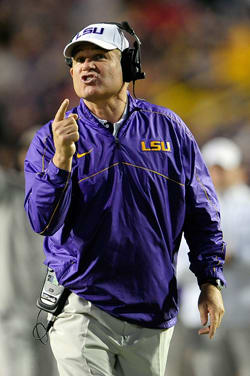 LSU's line play on both sides of the football left much to be desired in the last game against Alabama.
The offensive line didn't open holes for the running backs after the first quarter. Moreover, Zach Mettenberger was sacked on each of LSU's final three offensive plays.
Meanwhile, the defensive front had problems containing the Crimson Tide running game as the game moved into the latter stages. Alabama backs found some cut back lanes, while Tigers defensive ends did not do a good job with containment.

"We have to protect the quarterback," said Miles at his post-practice press conference Wednesday evening. "We have a quality quarterback and a quality passing attack. It is a key piece of what we do. We have worked a lot on pass protection in the past two weeks."
The Tigers' defensive line will face a different type of offense this week against Texas A&M. Aggies quarterback Johnny Manziel is a threat with both his arm and his legs.
"We have really been working on our pass rush," Miles said. "That has been our focal point on defense the last six practices. We have improved there. I like the things we are doing. Getting used to the speed of the game is very important against Manziel.

Miles praised a Texas A&M defense which has been much worse than that of LSU this season. There are six starters from Louisiana on the Aggies defense. None were recruited by the Tigers.
"Their defense is mobile," Miles said. "They move to the ball well. They have some personnel who can play, but they are young. Their scheme is quality although there is some risk and reward with that defense."
Miles said that everyone is healthy for the Tigers following their second open date in three weeks.
"Our health has returned," Miles said. "We have had a lot of energy as we prepare for Texas A&M. We are all looking forward to playing in Tiger Stadium again."