Miles: Program is close to being in the game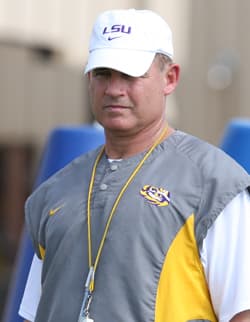 LSU was mathematically eliminated from the Southeastern Conference Western Division race when it lost by three touchdowns at Alabama last Saturday night.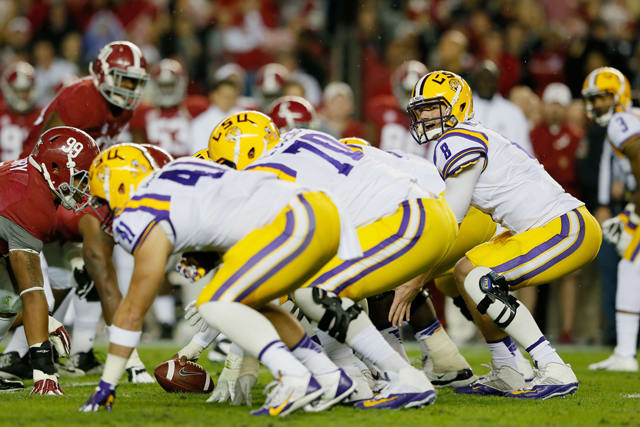 Speaking at his post-practice press conference Wednesday evening, Miles stressed that the program is in very good shape when asked what needs to be done to get it back.
"Back to what," Miles asked. "This program sustains itself. We are close to being in 'the' game. If you want to look at one game, we were close to being ahead 14-0 and that was (against) the No. 1 team in the country. With the guys in this building and our recruiting, we will be a dominant football team."
Two fumbles Saturday prevented LSU from having that 14-0 advantage against the Crimson Tide. Fullback J.C. Copeland fumbled going in for a touchdown on the Tigers' first offensive series. Then, a fumble on a shotgun snap mishap led to an Alabama field goal.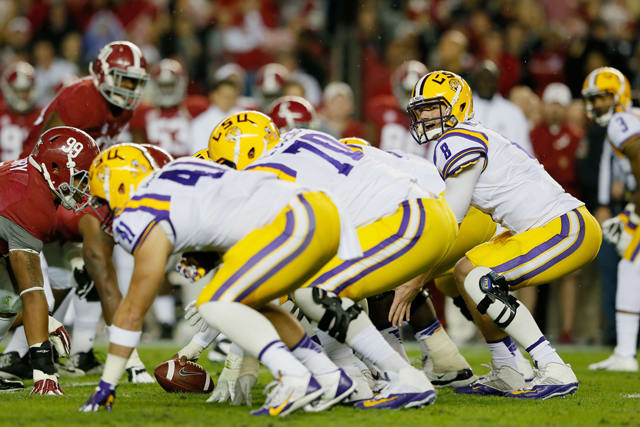 Now, the Tigers are recovering both physically and emotionally from the defeat at the hands of Alabama. Next up on the schedule is a visit to Tiger Stadium by Texas A&M and quarterback Johnny Manziel.
"Those guys (players) bounce back better than the coaches," Miles said. "(Coaches) linger longer on losses than the guys. The players know they left everything on the field, so they can live with (result). That's a real quality group of men on this team. They are looking to finish the season strong."
In order to reach the ten-victory mark, the Tigers must win their last two regular-season games and a bowl game. So, LSU must find a way to defeat Manziel and the Aggies. The Tigers were effective in controlling Manziel in their 24-19 victory last season. But, this is not the same LSU defense.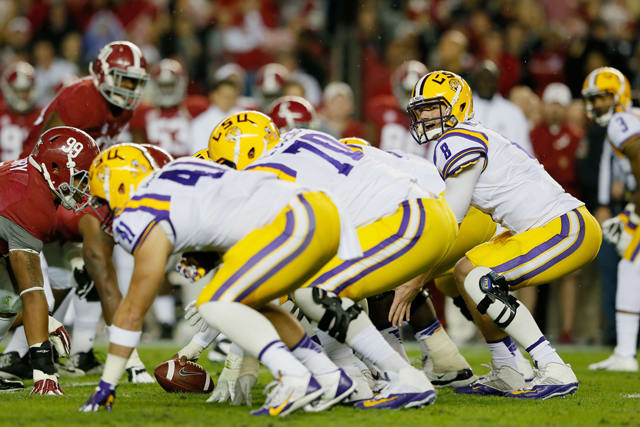 "The principles of a year ago (defending Manziel) were real quality. We have new people on defense, so we'll employ those things differently."
Miles made an intriguing decision as to which player is assuming the role of Manziel in practice this week. Wide receiver Odell Beckham has been given that assignment.
"That was my idea," Miles said. "Odell is pretty good. He is elusive and he can throw it. I knew Odell could throw the ball. I didn't know he could throw (ball) in the scheme of plays. He was 6-of-8 in one period. We may have to give him some snaps in the game."
Miles said that quarterback Zach Mettenberger will play against Texas A&M. He practiced Tuesday and Wednesday while dealing with a sprained ankle.
"Zach got banged around (against Alabama), but he's youthful," Miles said. "We gave him the opportunity not to practice, but he wanted to suit up and throw the ball around."
The Tigers will practice Thursday and Friday morning before having the weekend off. Full preparations for the Texas A&M game will start Monday.