Miles talks Jeffersons return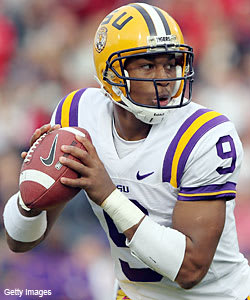 When the top-ranked team in college football returns for practice Thursday it will have two familiar faces back on the practice field.
An East Baton Rouge Parish grand jury of seven women and three men cleared the way for the return of LSU quarterback Jordan Jefferson and linebacker Josh Johns to the team, reaching a decision Wednesday of a reduced charge of simple battery against Jefferson. They declined all charges facing Johns.
The university announced just after 7:30 p.m. that both players had been reinstated to the team and LSU Head Coach Les Miles said following his radio show both players would be back on the practice field Thursday afternoon.
No. 1 LSU (4-0) hosts Kentucky (2-2) in its Southeastern Conference home opener at 11:21 a.m.
"I met with Jordan following his involvement today and determined that he would rejoin the team and that will happen tomorrow," Miles said.
When asked whether he could play in Saturday's game, Miles didn't rule out the possibility.
"I can't say that he would play Saturday but I wouldn't rule it out," he said.
Jefferson, the team's projected starting quarterback for the 2011 season, was suspended along with Johns following their involvement in an Aug. 19 fight outside of a Baton Rouge bar. They were both arrested a week later on felony charges connected with the incident and both faced second-degree battery charges.
Jefferson was alleged to have kicked Marine reservist Andrew Lowery in the head, causing a broken jaw and unconsciousness. A total of four non-football players required medical attention at local hospitals.
The grand jury, which first convened Sept. 21, decided to indict Jefferson on the reduced charge of simply battery which is punishable up to six months in jail and $500 in fines. Johns, a sophomore linebacker, had his charges dismissed.
"We certainly don't condone participation in the incident, but the legal system has determined that their actions did not rise to the level originally charged, and their punishment to date related to football has already been considerable," LSU Athletic Director Joe Alleva said in a statement released by the school. "They will rejoin the team and begin practice immediately."
Miles said there should be a larger lesson learned for the entire team where reports of up to 18 players broke curfew and were at Shady's Bar the night of the skirmish.
"Anytime you put yourself in the position where it's left to the will and whim of a crowd of people that not necessarily would benefit you, you have to understand where you stand and hopefully our guys will understand that beyond this event," Miles said.
Miles said once he got clearance from his administration he welcomed back Jefferson and Johns to a team that's persevered despite a mountain of preseason distractions caused by the fight.
"There wasn't any hesitation on my part," Miles said. "It doesn't appear to me there's any hesitation on the administration's part. I don't think there's any question that our guys are looking forward to the return of Jordan Jefferson ... a teammate, friend, skill set. He adds to our team."

Click
Here
to view this Link.Miles was quick to clarify that the return of Jefferson will not affect that position's hierarchy on the team. Senior Jarrett Lee, who has taken over the team's starting role since Jefferson's suspension, has calmly directed the Tigers to four consecutive wins and is in the midst of his best season in his sometimes turbulent career.
That doesn't mean Miles won't experiment like he's done in the past when Ryan Perrilloux was utilized in certain run-type packages to augment an offense directed by Matt Flynn. The same was the case last season when Lee came off the bench in favor of Jefferson and led a touchdown-winning drive against Tennessee, threw the game-winning score at Florida and had a big completion in the Tigers' 24-21 win over Alabama.
"Right now Jarrett Lee is our starting quarterback," Miles said. "What we would want to do is obviously add to that skill set. There would be an opportunity just like a year ago when Lee came in and played.
"I think there's an opportunity to increase our productivity on offense," Miles said. "One of which would be Jarrett Lee at quarterback doing the things that he's done and Jordan Jefferson at times where he would come in and play and do the things Jordan Jefferson could most significantly."
With the ongoing development of sophomore Zach Mettenberger, along with promise of true freshmen Stephen Rivers and Jerrard Randall, Miles had nothing but praise for the state of his quarterback position.
"We're better at quarterback than we've ever been," he said.
The grand jury reconvened Wednesday morning and heard testimony from Johns in the morning and Jefferson later in the afternoon. Also called for testimony were LSU players Lavar Edwards, Derrick Bryant and Evan Washington.
Two other players who were persons of interest in the fight - Jarvis Landry and Chris Davenport - were not called to testify. The grand jury, which also saw video evidence of the fight, later met for an undisclosed amount of time once it entered into deliberations.
Miles believes Jefferson has been regretful of his actions and cognizant of how close all of his goals nearly evaporated.
"I know that he misses the team, I know he misses the opportunity to be out there practicing and improving," Miles said. "I believe this has been a very unfortunate set of circumstances for him and I hope he understands it is what he had in front of him … to play football at LSU and get a degree. All the goals that he wanted are still there. That was almost withheld based on his involvement for a night on the town."