Much improvement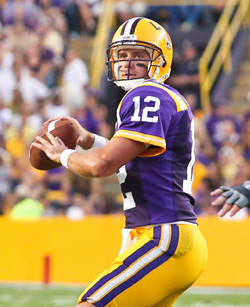 All eyes Saturday night were on LSU's passing game, which was anything but productive in a convincing victory against Oregon last week.
Jarrett Lee, starting in place of the suspended Jordan Jefferson, completed just 10 of 22 passes for 98 yards. The wide receivers made just four catches.
Everyone associated with the Tigers team was hoping for significant improvement in the passing game against Northwestern State on Saturday night. That development certainly occurred.
Playing just the first half, Lee was nearly perfect in helping LSU to a 49-3 victory against the Demons at Tiger Stadium.
Lee completed nine of ten passes for 133 yards and one touchdown. Lee opened the game with a 43-yard completion to Rueben Randle. Tight end Deangelo Peterson caught a touchdown pass from Lee on the Tigers' first possession of the game.
Lee, who suffered a slight ankle injury when getting sacked in the first quarter, turned things over to Zach Mettenberger in the second half. Mettenberger was 8-of-11 for 92 yards and one touchdown. He hooked up with Kadron Boone for a 19-yard scoring pass in the fourth quarter.
"Something we tried to focus on this week was for me to be more in sync with the receivers," Lee said. "We worked on that all week. We wanted to get the momentum going so we threw the long pass on first down. It was exactly what we wanted."
Starting from LSU's 33 after a Demons punt, Lee connected with Randle for a 43-yard gain. Michael Ford, who started at tailback, ran the ball on four consecutive plays. Following a penalty for an illegal formation, Lee hit Peterson for a nine-yard touchdown.
"Northwestern State was more of a man (coverage) team," Randle said. "We had to take advantage of that. We talked about that all week. The receivers had to get open.
"We were told that we were going to go deep on the first play. We just came out and executed. We wanted to get off quickly and make a statement."
Randle, who was hampered by a knee injury last week against Oregon, caught five passes for 121 yards - the second 100-yard receiving game of his career. LSU's wide receivers finished with 14 receptions and, more importantly, no drops. Odell Beckham also grabbed five passes for 40 yards.
"We threw the ball efficiently and caught it well," LSU coach Les Miles said. "We threw for about 200 (225 yards) and ran for about 200 (175 yards). It was the right thing."
The Tigers took control of the game with three second-quarter touchdowns. The middle score was set up by a Michael Brockers interception at Northwestern State's 15. Lee completed a nine-yard pass to Beckham before Ware ran six yards for a touchdown.
Lee took the Tigers on an eight-play, 63-yard drive early in the second quarter. Runs of 12 and 26 yards by Ford put the ball at the Demons' 25. Lee hit Randle for a completion. Randle fumbled the ball, but fortunately for the Tigers it went out of bounds. Four running plays later, Ware scored.
Lee got an opportunity to run the two-minute offense at the end of the first half. LSU drove 52 yards in five plays to score with 20 seconds remaining. Lee started the series with three consecutive completions - an 11-yarder to Beckham, a 10-yarder to Ware and a 28-yarder to Randle.
After Lee failed to connect with Peterson, the Tigers pushed their lead out to 28-3 on a 3-yard scoring run by Ford. LSU finished the first half with 200 yards on offense and four touchdowns. Led by Mettenberger in the second half, the Tigers gained 200 yards and scored three touchdowns.
Overlooked by the more effective passing attack was the LSU ground game. Four tailbacks - Ford, Ware, Alfred Blue and Jakhari Gore - had a total of 41 carries for 169 yards and five touchdowns. Ford rushed for a team-high 72 yards on 13 attempts. Blue had 15 carries for 53 yards, including a 4-yard scoring run.
"It's a great thing to have a lot of backs," Ford said. "We got a lot of people involved. The more backs we get involved the better it is for us."