{{ timeAgo('2023-01-22 20:40:59 -0600') }}
football
Edit
NFLSU Divisional playoffs: Joey B and Ja'Marr advance Cincy to AFC finals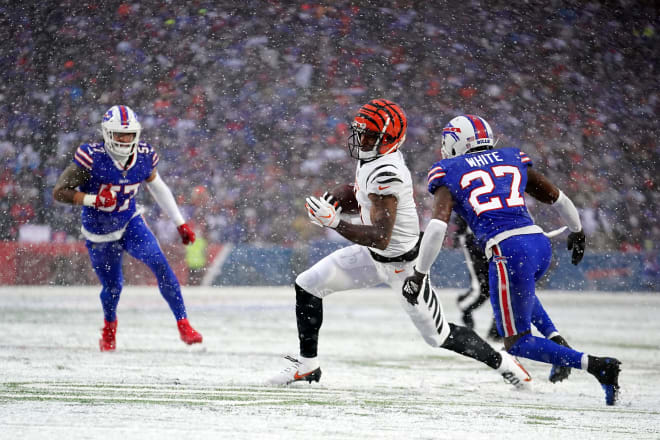 Former LSU stars Joe Burrow and Ja'Marr Chase are one victory away from returning to the Super Bowl.
Burrow threw for 242 yards and one TD and Chase had five catches for 61 yards and one TD as the Cincinnati Bengals dominated the Buffalo Bills 27-10 in an AFC Divisional playoff Sunday.
Burrow and Chase and San Francisco 49ers rookie running back Ty Davis-Price are the final three ex-Tigers remaining in the playoffs.
In the falling snow in Buffalo, the Bengals rolled for 412 yards total offense as Cincy ran for 172 yards to complement Burrow's passing. Also, a week after Burrow was sacked four times in a hard-fought 24-17 wild card weekend win over Baltimore, he was sacked just once by the Bills.
"It was one of their best games of the year for rushing and pass blocking," Burrow said of his offensive line. "It might be our most complete game of the year."
Sunday's win sets up an AFC championship game rematch next weekend at Kansas City where the Bengals beat the Chiefs last year 27-24 to advance to the Super Bowl. Cincy lost 23-20 in the Super Bowl to the Los Angeles Rams in a game Burrow threw for 263 yards and a TD but was sacked seven times.
Burrow believes the Bengals are a better team than last season.
"I believe we're a more complete team," he said. "We seem to make the plays when it counts. I think our O-line is better. I think our run game is better. I think our defense is better. I think our special teams are better.
"We're just overall a much better team than we were last year."
Here's how ex-Tigers played in this weekend's divisional games and followed by next Sunday's NFL and AFC championship game schedule.
Saturday
Kansas City Chiefs 27, Jacksonville Jaguars 20
Chiefs: RB Clyde Edwards-Helaire (injured reserve list).
Jaguars: DE Arden Key 1 tackle (1 solo), 1 QB hit, DE K'Lavon Chaisson 2 tackles.
Philadelphia Eagles 38, New York Giants 7
Giants: CB Cor'Dale Flott no stats.
Sunday
Cincinnati Bengals 27, Buffalo Bills 10
Bengals: QB Joe Burrow 23 of 36 for 242 passing yards and 2 TDs, 31 rushing yards on 6 carries, WR Ja'Marr Chase 5 catches (8 targets) for 61 yards and 1 TD, 3 rushing yards on 1 carry, OT La'el Collins torn ACL out for the rest of the season.
Bills: CB Tre'Davious White 4 tackles (3 solo), LS Reid Ferguson snapped on 4 punts, 1 of 1 field goals and 1 of 1 extra points.
San Francisco 49ers 19, Dallas Cowboys 12
Cowboys: LB Damone Clark no stats, Jabril Cox (inactive list).
49ers: RB Ty Davis-Price no stats.
Next Sunday
NFC championship game
San Francisco 49ers at Philadelphia Eagles, 2 p.m. CST (Fox)
AFC championship game
Cincinnati Bengals at Kansas City Chiefs, 5:30 p.m. CST (CBS)