{{ timeAgo('2023-03-16 15:01:33 -0500') }}
baseball
Edit
No. 1 LSU takes 11-game win streak into Friday's SEC opener at Texas A&M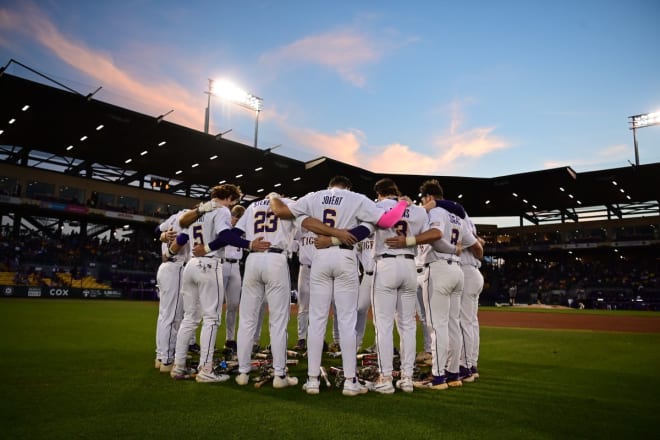 There's a few things LSU second-year head baseball coach Jay Johnson knows about his No. 1 ranked Tigers as they open SEC play at No. 11 Texas A&M Friday night at 6 p.m.
First and foremost is having a vastly better pitching staff from top to bottom gives him a bigger margin of error than a year ago.
"I just think now I feel like we match up," said Johnson, whose 16-1 Tigers are on an 11-game winning streak. "I feel like you're not going into it like `Man, some things really have to go right. We need Dylan (Crews) to hit a homer or Jacob Berry to hit a homer or their pitcher to be off a little bit for us to be where we want to be so the bullpen can now go.'
"I feel good about the starting pitching and I feel really good the bullpen."
While the Tigers are ranked first in Division 1 in scoring (11.5 runs per game), fielding percentage (.990 and shutouts (6) and are second in earned run average (2.27) and on-base percentage (.472), Johnson is eager to see how his team performs against a better competition.
According to WarrenNolan.com, LSU's current strength of schedule in 91st nationally, 10th in the 14-team SEC and one spot behind Texas A&M.
"I love the talent on our team," Johnson said. "I think we match up great. I think that they've shown a strong mindset in a different way than maybe you would think. The next phase is continuing to improve as we get tested in different ways."
The additions of North Carolina State transfer third baseman Tommy White (.396, 6 homers, 27 RBI) and freshmen Paxton Kling (.425) and Jared Jones (.340, six homers, 21 RBI) have rounded out a killer batting order topped by junior center fielder Dylan Crews (.519, 5 homers, 25 RBI) and graduate student second baseman Gavin Dugas (.408, 5 homers, 14 RBI).
LSU's offense wasn't bad last season when Tigers finished 40-22. But Johnson's off-season recruiting to improve LSU's pitching has been stunning.
"I think we're certainly better on a mound, that's irrefutable," Johnson said. "And we're certainly better defensively. That's irrefutable."
Last year after 17 games (all non-conference), the Tigers' starting pitching had a record of 8-2, threw 67.2 innings, allowed 24 earned runs, had a 3.19 ERA with 77 strikeouts and 24 walks and used pitchers for 60 relief appearances.
This season after 17 games (all non-conference), LSU's starting pitching has a 9-1 record, has thrown 76 innings, allowed 14 earned runs, has an ERA of 1.66 with 109 strikeouts and 27 walks and has used pitchers for 43 relief appearances.
Johnson used six pitchers as starters in non-conference play. It appears he's settled on a starting weekend rotation of Air Force junior transfer Paul Skenes (4-0, 0.75 ERA, 48 strikeouts and 4 walks in 24 innings) for game 1, junior returnee Ty Floyd (3-0, 1.08 ERA, 21 strikeouts and 5 walks in 16.2 innings including 6 innings in relief) for game 2 and UCLA sophomore transfer Thatcher Hurd (2-0, 2.04 ERA, 25 strikeouts and 9 walks in 17.2 innings) for game 3.
"Going into SEC play, I'm super happy how my body's been feeling throughout the week," Skenes said.
The Tigers' top seven relievers have a record of 6-0 with four saves, have thrown 48.2 innings, allowed four earned runs and have a 0.74 ERA.
"Once we get to that bullpen, that's usually gets bad for other teams," said sophomore left-handed reliever Nate Ackenhausen, a transfer from Eastern Oklahoma State who is 2-0 and has a 0.90 ERA with 10 strikeouts and two walks. "We got a bullpen full of 10 dudes who can pitch any at any moment where I feel like other teams have one or two guys in the bullpen.
"So, you when you get their Friday starter out of the game quick, they have to go to their main relievers. It just sets us up for Saturday and Sunday, too."
Ackenhausen and junior returnee Garrett Edwards have emerged as the Tigers' bullpen firemen, dousing opposing rallies. Vanderbilt junior Christian Little has earned a closing role with an 0.00 ERA, 14 strikeouts and two walks in 8.2 innings.
Junior returnee Riley Cooper, who got a couple of early starts including suffering LSU's lone loss vs. Iowa, is back in the bullpen.
LSU's other area of huge improvement is fielding. The Tigers have just five errors compared to 29 errors at this time a year ago.
Johnson knows his team has had a target on its back long before the start of the season.
"Our team has gotten more hype than any team I've ever seen well before this point in the season," Johnson said. "They deal with it about as good as you can.
"It's really like none of that matters. It's always about the play and the fundamentals. And executing the fundamentals and being in the right frame of mind."
Texas A&M, a College World Series participant last season, is 13-4 with an eight-game win streak.
The Aggies' pitchers enter Friday with 11 games with double-digit strikeouts, including each of the last 3 games and 4 of the last 5 overall. That includes a program single-game record 23 strikeouts in its 16-inning marathon win over Texas Tech.
Here's the pitching matchups for the series:
GAME 1 Friday 6 p.m. • SEC Network
LSU: RHP Paul Skenes (4-0, 0.,75 EA, 24 IP, 48 strikeouts, 4 BB)
A&M: RHP Nathan Dettmer (1-1, 2.37 ERA, 19 IP, 24 strikeouts, 7 BB)
GAME 2 Saturday 2 p.m. SECN+
LSU: RHP Ty Floyd (3-0, 1.08 ERA, 16.1 IP, 21 strikeouts, 5 BB)
A&M: LHP Troy Wansing (*2-1, 2.75 ERA, 19.2 IP, 33 strikeouts, 6 BB)
GAME 3 Sunday 1 p.m. SECN+
LSU: RHP Thatcher Hurd (2-0, 2.04 ERA, 17.2 IP, 25 strikeouts, 9 BB)
A&M: RHP Chris Cortez (1-0, 5.60 ERA, 17.2 IP, 17 strikeouts, 12 BB)