Opportunistic offense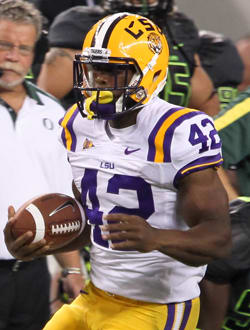 ARLINGTON, TEX. - LSU's offensive numbers were far from dazzling in its season-opener against Oregon at Cowboys Stadium on Saturday night.
The Tigers finished with only 273 yards with an average of just less than four yards per play. LSU failed to reach triple figures in passing yardage.
But, in football, dividends are paid according to scoring. The LSU offense had five scoring drives - three touchdowns and two field goals - in pulling away to a 40-27 victory against the No. 3-ranked Ducks in the Cowboys Classic.
Only one of the Tigers' scoring drives covered more than 41 yards. LSU moved 75 yards in 12 plays to take the lead for good on a Jarrett Lee to Rueben Randle touchdown pass just prior to halftime. But, the Tigers offense was opportunistic as it took advantage of great field position.
"Our defense definitely did a great job," said Lee, who replaced the suspended Jordan Jefferson at quarterback. "They really helped us. We had a short field all night. That was the difference in the game. It's real easy for the offense when the defense and special teams make plays like that."
LSU took a 3-0 lead on a 44-yard field goal by Drew Alleman. The Tigers moved only 12 yards after an 11-yard punt return by Tyrann Mathieu put the ball at Oregon's 39.
Holding a 16-13 lead, LSU grabbed control of the game with a pair of short touchdown drives in the third quarter. Following an Eric Reid fumble recovery, the Tigers went 24 yards in five plays for a touchdown. Spencer Ware carried four times to put the ball at Oregon's 5. Michael Ford then scored the touchdown.
A fumble recovery by Ron Brooks on the kickoff gave LSU possession at the Ducks' 41. A 29-yard pass from Lee to Deangelo Peterson gave the Tigers a first down at Oregon's 8. Ware scored the touchdown on a 1-yard run.
A 15-yard punt return into Oregon territory by Mathieu led to Alleman's second field goal of the game - a 32-yarder. Ford keyed that eight-play, 33-yard drive with a 20-yard run. LSU's last score - a 16-yard run by Ford - took place after Oregon was stopped on downs at its 41.
In LSU's 41-24 victory here against Texas A&M in the Cotton Bowl last January, it had two 100-yard rushers - Stevan Ridley and Ware. The Tigers almost duplicated that feat. Ware had 99 yards on 26 carries, while Ford gained 96 yards on 14 carries.
"We hope for big (running) plays," Ware said. "But, we have to take what the defense gives us. Coach tells us to be patient, be patient. Our role is to carry the team, to carry the ball. We want to eat up the clock and pound the opponent."
LSU's offense put together just one lengthy drive, but it was an important one. Trailing 13-9, the Tigers took the lead for good. Going with a no-huddle attack, three carries by Ware and one by Ford resulted in 36 yards and a first down at Oregon's 39.
Lee converted a third-and-12 with an 18-yard completion to Peterson. A pass interference call against Eddie Pleasant on Randle gave LSU a first down at the Ducks' 14. The touchdown came on a 10-yard pass from Lee to Randle. On the 75-yard drive, there were seven rushes for 43 yards.
"We wanted to pick up the tempo and run the ball," said guard Will Blackwell, one of the five offensive line starters who played every snap. "We went to a little faster pace. I think it caught them off guard."
Making his first start in two seasons, Lee did a good job guiding the offense. There was just one turnover when a miscommunication took place on an errant shotgun snap by P.J. Lonergan. Lee was 10-of-22 for 98 yards. He was sacked just once and threw no interceptions.

Click
Here
to view this Link.
"The running game did the job tonight," Lee said. "The offensive line did a good job. It was good to get a win, but there were some plays I would like to get back."
Miles was more than satisfied with what he received from Lee.
"I enjoyed Jarrett Lee's gutty effort," Miles said. "I told him not to try to do everything at once. Run the play that was called. He just had to get the offense to do the things they could do. He did a good job keeping the ball on the ground with the lead."