Report: Drake Davis arrested, suspended by LSU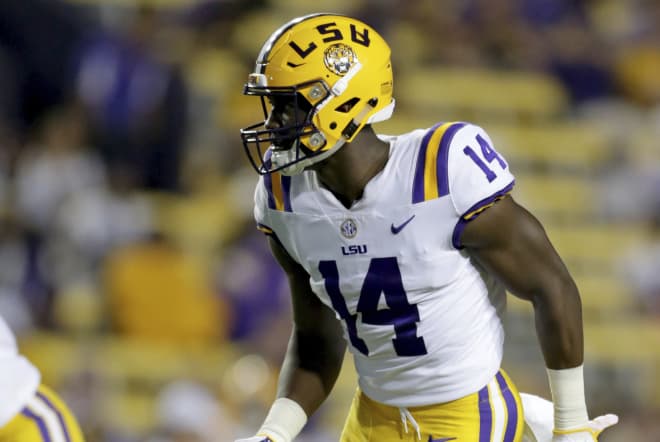 LSU junior wide receiver Drake Davis has been arrested on Friday night after being accused of second-degree battery charges.
The news was first reported by WBRZ-TV in Baton Rouge.
Davis is being accused of punching his girlfriend and breaking one of her ribs. According to police, Davis threatened her and said "I might kill you."
The incident supposedly took place on Thursday night, per the arrest warrant.
Davis and the victim were reportedly in a relationship since January 2017 and broke up earlier this month. The victim detailed four separate incidents to investigators, including "attacks" in April and June, and being punched in the stomach by Davis while at his house in May 2017.
The warrant states that Davis strangled the victim in his car after waving to a friend.
Davis has since been suspended indefinitely by the team.
Davis, a 6-foot-4, 220-pound Baton Rouge native, has hauled in four receptions for 153 yards and two touchdowns over the past two seasons with the Tigers.
Davis is the third LSU football player to be suspended. Sophomore guard Ed Ingram and sophomore linebacker Tyler Taylor did not report to camp. Taylor was arrested in Georgia, while it is unclear what caused the team to suspend Ingram.