Rivals100 DB Jacoby Stevens commits to LSU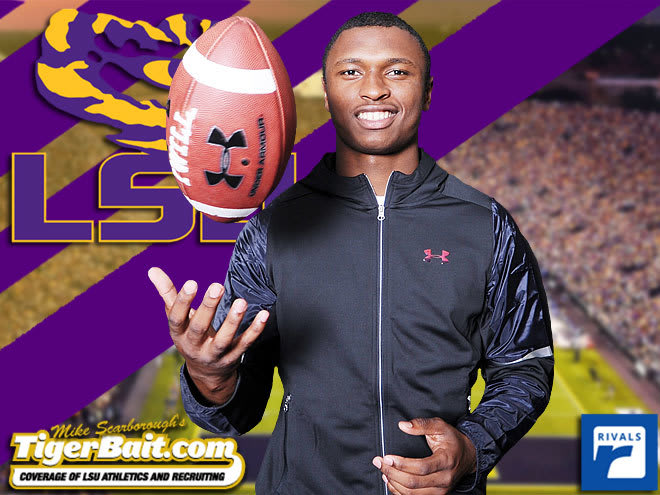 When JaCoby Stevens backed off his pledge to LSU back in the fall, he did so with the intentions of exploring his options and seeing what other schools had to offer. And after making several trips around the country and extended flirtations with the likes of Georgia and Alabama, Stevens realized that he should have trusted his first instinct all along.
On Monday afternoon, he rectified the situation, rejoining the LSU commitment list in a ceremony at Oakland (Tenn.) High School in front of his classmates, friends and family.
"I really figured out that I should have stuck with LSU after I took a visit back in the spring," said Stevens, the nation's No. 37 overall player. "Just watching them practice and watching the coaches coach and interact with everyone. I said to myself and to my dad, 'I made the right decision the first time.' After that it was done and that's why I'm doing this now."

Stevens grew up rooting for LSU and has strong family ties to the state of Louisiana, often referring to himself as a "Louisiana boy." That's a big reason he's comfortable recommitting, despite only visiting once since his decommitment.
"Really and truly I've been going to LSU since before I even thought about playing football," Stevens said. "There's not much I haven't seen. I've already been there enough as a recruit so everything I needed I felt that I got. It was about going to other places and seeing that they have to offer."
Another big reason LSU was able to get Stevens back into the fold was assistant coach Austin Thomas. After briefly leaving LSU for USC, Thomas returned and was named recruiting coordinator as well as associate athletic director, an important distinction for Stevens.
"Austin coming back had a lot to do with it, just because of the relationship we have had over the years," Stevens said. "When I decommitted he stayed on me, when he went to USC I was the first recruit he called and our relationship has only gotten stronger. He has always told me how much they wanted me back and how much they valued my skill set."
In addition to wanting to look around, Stevens was very concerned about the rumors surrounding Tigers head coach Les Miles back in the fall. He said those concerns have been alleviated in recent months.
"They gave him an extension and the athletic director basically said they couldn't find someone who loved the city and the state like Coach Miles," Stevens said. "That just secured it right there. I think he will be there for a long time and so will Coach Raymond and Coach Thomas."
The Raymond Stevens is referring to is Tigers defensive backs coach Corey Raymond and his tradition of developing talent in Baton Rouge is something Stevens said he couldn't overlook.
"That's really important to me. Every guy that I know going ot the D-! level wants to play NFL level and so do I. I want to go to the best school that can get me there. They have the proof that they can get me there, Reid Patter, Mathieu and thely put them in the NFL and they have success so that was calculated looking at LSU.
So now that he's been through the process twice will Stevens still visit other programs in the fall? He says the answer is no.
"It's just going to be LSU," Stevens said. "After I commit I'm setting my official to LSU and only taking visits to LSU games and even changing my phone number."
Stevens is commitment No. 19 in the class for the Tigers and the fourth member of the Rivals100 in the school's 2017 recruiting class.