Texas A&M preview
This is the last of a series previewing LSU's Southeastern Conference Western Division opponents in 2016.
It is certainly not the best of times for Texas A&M coach Kevin Sumlin.
The Aggies will begin August practice with two assistant coaches suspended for some inappropriate remarks at a football clinic for women. A third assistant was reprimanded in the spring for an ill-advised tweet.
More importantly, Texas A&M has a losing record against Southeastern Conference opponents over the past three seasons. In fact, the Aggies have posted just one winning SEC record in Sumlin's tenure – his first campaign in 2012.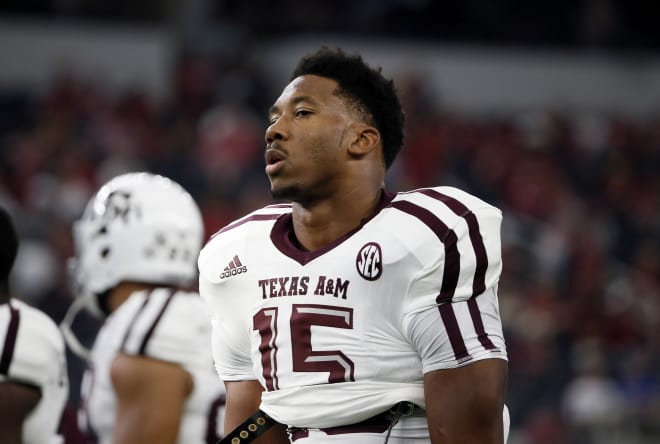 So, Sumlin needs to rebound with a big season for job security purposes. Undoubtedly, Sumlin has a poster boy on each side of the football – Oklahoma transfer quarterback Trevor Knight and defensive end Myles Garrett.
Three seasons ago, Knight was the star in Oklahoma's 45-31 Sugar Bowl victory against Alabama. But, he had a poor year in 2014 and lost his job to Baker Mayfield in 2015. The departure of two Aggies quarterbacks opened up the door in College Station for Knight.
Meanwhile, Garrett has been a stalwart on a rebuilding Texas A&M defense. Garrett, a junior, could easily be the No. 1 pick in next year's NFL draft. If the Aggies are going to have a big year, Knight and Garrett must be outstanding performers.
"Trevor Knight has shown a maturity that we thought he would have as a graduate transfer," Sumlin said. "He has won big games and has been involved in high-level competition. He has been through some lows. It was a situation where Texas A&M filled a void for him.
"Trevor wanted to play at a high level and be around a program that he thought fit his skill set. Then, he filled a void for us at quarterback. He was not just a transfer quarterback, but a guy who had real game experience and real success. It was a great match for us."
Knight played sparingly behind Mayfield last season. He completed 22 of 40 passes for 305 yards and two touchdowns. In his Oklahoma career, Knight started 15 games. He passed for more than 3,400 yards and ran for more than 800 yards. Knight is a true two-way threat.
"My transfer process has been pretty unique," Knight said. "It's been a leap of faith in a lot of ways. Looking back at it, it has been perfect. The team wrapped their arms around me and let me know I was part of the family. I became the leader of the team pretty quickly which was very unique.
"I loved the people that I was around at Oklahoma. It boiled down to the fact that I missed being on the field. (Oklahoma offensive coordinator) coach (Lincoln) Riley told me 'don't walk to something, run to something.' Texas A&M was an opportunity for me and everything has fallen into place."
Kyle Allen and Kyler Murray, who handled most of the Aggies' quarterback duties left the program. They combined for almost 2,900 passing yards. Jake Hubenak, who attempted 75 passes and started the Music City Bowl, was not the answer at quarterback.
"When Trevor came in, he showed confidence," wide receiver Ricky Seals-Jones said. "He really shows that strength, determination and passion. His mindset all spring was 'I'm going to beat you until you beat me.' He continued that through the summer."
Garrett was the best freshman defensive player in the SEC in 2014 when he registered 11½ sacks. Garrett's numbers only improved in his sophomore season under new defensive coordinator John Chavis – 59 tackles, 12½ sacks, 10 quarterback-hurries. But, Garrett is far from satisfied.
"My coaches keep telling me that I can get better getting off the edge and defending the run," Garrett said. "It was tough the first year when I was injured and I had to lean to one side. I now have a good year under my belt where I didn't have any real injuries.
"I have some good strength and conditioning under my belt. Now, I can get another fall camp in and I can improve to get better against some great opponents. We're going against great competition every week. We got knocked down a couple of times last year. We have to keep working for the next game."
The Aggies return 12 starters besides Garrett. Texas A&M has a special wide receiver corps with Seals-Jones, Christian Kirk and Josh Reynolds. Those three players combined for 176 catches and 16 touchdowns in 2015 with mediocre quarterback play.
In his first year as coordinator, Chavis greatly improved the Aggies defense. Texas A&M allowed 380 yards and 22 points per game. In the preceding year, Aggies opponents averaged 451 yards and 28 points per game.
The top five tacklers from 2015 are back – safety Armani Watts (126), linebacker Shaan Washington (81), safety Justin Evans (78), cornerback Donovan Wilson (63) and Garrett (59). Wilson had a team-best five interceptions last season.
"I like where we are," Sumlin said. "I like the chemistry of this football team. I like where the locker room is. I like where their minds are."
LSU vs. Texas A&M at Kyle Field
Thursday, Nov. 24; Kickoff: 6:30 p.m. CST (ESPN)
Head coach: Kevin Sumlin, 36-16 in four years at Texas A&M
2015 record: 8-5, 4-4 in SEC (tied for fifth in Western Division)
2015 postseason: lost to Louisville 27-21 in Music City Bowl
Returning starters: 13 (6 on offense, 7 on defense)
Top offensive returnees
RB James White, Jr. – 55 carries, 196 yards, 1 touchdown
QB Jake Hubenak, Jr. – 75 attempts, 40 completions, 53 percent completion, 399 yards, 3 touchdowns, 1 interception
WR Christian Kirk, So. – 80 catches, 1,009 yards, 7 touchdowns
Top defensive returnees
S Armani Watts, Jr. – 126 tackles
DT Daylon Mack, So. – 9½ tackles-for-loss
DE Myles Garrett, Jr. – 12½ sacks, 10 quarterback-hurries
CB Donovan Wilson, Jr. – 5 interceptions
LB Shaan Washington, Sr. – 4 pass breakups
CB Nick Harvey, Jr. – 4 pass breakups
Top special teams returnees
PR/KR Christian Kirk, So. – 14 punt returns, 341 yards, 2 touchdowns; 20 kickoff returns, 385 yards
All-SEC candidates: WR/PR Christian Kirk, WR Josh Reynolds, WR Ricky Seals-Jones, OL Avery Gennesy, DL Myles Garrett, DL Daeshon Hall, LB Shaan Washington, DB Armani Watts.
Next: Missouri