{{ timeAgo('2022-08-05 00:08:40 -0500') }}
football
Edit
There's no B.S. from B.K. and it's refreshing | Ron Higgins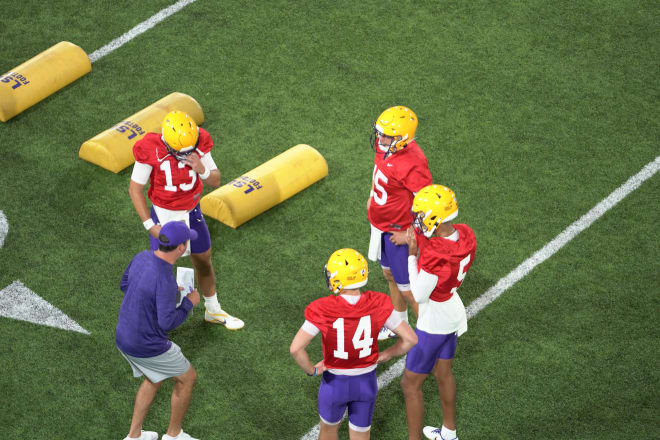 Be sure to subscribe to our TigerDetails Youtube channel to keep up with all the latest Tiger athletic press conferences, video highlights, recaps and more. Just click HERE to follow us on Youtube.
If Brian Kelly was still Notre Dame's head football coach, he would know his almost entire starting offensive line was returning.
If Kelly was leading the Fighting Irish into preseason training camp, he'd take comfort that his top returning cornerbacks combined for 23 starts last season.
If Kelly was getting his preseason top 10 ranked team ready for its Sept. 3 opener at preseason ranked top 5 Ohio State, he'd have a sure inkling his new starting quarterback would likely be a dual threat sophomore who last season totaled 634 yards total offense and averaged 7.3 yards per carry.
But the 60-year Kelly, starting his 33rd season as a college head coach, is in unfamiliar territory as he opened his first preseason camp Thursday as LSU's head coach.
"Generally, we've had a depth chart with guys penciled in (as starters)," Kelly said of his past coaching stops. "There's not a lot of penciling in yet (at LSU). There's some work to be done."
Every time you talk to Kelly, there's no candy-coating, there's no false optimism. There's no cute former LSU head coach Ed Orgeron slogans like "One team, one heartbeat," no naming each day of the practice week to have a consistent motivational theme which Orgeron lifted from his one-time Southern Cal boss Pete Carroll.
Kelly isn't a rah-rah guy. He is all about preparation, believing a player's mental frame of mind needs to be honed just like the off-season physical torture to navigate a 12-game regular season and beyond in the weekly kill or be killed Southeastern Conference.
He's honest in his assessments. After averaging 11 wins per year in the last five seasons at Notre Dame, Kelly presents himself as the confident, veteran coach he has become.
It's why he fully grasps and is motivated by the challenge he accepted. He left the comfort of a national championship contender to steady an LSU program which had its perfect storm 15-0 2019 national championship season. The Tigers crumbled to a combined 11-12 record the last two years because its head coach had no plan for anything other than depositing his hefty paychecks.
Orgeron always presented a sunny-side up attitude until things went wrong. When he was asked simple questions about fixing the problems, he repeatedly had no answers and sealed his fate by hiring overmatched and/or inexperienced assistants.
He wouldn't allow the media into spring or preseason scrimmages. An honest assessment of his team would have revealed his misleading preseason false optimism before LSU lost its last two season-openers.
Kelly is the complete opposite. He's allowing the media into two preseason scrimmages. He wants to pull back the curtain and reveal elements of how he builds championship programs.
"There's not a lot of penciling in yet. There's some work to be done."
— Brian Kelly
Whenever he chooses a starting quarterback – whether it's sixth-year senior Myles Brennan, Arizona State junior transfer Jayden Daniels or redshirt freshman Garrett Nussmeier with freshman signee Walker Howard a possible redshirt – the media and subsequently the public will get a true picture of the QB battle.
"You're not going to see much separation in the first seven days," Kelly said of his QBs. "That will begin to take shape as we get into down and distance situations.
"These first few days, you're just dialing up every play. Practice three, we start to get into some second down (situations). Practice four and five, you start to see a little bit of third down situations. When we get into that sixth day, you'll start to see a little bit more third down and long.
"Now, you can start to see some play calling that is going to be (individually) situated for (each of) the quarterbacks. It won't be until that second week where we start to pin some plays on quarterbacks."
Kelly is confident in explaining and showing his process. He's not hiding nuclear secrets. He's trying to reveal what is realistic at this point.
LSU's 110-man roster released Thursday screamed transfer portal mania is in full throttle in Baton Rouge. There are 23 players who have transferred into the Tigers' program since the end of last season.
Nine transfers into the LSU program are defensive backs, including five from Power 5 schools. Three are offensive linemen, two of which may start.
"There's a lot of moving parts there," Kelly said of his O-line puzzle. "I think it's important that there's some flexibility here for the first two, two and a half weeks. We'll build the starting five and then find the rotation. We've got some really good depth, but I think it's going to take a little while for it to pan out over the next couple of weeks."
Several transfers who figure prominently into LSU's plans at running back and cornerback either arrived this summer or missed spring practice because of injury.
For instance, Kelly is just now getting his first solid look at Oklahoma State transfer cornerback Jarrick Bernard-Converse, who started 47 straight games for the Cowboys. He sat out almost all of LSU's spring practice with a leg injury.
"One of the things I've talked about in our offensive and defensive staff meetings is trying to gain some continuity at the cornerback position," Kelly said. "So, getting him (Bernard-Converse) back out here. . .. we're anxious to see what he can do. He obviously had a great career in Oklahoma State. We expect that to continue here. The expectations are that he's going to impact what we do."
Also, Kelly hadn't seen returning junior preseason All-American receiver Kayshon Boutte live until Thursday's practice. Boutte missed the entire spring after undergoing two off-season ankle surgeries.
"He's an explosive player," Kelly said. "He's learning how to practice today. He was the guy that I had to remind him a little bit about how to practice the right way.
"I just liked the fact that he's totally committed to what we're doing and how we're doing it and now he got a chance to see how we practice for the first time."
The clock is ticking for Kelly until the Sept. 4 season opener vs. Florida State in the Superdome. He and the Tigers have "a long way to go and a short time to get there" as the late Jerry Reed once sang.
"I stand here in front of you feeling pretty good about the players that we've put together in a very short order that can go play at a high level in the SEC," Kelly said. "But the fact of the matter remains, we got to figure out who those guys are."