Tigers grind out victory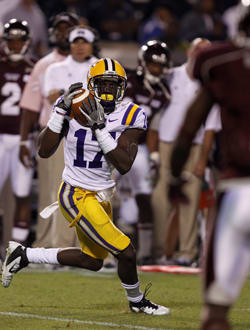 STARKVILLE, MISS. - There was not a lot of flash and dash from LSU in its Southeastern Conference opener against Mississippi State on Thursday night.
But, everyone who saw the Tigers' gritty 19-6 victory against the Bulldogs at Davis Wade Stadium understands how this team is going to play.
The offense put up just one touchdown - a Jarrett Lee to Rueben Randle pass. Drew Alleman kicked four field goals. Then, there was that LSU defense which held Mississippi State to fewer than 200 yards and just two field goals.
"I like a game like this," guard T-Bob Hebert said. "It was down and dirty. It was a tough environment with the cowbells out in force. We had to drive the ball all night. This year, that is what we're about. We're going to run the ball, pass it on you a little bit and play great defense."
Not enough can be said about that Tigers defense. Two weeks ago, Oregon's finesse spread option attack, led by quarterback Darron Thomas and running back LaMichael James, was kept under control by LSU.
On Thursday, the Tigers defense took care of a different type of spread option running game. The Bulldogs power ground attack, led by quarterback Chris Relf and running back Vick Ballard, was shackled by LSU defenders.
Relf, who was replaced by Tyler Russell in the fourth quarter, finished with just 106 yards of offense. He had 13 carries for 25 yards. Then, Relf lost 15 yards on three sacks to end the night with a net of ten rushing yards. Relf did complete 11 of 17 passes, but only gained 96 yards. He threw one interception.
Meanwhile, Ballard was limited to 38 yards on 10 carries. He had rushed for 301 yards in victories against Memphis and Auburn. However, neither of those two Tigers defenses remotely resembles the LSU Tigers defense.
"I told the team the defense needed to come in and play to have the success that we came to have and they did," LSU coach Les Miles said. "The intensity of the defense was strong and that ended up being the tale of the day."
Mississippi State's scoring came on two Derek DePasquale field goals - a 26-yarder in the first quarter which tied the score at 3-3 and a 42-yarder in the third quarter which tied the score at 6-6.
The results of the Bulldogs' next four possessions after the score was tied at 6-6 were three punts and an interception - the second of the game by Morris Claiborne. Mississippi State had no first downs on any of those four series.
"We were flying to the ball," said defensive tackle Michael Brockers, three of whose four tackles came behind the line of scrimmage. "We want to keep the other team out of the end zone. If the other team doesn't score, they can't win. The fewer points they score, the better opportunity we have to win."
Nickel back Tyrann Mathieu and cornerback Tharold Simon were the leading tacklers with ten and eight stops, respectively. Claiborne only made one tackle, but he negatively affected Mississippi State's passing game. He broke up a pass and intercepted both Relf and Russell one time.
"I don't know what happened on the first one," Claiborne said. "I thought (Relf) had thrown it too high. I just jumped up and got it. On the second one, (Russell) had pressure from Ryan Baker and he just threw it up there."
Claiborne's second interception gave LSU the ball at Mississippi State's 19. Four plays later, Alleman made his fourth field goal of the night to wrap up the scoring. Other than the Bulldogs' two scoring possessions, they didn't get inside the Tigers' 35 until the last series of the game.
"It was a hard grind," safety Eric Reid said. "We kind of got to them. We knew they had a very good running game. We had to stay focused and watch our keys. We are blessed to have this type of depth on the defensive line, at linebacker and in the secondary. We have 20 guys we can put on the field."

Click
Here
to view this Link.LSU, which will travel to Morgantown for a matchup with West Virginia a week from Saturday, has allowed nine points the past two games. It has been four years since the Tigers gave up so few points over a two-game stretch.
"We're not playing perfect on defense," Miles said. "There are a number of things we have to do in terms of assignments. "But, our effort, intensity and style of play are good. We're getting there."