Tigers handle Mountaineers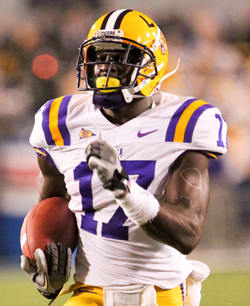 MORGANTOWN, W.V. - Late in the third quarter, the crowd at Milan Puskar Stadium on Saturday night came to life.
A comfortable 20-point LSU advantage had been reduced to a single touchdown. West Virginia certainly had an opportunity to pull off a major upset against the No. 2-ranked Tigers.
However, LSU once again showed its mental toughness in a difficult environment. The Tigers ripped off three successive touchdowns to come away with a 47-21 victory against the Mountaineers.
"We face a team with a good home crowd advantage," LSU coach Les Miles said. "We get a team's best effort. Our performance was not perfect. But, we overcame some adversity. That's the mark of a quality team."
After having their lead trimmed to six points at 27-21, the Tigers were dominant in all phases of the game. First, Morris Claiborne returned a West Virginia kickoff 99 yards for a touchdown to immediately give momentum back to LSU.
Then, the Tigers offense put together a couple of scoring drives with reserve tailbacks Michael Ford and Alfred Blue recording the touchdowns. Meanwhile, the defense permitted the Mountaineers to run just two plays in Tigers territory the rest of the game.
"We needed all three parts - offense, defense and special teams - to win the game," Miles said. "Mo Claiborne's kickoff return was right on time. The defense made some stops. Then, we controlled the ball on the ground on offense and finished it off."
LSU, which had a 27-7 halftime lead, lost a chance to pull further ahead early in the third quarter. First, Rueben Randle dropped a sure touchdown pass in the end zone. Then, Drew Alleman missed a 30-yard field goal.
Given new life, the Mountaineers put together a pair of touchdown drives covering 80 and 90 yards. With 1:16 remaining in the third quarter, West Virginia trailed by just six points at 27-21. Claiborne turned things around with his kickoff return.
"I knew I was stinking up the place (on defense) in the first half," said Claiborne, whose missed tackle led to a West Virginia touchdown. "I got a couple of good blocks from (Lamin) Barrow and Blue. There were a couple of holes and I broke a couple of tackles. That play turned the game around."
West Virginia's ensuing series ended when Geno Smith failed to complete a pass on a fourth-and-three situation from the Tigers' 43. LSU promptly marched 57 yards in nine plays for a touchdown. Ford scored the touchdown on a 15-yard run, but Spencer Ware was responsible for most of the yardage.
Ware caught two passes for 17 yards and ran the ball three times for 29 yards. Ware picked up first downs on three of those five touches. He dazzled the tiring West Virginia defense with a number of spin moves while he had the football.
"We stalled in the third quarter," Ware said. "I said on the sidelines that the fourth quarter is our quarter. The type of offense we have, we attack the defense in the fourth quarter. They had the momentum. That's when we started to take a toll on them.
"I look at that spin move as my trademark. Sometimes, I do it at the last minute. Sometimes, I have a feel for it. I saw West Virginia was tackling me with their heads down. I was in tight spaces. The only thing I could do was spin."
Lavar Edwards recovered a fumble by Smith at the Tigers' 45 on West Virginia's next possession. It took LSU eight plays to put the ball in the end zone. All of the yards came on the ground with Ford, Ware and Blue taking turns running the ball. Blue scored on an 18-yard run.
The three Tigers running backs finished the night with 195 yards on 37 carries. Ford also had a first-half scoring run of 22 yards. Jarrett Lee passed for 180 yards and matched his career-high with three touchdown passes to three different receivers.
Lee capped a scoring drive on LSU's first series with an 11-yard pass to Randle. Midway through the second quarter, Lee hooked up with Odell Beckham for a 52-yard touchdown pass. Just before halftime, Lee hooked up with Chase Clement for a 1-yard touchdown.
"We are being smart with the football right now," said Lee, who was 16-of-28. "We are keeping the ball in our hands. It was a great venue to play in. We look forward to playing top-ranked teams. I'm having a great time. I'm enjoying the season."