Tigers pitchers and offense meshes in SEC tourney win over South Carolina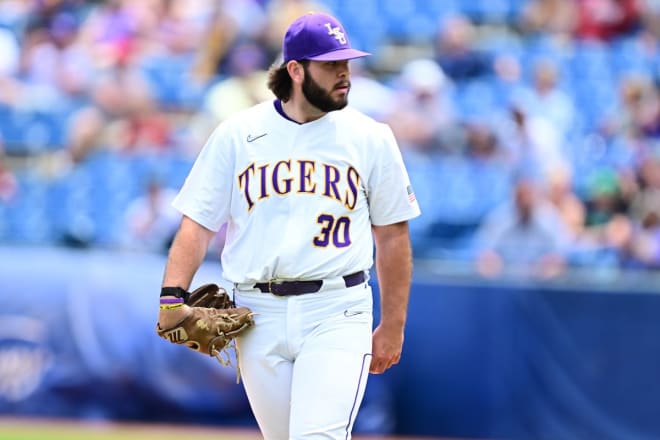 Maybe wearing the hand-me-down glove of the SEC's Pitcher of the Year is providing LSU's Thatcher Hurd with a needed boost.
Hurd, again using one of the gloves worn by teammate Paul Skenes, started and blanked South Carolina in the first four innings Wednesday as the No. 5 LSU rolled to a 10-3 SEC tournament second-round victory over South Carolina in Hoover, Ala.
"My glove broke the other day (playing catch with Skenes)," Hurd said. "So I've been using Paul's hand-me-down. And it's got good mojo, so I'm going to keep rolling with it."
The win advanced LSU (43-13) into Thursday's 4:30 p.m. second-round game against 4th ranked and SEC regular season co-champ Arkansas. The Razorbacks edged Texas A&M 6-5 in 11 innings Wednesday afternoon. South Carolina (39-18) plays the Aggies 9:30 a.m. Thursday.
Hurd, who pitched well in relief in six of his last seven previous appearances, retired the first 12 South Carolina hitters through four innings before giving up a leadoff solo homer in the fifth. He finished allowing three runs on four hits in 5.1 innings.
"We've had a couple really tough games that really stand out in terms of struggles at the back end of the game or giving up leads and those types of things,," said LSU second-year head Jay Johnson said of Hurd's first season this year with the Tigers after transferring from UCLA. "If you look at the totality of it, today is not a surprise.
"He threw five shutout innings at Texas. He's had really good starts along the way. I don't remember who we were playing, it was like Samford or Butler. He looked like a major leaguer that night last Thursday against Georgia, executed at a really high level. I have a lot of confidence in him, and that's why we've continued to pitch him."
Hurd said his fastball command was a key for him against the Gamecocks in executing his plan.
"Just attack the zone with my stuff, everything with full conviction, get ahead.," Hurd said. "At times I could have done better at getting ahead and not being too fine. But you build off every outing, and so we'll continue to attack the strike zone and keep going."
LSU reliever Nate Ackenhausen was also brilliant. He threw 3.2 shutout innings, allowing one hit while walking three and striking out six.
Every LSU starter but one had at least one of LSU's 12 hits – 11 singles and a two-run homer by left fielder Brayden Jobert – off five South Carolina pitchers. Four Tigers had two hits and two RBI each as Johnson earned his 400th career win.
"I feel like we were firing on all cylinders today," Jobert said. "That (his homer) just happened to be the start of it. We have amazing players 1 through 9, and if we just play our ball, we feel like nobody can handle us. I've never been on a team that it's been like that."
South Carolina starting pitcher Eli Jones retired LSU's first five of six batters before Tigers' shortstop Jordan Thompson worked back from a 1-2 count to earn a two-out second inning walk on a 3-2 pitch.
That opened the door for Jobert, who walloped Jones' 1-1 pitch for a two-run, 423-foot homer over the right field wall for a 2-0 Tigers' lead.
Hurd sailed through the first four innings before facing retiring 12 straight batters before facing South Carolina freshman right fielder Ethan Petry to open the fifth.
Petry, who had two home runs and eight RBI in the Gamecocks' 13-5 win over LSU on April 6, launched a solo homer. Third baseman Talmedge LeCroy followed with a single. Hurd retired the next three batters, including an inning-ending strikeout of left fielder Dylan Brewer.
LSU's immediate offensive response in the bottom of the fifth was to send 10 batters to the plate against three South Carolina pitchers.
The Tigers collected four hits on singles by Jobert, second baseman Gavin Dugas, center fielder Dylan Crews and designated hitter Cade Beloso. Right fielder Josh Pearson and third baseman Tommy White drew bases-loaded walks for a pair of RBI. First baseman Tre' Morgan and catcher Hayden Travinski each added an RBI sacrifice fly.
The rally handed Hurd a 6-1 lead entering the South Carolina sixth when the Gamecocks loaded the bases on a one-out rally with two singles and walk.
Johnson decided to leave Hurd in the game to face Petry, who walked to force in a run after a 10-pitch battle. That's when Hurd's 100-pitch day and reliever Sam Dutton entered to inherit Hurd's bases-loaded predicament.
Dutton lasted five pitches, walking LeCroy on a 3-1 pitch to score another South Carolina runner.
LSU lefty Ackenhausen came into yet another bases loaded situation. He struck out Gamecocks' first baseman Gavin Casas on a 3-2 pitch and forced second baseman Will Trippett into a rally-killing grounder to preserve a 6-3 LSU advantage.
Consecutive two-out RBI singles by Morgan and Travinski in the bottom of the sixth boosted the Tigers' lead back to 8-3.
Ackenhausen allowed a pair of Gamecocks' base runners with one out in the top of the seventh. Yet, he slammed the door shut with two straight strikeouts.
Crews and White RBI singles grew the LSU cushion to 10-3 in the bottom of the seventh.
"For the first half of that game, it was a really good ballgame," South Carolina head coach Mark Kingston said. "Both teams were pitching well, playing good defense."
"When both teams had to go to the bullpen, that's when it changed. We were very inconsistent out of the bullpen. Their guys were a little bit better out of the bullpen, a lot better today, and I think that was the difference in the ballgame."
Considering LSU's bullpen struggles, particularly in consecutive late-season SEC series losses to Auburn and Mississippi State, KIngston's compliment was music to Johnson's ears.
"It was a good day from the mound," Johnson said. Again, those guys don't have to be perfect. It's just about execution.
"We have the best offense in the country, and it's been wire to wire. It just speaks to the group of position players that we have and their consistency in taking really good at-bats."