Two LA high schools have produced most LSU All-SEC players since 2000
There have been 66 Louisiana high school players who earned All-Southeastern Conference honors for LSU since the program started its rise in 2000.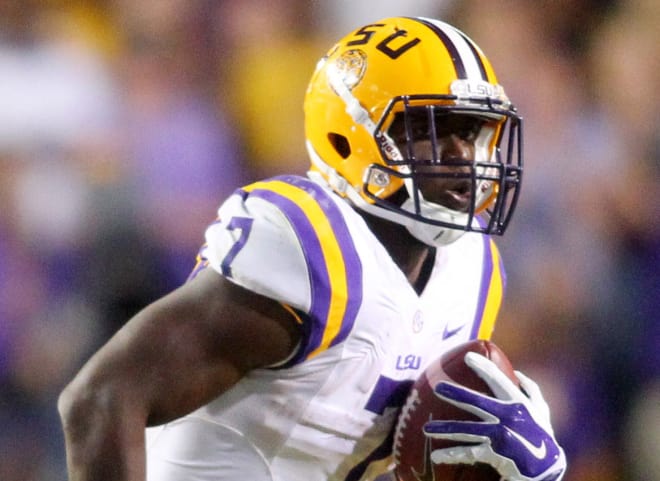 Fifteen of those players were signed by coach Gerry DiNardo before that 2000 season – the first under Nick Saban. In Saban's five recruiting classes, there were 17 in-state players who went on to make All-SEC teams.
Coach Les Miles was responsible for 12 recruiting classes for the Tigers. There were 34 players from Louisiana high schools who were signed by Miles and went on to receive all-conference recognition.
Two Louisiana high schools produced more than two All-SEC players during this 18-year stretch – St. Augustine and West Monroe. Both the Purple Knights and the Rebels had four of their former players become all-league players at LSU.
All four St. Augustine players were signed by Miles – defensive end Rahim Alem, safety Tyrann Mathieu, guard Trai Turner and running back Leonard Fournette. A fifth St. Augustine player safety Chad Jones, Alem's brother, transferred to Southern Lab after Hurricane Katrina hit New Orleans in 2005.
Each of the three coaches signed a future All-SEC player from West Monroe – linebacker Bradie James by DiNardo, offensive tackle Andrew Whitworth by Saban and guard Will Blackwell and defensive end Barkevious Mingo by Miles. Whitworth was a tight end and Blackwell was a defensive end in high school.
The Baton Rouge area sent 16 All-SEC players – one more than the New Orleans area – to LSU in the last 18 years. Nine signees from New Orleans since Katrina became all-conference players, including three of the four St. Augustine players.
The Lafayette/Acadiana and Lake Charles areas have produced nine LSU All-SEC players since 2000. However, just one of those players signed with the Tigers after 2000 – Josh Boutte in 2013. Drew Alleman joined the program as a walk-on in 2008.
Not surprisingly, the two most represented positions were defensive backfield (15) and defensive line (12). The line led the offensive selections with ten – two more than wide receiver. The only quarterback is Josh Booty, who joined the program in 1999 after retiring from major league baseball.
Here is a breakdown by areas of Louisiana of LSU's All-SEC players since 2000.
BATON ROUGE AREA (16)
Signed by Gerry DiNardo
1997: DL Jarvis Green, Donaldsonville High School
1999: P Donnie Jones, Catholic High School
Signed by Nick Saban
2000: LB Lionel Turner, Walker High School
2001: WR Michael Clayton, Christian Life High School
2001: DL Marcus Spears, Southern Lab High School
2004: DL Glenn Dorsey, East Ascension High School
Signed by Les Miles
2005: LB Darry Beckwith, Parkview High School
2007: DB Chad Jones, Southern Lab High School
2010: DB Eric Reid, Dutchtown High School
2010: P Brad Wing, Parkview High School
2011: OL La'El Collins, Redemptorist High School
2011: DB Ronald Martin, White Castle High School
2012: RB Jeremy Hill, Redemptorist High School
2013: LB Kendell Beckwith, East Feliciana High School
2014: OL Garrett Brumfield: University High School
2015: RB Derrius Guice, Catholic High School
CENTRAL LOUISIANA (2)
Signed by Nick Saban
2000: DL Chad Lavalais, Marksville High School
Signed by Les Miles
2014: WR DJ Chark, Alexandria High School
LAFAYETTE/ACADIANA AREA (8)
Signed by Gerry DiNardo
1998: DB Damien James, Carencro High School
1998: WR Josh Reed, Rayne High School
1999: K John Corbello, St. Thomas More High School
1999: LB Trev Faulk, Lafayette High School
1999: RB Domanick Davis, Breaux Bridge High School
Signed by Nick Saban
2000: WR Devery Henderson, Opelousas High School
Signed by Les Miles
2008: K Drew Alleman, Acadiana High School (joined the program as a walk-on)
2013: OL Josh Boutte, Westgate High School
LAKE CHARLES AREA (1)
Signed by Gerry DiNardo
1996: OL Brandon Winey, Washington-Marion High School
MONROE/NORTHEAST LOUISIANA (9)
Signed by Gerry DiNardo
1999: LB Bradie James, West Monroe High School
Signed by Nick Saban
2001: OL Rudy Niswanger, Ouachita Christian High School
2001: OL Andrew Whitworth, West Monroe High School
2002: DL Kyle Williams, Ruston High School
2004: DL Claude Wroten, Bastrop High School (joined the program after junior college)
Signed by Les Miles
2006: RB Charles Scott, Jonesboro-Hodge High School
2007: OL Will Blackwell, West Monroe High School
2009: DL Barkevious Mingo, West Monroe High School
2009: WR Rueben Randle, Bastrop High School
NEW ORLEANS AREA (15)
Signed by Gerry DiNardo
1997: DB Ryan Clark, Shaw High School
1997: TE Robert Royal, Karr High School
Signed by Nick Saban
2002: KR Skyler Green, Higgins High School
2003: WR Craig Davis, O. Perry Walker High School
2004: DB Craig Steltz, Rummel High School
Signed by Les Miles
2005: DL Rahim Alem, St. Augustine High School
2007: DL Drake Nevis, Ehret High School
2009: LB Lamin Barrow, Ehret High School
2010: DB Tyrann Mathieu, St. Augustine High School
2011: WR Odell Beckham, Newman High School
2011: DL Anthony Johnson, O. Perry Walker High School
2011: OL Trai Turner, St. Augustine High School
2014: OL Will Clapp, Brother Martin High School
2014: RB Leonard Fournette, St. Augustine High School
2015: DB Donte Jackson, Riverdale High School
NORTHSHORE/FLORIDA PARISHES (4)
Signed by Gerry DiNardo
1997: DB Fred Booker, Hammond High School
1999: DB Demetrius Hookfin, Kentwood High School
1999: RB LaBrandon Toefield, Independence High School
Signed by Les Miles
2009: OT Chris Faulk, Northshore High School
RIVER PARISHES (4)
Signed by Nick Saban
2000: DB Corey Webster, St. James High School
2003: DB LaRon Landry, Hahnville High School
2004: DL Tyson Jackson, West St. John High School
Signed by Les Miles
2011: WR Jarvis Landry, Lutcher High School
SHREVEPORT/NORTHWEST LOUISIANA (7)
Signed by Gerry DiNardo
1999: QB Josh Booty, Evangel High School (joined the program after MLB career)
Signed by Nick Saban
2004: RB Jacob Hester, Evangel High School
Signed by Les Miles
2009: DB Morris Claiborne, Fair Park High School
2009: DL Bennie Logan, Red River High School
2013: DB Tre'Davious White, Green Oaks High School
2016: LB Devin White, North Webster High School
2016: DB Greedy Williams, Calvary High School