Walls eager for visit to LSU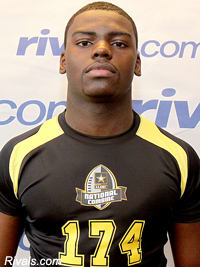 Good news travels pretty fast around Union Grove High in McDonogh, Ga. When word out got out that one of the school's top football players - free safety
Avery Walls
- was heading to LSU for an unofficial visit this weekend it not only caused quite a stir but also brought out several well wishers.
"I was fortunate to get a scholarship to LSU which is really a prestigious school," Wells said. "We even have a few (LSU) alumni at our school like a couple of teachers. Our whole school pretty much heard I was going to LSU and they were congratulating me."
The entire recruiting process has enabled Walls, a 5-foot-11, 190-pounder, to live out a childhood dream where one day he would play college football at the school of his choice. With a scholarship offer list fast approaching 30 (Kentucky became the latest school to offer on Wednesday) Walls finds himself in the exact position he envisioned growing up.
"I always wanted to play for a major college," said Wall, a member of the Rivals250 to Watch in 2011. "It's getting to be here and I've worked really hard and it's paid off. I didn't know whether I was a D-1 guy until I saw how other people were and when I got my first scholarship (Oklahoma).
"I've just stayed humble," Walls said. "I may have all of these offers but at the end of the day I can only choose one. Right now I'm just going out and trying to see as many schools as I can."
Schools from the Southeastern Conference make up the bulk of offers for Walls who has offers from LSU, Auburn, Kentucky, Ole Miss, Mississippi State, South Carolina, Tennessee and Vanderbilt. The one school from that league that's inconspicuous by its absence of an offer - home-state Georgia - recently hosted Walls on an unofficial visit.
"A lot of stuff has been coming in so quickly over the past two weeks," Walls said. "Every time I think about certain schools and start to do the research somebody else comes in the picture. Right now I'm just doing my research and looking for my academic interest and seeing where I can get to during the spring."
The next stop for Walls will be LSU where the Tigers will conduct their second Junior Day in conjunction with their spring game. Wall's trip to Baton Rouge, which will also include his mother, is the culmination of three years of communication with LSU Director of Player Personnel Sherman Morris, who helped cultivate a relationship that began when Walls spent the first two years of his career at Sandy Creek High in Tyrone, Ga.
"He's really helped me out this whole recruiting process," Walls said of Morris. "They were polite from the first time we talked. I know they have a great coaching staff. I talked to one of (defensive back) coach (Ron) Cooper's former players who I've trained with and he told me some good things about him and about his style.
"I'm coming in Friday and then going to the spring game on Saturday," Walls said. "It will give me a chance to bond with the coaches, check out the campus and be with the players. I'm looking forward to it. I know they have great football facilities and great program but I also want to look into the academic side and see what they have to offer."
Walls has carved out quite a name for himself in a short period of time at Union Grove, which finished 9-3 last season and fell to Northside in the second round of the Class 5A state playoffs.
Walls earned first team All-Henry County and first team All-Region honors on the strength of his 104 tackles, four interceptions, 13 pass break-ups, two forced fumbles and two fumble recoveries (including a return for a TD).
"I play safety in high school but I'm versatile," said Walls, who has run 4.38 in the 40. "If we're down a corner they can put me out there. I train four days a week at corner and they can throw me out there and I can cover them just like a corner. I can help the team wherever's needed. I just want to get out on the field."
Walls showed off those cover skills during the first week of January when he took part in the U.S. Army All-American Combine in San Antonio and was named to the combine's second team defensive unit for his efforts.
Upon his return home Walls said things began heating up in recruiting with several schools making contact and a week later he was able to count nine new offers.
Walls, a sprinter and long jumper for Union Grove, is hopeful of putting together a list of his five top schools by the start of his senior year before making official visits and narrowing things down in time to make a decision in time to enroll at the school of his choice in January.
"I have a lot of time left, I'm nowhere near that yet," Walls said of his process. "They're all great schools no matter how big the college is. I'm just looking for what school suits me. LSU sends a lot of people to the NFL and I recently watched some of their Pro Day. I'm definitely looking forward to seeing it."