LSU-Louisville preview
For just the third time in school history, LSU will face the newly-named Heisman Trophy winner in a bowl game Saturday morning.
Sophomore quarterback Lamar Jackson will be on the opponent's sideline when the Tigers take on Louisville in the Citrus Bowl at Camping World Stadium in Orlando (10 a.m. Central/ABC).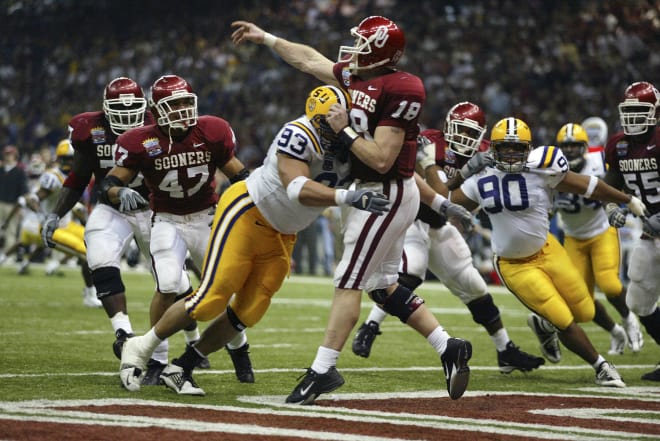 Jackson accounted for 4,928 yards and 51 touchdowns in guiding the Cardinals to a 9-3 regular season record. Louisville was in the running for a spot in College Football Playoffs until it dropped the last two games to Houston and Kentucky.
Jackson ran for 1,538 yards and 21 touchdowns and passed for 3,390 yards and 30 touchdowns. Jackson more than six yards per running attempt and completed 58 percent of his passes. Jackson, who threw nine interceptions, averaged almost nine yards per pass attempt.
The LSU defense succeeded in stopping the other Heisman Trophy winners it met in bowls – Penn State running back John Cappelletti and Oklahoma quarterback Jason White. The Tigers lost 16-9 to Penn State in the Orange Bowl after the 1973 season and beat Oklahoma 21-14 in the 2003 BCS title game.
On a rainy night in Miami, Cappelletti was held to a season-low 50 yards and one touchdown on 26 carries. However, LSU couldn't generate much offense on a sloppy field. The Nittany Lions finished the season with a 12-0 record.
Thirty years later in New Orleans, two one-loss teams squared off for the BCS national title. White had a miserable night as he completed only 35 percent of his passes (13-of-37) for 102 yards. White was sacked five times and intercepted twice – one returned for a touchdown by Marcus Spears.
SEVEN QUICK NOTES ABOUT LSU
1. The Tigers will be participating in a bowl game for the 17th consecutive season – the fifth longest streak in the nation. The only Southeastern Conference school with a longer streak is Georgia at 21 straight years. With a victory against Louisville, LSU will have its 17th straight eight-win season. No other Power 5 Conference school has such a streak. Boise State, a Group of 5 school, has won at least eight games each of the last 18 seasons.
2. For the fourth time in school history, the Tigers will be participating in the Citrus Bowl in Orlando. LSU defeated Wake Forest 34-10 in 1979 when one of its two quarterbacks in that game was current interim offensive coordinator Steve Ensminger. The Tigers were beaten twice in the fourth quarter – by Iowa 30-25 in the 2004 season and by Penn State 19-17 in the 2009 season. The Hawkeyes scored a touchdown on the last play in Nick Saban's final game as LSU coach.
3. The Tigers have never played Louisville in football. LSU has played four games against Cardinals coach Bobby Petrino. The Tigers split four games against Petrino when he was the head coach at Arkansas. LSU did lose two games to Louisville in the NCAA basketball tournament – 86-66 in the Elite 8 and 88-77 in the 1986 national semifinals. Both of those Cardinals teams won the national title.
4. The offense was quite productive under interim head coach Ed Orgeron and Ensminger. In seven games, the Tigers averaged 32 points and 475 yards – 265 yards rushing and 210 yards passing. LSU gained a school-record 634 yards against Missouri. In the regular-season finale against Texas A&M, the Tigers had a 300-yard passer (Danny Etling/324 yards) and a 200-yard rusher (Derrius Guice/285 yards) for the first time in school history.
5. Guice needs 51 yards to become just the fourth LSU player to rush for 1,300 yards in a season. The other three Tigers backs are Leonard Fournette (1,953 yards in 2015), Charles Alexander (1,686 yards in 1977) and Jeremy Hill (1,401 yards in 2013). Guice had two games this season in which he rushed for at least 250 yards – 252 yards against Arkansas and 285 yards against Texas A&M. The only other SEC back to accomplish that feat was Kentucky's Moe Williams in 1995 – 299 yards against South Carolina and 272 yards against Cincinnati.
6. Arden Key needs two sacks to equal the LSU single season record. Oliver Lawrence registered 12 sacks in 1989. Key is averaging one sack per game with ten sacks in ten games. No other SEC defensive player is averaging one sack per game. There are just five defensive players in the country who are averaging more than one sack per contest.
7. Six LSU players have made at least 25 starts in their careers – cornerback Tre'Davious White (46), center Ethan Pocic (36), defensive end Davon Godchaux (32), inside linebacker Kendell Beckwith (29), wide receiver Travin Dural (27) and safety Jamal Adams (25). Beckwith will miss the Citrus Bowl because of a knee injury.
SEVEN QUICK NOTES ABOUT LOUISVILLE
1. The Cardinals will be appearing in a bowl game for the seventh consecutive year – the second longest streak in school history. Louisville participated in a bowl game for nine straight seasons from 1998-2006. The Cardinals have won four of their last six bowl games, including two victories against SEC schools – Texas A&M in the 2015 Music City Bowl and Florida in the Sugar Bowl following the 2013 campaign. Louisville has a 3-1 record against SEC teams in bowl games. The Cardinals defeated Alabama in the 1991 Fiesta Bowl and lost to Georgia in the 2014 Belk Bowl.
2. Louisville has taken part in just three one-possession games this season. The Cardinals defeated Virginia and lost to Clemson and Kentucky in games decided by eight points or less. Louisville has scored at least 30 points in all but two games – Duke and Houston. The Cardinals defense has held the opposition to 14 points or less in five games.
3. There are four statistical categories in which Louisville ranks among the top ten in the country – scoring (45 points per game/No. 1), total offense (559 yards per game/No. 2), third-down defense (31 percent conversion rate/No. 8) and rushing defense (110 yards per game/No. 10).
4. The Cardinals defense cannot be overlooked. Opposing offenses are averaging just 4.6 yards per play – the sixth lowest total in the country. Opposing teams are averaging only 3.0 yards per rushing attempt. There have been just eight runs of at least 20 yards against the Louisville defense. Seven teams have been held to fewer than 300 yards of total offense.
5. With Lamar Jackson at quarterback, the Cardinals have won 14 of their last 18 games. In that span, Louisville is averaging 39 points and 424 yards per game. Jackson is No. 2 in the country in total offense with 411 yards per game. Jackson is the first Cardinals player to have eight 100-yard rushing games in a single season.
6. Louisville has never had two running backs rush for at least 1,000 yards in one year. Brandon Radcliff needs 123 rushing yards against LSU to reach the 1,000-yard barrier. Radcliff has four 100-yard rushing games this season. He leads the Atlantic Coast Conference in yards per carry at 6.6. In his career, Radcliff has rushed for 2,339 yards and 26 touchdowns.
7. Ten Cardinals players besides Jackson earned All-ACC honors. The other offensive players were wide receiver James Quick, tight end Cole Hikutini, guard Kiola Mahani and tackle Geron Christian. Six defensive players were chosen to All-ACC teams – tackle DeAngelo Brown, outside linebacker Devonte Fields, inside linebacker Keith Kelsey, cornerback Jaire Alexander and safeties Josh Harvey-Clemons and Chucky Williams.
PREDICTION
For the past four seasons, LSU has seemed like a somewhat disinterested group in its bowl game. The Tigers were considered heavy favorites against Clemson (Chick-fil-A Bowl), Iowa (Outback Bowl), Notre Dame (Music City Bowl) and Texas Tech (Texas Bowl). LSU was beaten at the end of the game by Clemson and Notre Dame. The Tigers should be a motivated team against Louisville and Heisman Trophy-winning quarterback Lamar Jackson. Coach Ed Orgeron had the players in the proper frame of mind for games against Arkansas and Texas A&M following losses. Motivation should not be a problem for LSU, which would post its worst record in 17 seasons by losing to the Cardinals. Look for the Tigers to come out on top in a shootout.
LSU 35, LOUISVILLE 31
TEAM STATS COMPARISON
LSU points per game: 28.3
Louisville opponents' points per game: 23.3
LSU rushing yards per game: 238.1
Louisville opponents' rushing yards per game: 110.0
LSU passing yards per game: 187.6
Louisville opponents' passing yards per game: 206.3
LSU total yards per game: 425.7
Louisville opponents' total yards per game: 316.3
LSU passing completion percentage: 58.7
Louisville opponents' pass completion percentage: 54.5
LSU sacks allowed per game: 1.6
Louisville sacks per game: 2.4
Louisville points per game: 45.3
LSU opponents' points per game: 16.4
Louisville rushing yards per game: 256.8
LSU opponents' rushing yards per game: 121.8
Louisville passing yards per game: 302.0
LSU opponents' passing yards per game: 201.2
Louisville total yards per game: 558.8
LSU opponents' total yards per game: 323.0
Louisville passing completion percentage: 58.2
LSU opponents' pass completion percentage: 54.6
Louisville sacks allowed per game: 3.3
LSU sacks per game: 2.5
LSU turnover margin: 0
Louisville turnover margin: +7
INDIVIDUAL STAT LEADERS
Rushing
LSU: Derrius Guice – 157 carries, 1,249 yards, 14 touchdowns
Louisville: Lamar Jackson – 234 carries, 1,538 yards, 21 touchdowns
Passing
LSU: Danny Etling – 240 attempts, 144 completions, 60 percent, 1,906 yards, 9 touchdowns, 4 interceptions
Louisville: Lamar Jackson – 382 attempts, 220 completions, 58 percent, 3,390 yards, 30 touchdowns, 9 interceptions
Receiving
LSU: Malachi Dupre – 34 catches, 454 yards, 3 touchdowns
Louisville: Cole Hikutini (TE) – 49 catches, 656 yards, 8 touchdowns
Tackles
LSU: Kendell Beckwith – 91 (injured)
Louisville: Keith Kelsey (LB) – 81
Tackles-for-loss
LSU: Arden Key – 12½
Louisville: DeAngelo Brown (DT), James Hearns (LB) – 11; Hearns is injured
Sacks
LSU: Arden Key – 10
Louisville: James Hearns (LB) – 8 (injured)
Quarterback-hurries
LSU: Arden Key – 10
Louisville: Devonte Fields (DE) – 8
Interceptions
LSU: Donte Jackson, Tre'Davious White – 2
Louisville: Jaire Alexander (CB) – 5
Pass breakups
LSU: Tre'Davious White – 13
Louisville: Jaire Alexander (CB) – 8
Punting
LSU: Josh Growden – 51 punts, 41.9-yard average
Louisville: Mason King – 47 punts, 42.7-yard average
Kicking
LSU: Colby Delahoussaye – 9-of-12 FGs, 37-of-39 XPs
Louisville: Brandon Creque – 13-of-16 FGs; 39-of-40 XPs
Kickoff returns
LSU: Donte Jackson – 7 returns, 164 yards
Louisville: Malik Williams – 14 returns, 315 yards
Punt returns
LSU: Tre'Davious White: 20 returns, 141 yards, 1 touchdown
Louisville: Jaire Alexander – 18 returns, 199 yards, 1 touchdown