LSU QB Joe Burrow on Florida: "I don't like them very much.''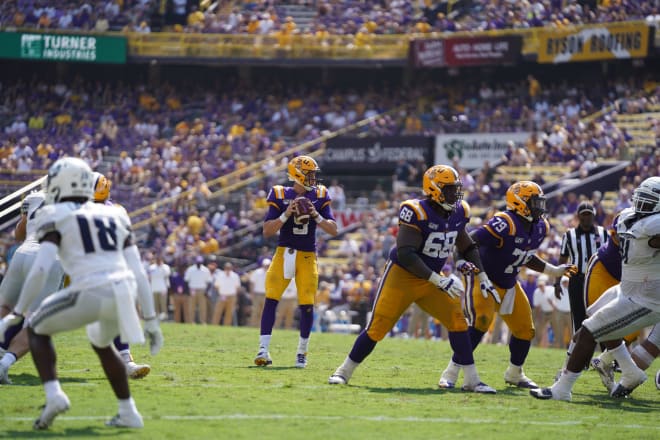 Joe Burrow has been LSU's starting quarterback for just 18 games.
Yet, he understands which opponents are the Tigers' rivals and how he should prioritize them.
"Everyone says LSU a lot of different rivals," Burrow said. "We have a trophy (the Golden Boot) with Arkansas, Florida is a rival, Ole Miss is supposedly a rival, Alabama. . .this (Florida) is supposedly the biggest one.
"I don't like them very much. I know they don't like us very much. . .they beat us pretty good last year."
The Gators won 27-19 in Gainesville, handing then-No. 5 unbeaten LSU its first loss. Burrow was sacked five times, under pressure all day and threw a late victory-clinching interception that Florida returned for a TD.
"We had chances to win that game," Burrow said. "We had chances to put them away early and we didn't do it. We let them hang in there and hang in there and they ended up beating us.
"I think we're way better than they were last year and they are way better than they were last year."
Burrow and the LSU offense have been ridiculously good so far.
He leads the SEC in total offense (385.2 ypg), passing yards (372.8 ypg) and passing yards (1,864).
The Tigers tops the nation in scoring (54.8 ppg) and are second in total offense (571 ypg) and passing offense (416 ypg).
Burrow also knows his team's 5-0 record and No. 5 ranking is a warmup compared to the seven-game SEC gauntlet to finish the regular season.
"The real season starts now, we're in SEC play," Burrow said. "Those first five games were nice to kind of get our confidence going, but this is when the real season starts. This is when the big boy football is played."
Here's Burrow on other subjects:
On Florida's defense: "They're the best defense we've played, it's not even close. They play really hard. They are really confident in their scheme. You can tell how fast they play."
On the evolution of the LSU offense from last year's Florida game until now: "It's not the same offense. We've put up the most points in SEC history through five games. We have explosive playmakers all over the field.
"The biggest step is upfront (on the offensive line). Those guys have really worked their tails off in the off-season. It's going to be a big test for them. They are kind of on a revenge tour from last year."
On his progression as LSU's starting QB beginning with the Fiesta Bowl: "That was the beginning of myself getting engaged in what we were doing and being involved in the game plan. I think that's enabled me to have so much success this year. They (the coaches) trust me enough to put my ideas in the game plan. They trust me enough to make checks at the line. So, I've kind of evolved into a line of scrimmage quarterback."
On winning the Heisman Trophy being a goal: "It was a goal when I was little, not so much now. I'd rather have a big fat (national championship) ring on my hand. It does cross your mind, but games like this are the kind we need to get to where we want to get to as a team."