'Everything looks good' with LSU LB commit Kendall McCallum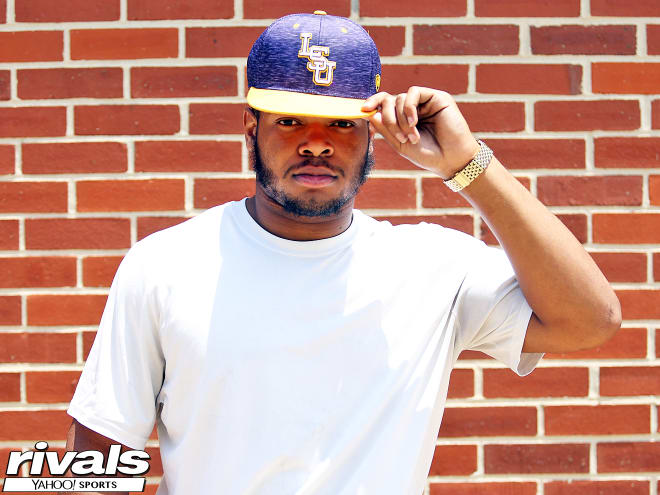 Kendall McCallum has endured a rather stressful week loaded with uncertainty, but there is officially a light at the end of the tunnel.
McCallum, LSU's linebacker verbal commitment from Oxford (Ala.) High School, underwent multiple tests and had a procedure on his heart on Monday. As of late Monday afternoon, doctors treating McCallum told given high school football coach Ryan Herring positive reports about his health and a return to the field is in sight.
"He had some sort of procedure and I got a text from the doctor, who thinks everything is fine," Oxford coach Ryan Herring told TigerDetails. "The doctor wanted to err on the side of caution, so they had some sort of heart procedure today and I just got a text saying, 'Everything looks good,' and as of now, everything looks fine."
Last week, McCallum approached Herring to alarm him that he was dealing with pain in his chest. The 3-star prospect dealt with asthma as a child, but it never popped up while he was on the football team.
Team doctors checked on McCallum, put him through a stress test and results came back positive — there was nothing to worry about, Herring said. Still, the staff at Oxford are being extra cautious and are planning to keep the LSU commitment out of action this coming week against Clay-Chalkville, but a return on Oct. 26 against Gardendale seems likely.
"I think he'll be fine," Herring reiterated. "I don't know if he'll be back this Friday, but from everybody that I've talked to who would know something, he should be fine from here on out … I think we'll have him back if not this Friday, then the next week. All indications from our team doctors are that we're going to err on the side of caution with anything involving your brain or your heart."
Members of the LSU staff have been actively checking in on McCallum. That includes defensive coordinator Dave Aranda, who hand-selected McCallum as one of two linebackers in the Tigers' 2019 class, and Jeremy Hawkins, a member of the team's personnel staff who hails from Alabama.
"Coach Aranda has called me and so has Coach Hawkins," Herring said. "They called immediately and I talk with Coach Hawkins about once a week. I've been on the phone with Coach (Ed) Orgeron, wishing us luck and checking in on Kendall. The coaches at LSU have been extremely professional and I'm falling in love with those guys."
McCallum is Rivals' No. 33-ranked inside linebacker in the Class of 2019 and the No. 26-ranked prospect out of Alabama. He was recently selected to play in the 32nd annual Alabama-Mississippi All-Star Game, which will be held on Dec. 17. McCallum, who committed to the Tigers at the end of June, hails from the same high school as former LSU linebacker Kwon Alexander, who's now with the Tampa Bay Buccaneers.
McCallum is expected to make a full return to the field and his coach believes he's an ideal fit with Aranda's signature 3-4 defense.
"He's an extreme hitter. He'll run through you. He's a true 3-4 run-stopper. Anybody who watches him would agree with that," Herring raved. "He's one of the top linebackers in the state. He's a good kid, a pleasant kid and a hard-worker. LSU will be getting a really good, prototypical 3-4 type linebacker, and he's a good-looking kid. Well-put together and physically imposing."