The quiet, confident Parrish being touted as 'Orgeron's QB'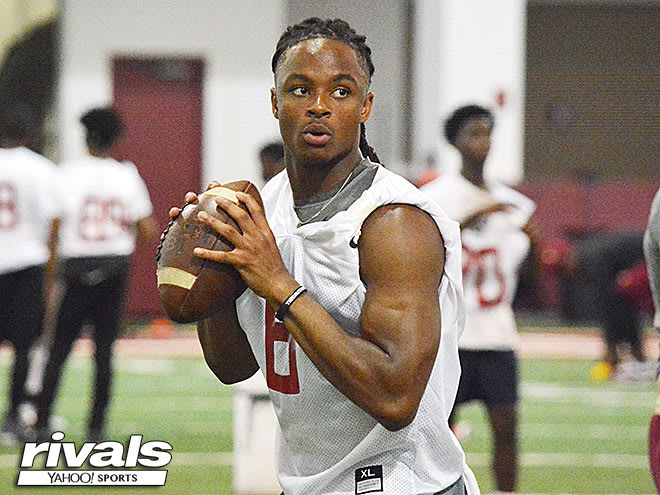 MONTGOMERY, Ala. -- Ed Orgeron twisted and turned on June 21.
LSU's head coach wrestled with one of the 25 biggest decisions he'd have to make: which player would he pick to be his quarterback of the future. Of course, Joe Burrow transferred in from Ohio State earlier that month, and with two years of eligibility remaining, the task turned to finding his eventual successor.
Pete Parrish and his parents appeared to campus after area recruiter Tommie Robinson -- a native of Phenix City, Ala. -- scouted the dual-threat passer in the spring. Parrish had recently turned heads in the Auburn 7-on-7 Passing Tournament, and had multiple SEC schools on the precipice of extending scholarships. Among them: LSU.
Robinson lured Parrish to the first day of LSU's elite prospect camp. He threw under the watchful eyes of Orgeron and offensive coordinator Steve Ensminger, but left campus without an offer. Next up on the Parrish's road trip was a stop in Tennessee.
The family had pulled up to the Vols' campus when a phone call from Oregon came in. After debating with himself whether or not to offer, Orgeron went with his gut. He offered Parrish and received a commitment on the spot, which has become a favorite story for LSU's coach to tell each and every time he visits with the family.
"He always reminds us," says Kiyyah Parrish. "He says, 'Listen, I couldn't sleep.' He tells me all the time, and when he was at the house, he told us he couldn't sleeper. He says, 'I knew that was my quarterback' and 'I couldn't let you guys go to Tennessee.'
"Getting a call from Coach Orgeron confirmed all the hard work Peter put in over the years since he was 4 years old. It reinstated everything he had been working for and it all worked out. It was a really amazing feeling."
Orgeron's quarterback, originally from South Florida, is coming off one of the more memorable state championship performances in Alabama. Parrish, who has been committed to LSU since June, anchored Phenix City Central to a convincing 52-7 defeat of Thompson High School, quarterbacked by Taulia Tagovailoa, the brother of Heisman Trophy candidate Tua Tagovailoa, who like his older brother is scheduled to play for Nick Saban.
As he has been all season, Parrish was surgical. He accounted for 178 yards on 5-of-9 passing and added 100 yards rushing on 11 carries. More specifically, Parrish dropped a 24-yard touchdown into his receivers' hands on a fourth-and-2 and scored on an 8-yard run. He was unequivocally the MVP in the most lopsided victory in Alabama Class 7A history, which capped a 14-0 season.
"I think he represented himself very well," Kiyyah said. "Coming in to see a great team, Taulia is an awesome quarterback, and they had seen in each other in camps before, so they're familiar with each other. He went into the game with confidence. He played his game. It was more like going out there with a practice mentality, but he was ready to win the game"
"As as parent, I was just in tears," she added of watching Peter being handed the MVP hardware. "I was so emotional. For him, it's the top of the line for high school, the highest pedestal you can be in for high school football, 7A in Alabama. On top of that, being MVP, it was amazing."
That's Orgeron's quarterback.
Parrish is the first hand-picked passer in Orgeron's tenure as LSU's head coach. Orgeron oversaw the team's 2017 signing class, which featured Myles Brennan and Lowell Narcisse, but both were originally recruited by former coach Les Miles and ex-offensive coordinator Cam Cameron.
His most glaring attribute: confidence.
Parrish was MVP of the Alabama Class 7A state championship game, but played for four quarters only once in 14 games. It was the semifinals against Lee, and Parrish's Central squad eked out a 34-27 win, the smallest margin of victory this season. Central needs its QB1.
Parrish routinely rotated with his backup quarterback, Tucker Melton, who will take over under center next year when the senior enrolls at LSU. It's a coaching tactic of Central coach Jamey Dubose to ready his junior to start in 2019 by way of pressure-filled snaps in a reserve role.
It never fazed Parrish. He knows he is Central's quarterback. His fearlessness is glaring and he's anxious for more opportunities to test it.
"Going against a great time like Thompson, it was great. I definitely liked the feel of that," Parrish began. "I'm not scared of anybody, of any team, Alabama or whoever it is. I'm ready for the opportunity to play them and hopefully, ball out against them. I'm just ready to go to college, to play good teams like Alabama and Auburn and get big wins against those teams."
The big stage is only months away.
Parrish will sign his letter of intent and officially become a Tiger on Wednesday. He'll report to campus in June, a trip he's become all-too-familiar with over the past six months and taking in multiple games inside the stadium, including wins over Louisiana Tech, Ole Miss, Georgia and Mississippi State.
After each game, Parrish sat down in Ensminger's office to go over the script. He'll officially have his own copy on Wednesday right after he signs, which is expected to have some added wrinkles to accommodate for his legs, the nuance that LSU's next quarterback will bring to the competition.
"I feel my dual-threat abilities give me an edge over defenses. I think it'll be another factor in my game play," Parrish said. "LSU stated to throw the ball a lot more and get into that spread offense. They want to spread the receivers out and throw the ball around. I'm excited to start throwing the ball a lot. I've talked to Coach Ensminger about using my legs as well. It's going to be a run-pass type of offense."
The offense may morph with the addition of Parrish to the roster. The competition will heat up, too.
During multiple in-home visits with the LSU coaches in recent weeks, Orgeron assured Parrish he'll have the same opportunity to start as Joe Burrow. "Whoever is the better player will start," he said.
The intrepid quarterback won't shy away from the competition. He invites it, and more so, is anxious to try and earn playing time under center. Brandon Harris is the last true freshman to start a game for the Tigers back in 2014.
Parrish will aim to buck the trend in the same quiet, diligent fashion that led him to his LSU offer, a 14-0 championship season and a selection to the Alabama-Mississippi All-Star Game: thriving in the limelight.
"He's done this all his life," Kiyyah raved. "He's been on the big stages. He runs track, he's a junior olympian. He handles pressure extremely well. Peter is going to come in and make the players better around him. He brings that kind of energy … that when he's on the field, he's a workhorse. LSU has always had great quarterbacks, but he's going to come in there and bring that boost of energy, that boost of leadership they need."
LSU is anxious for Parrish's arrival. It's a mutual feeling.
While the college football world works feverishly to decipher LSU's quarterback woes of the past, Parrish is anxious to rectify it.
All the guts and glory associated with that position fail to faze the soon-to-be Tiger. History does not apply to him, his mother remarks.
What else would be expected from Orgeron's hand-picked quarterback?
"It's definitely a lot of excitement," Parrish smiled. "A little bit of both (excitement and pressure). The quarterback position is one of the most important spots on the field. I'm excited to go out there and compete against the other quarterbacks that will be there and hopefully get that starting position."