LSU-Notre Dame preview
Much of the talk surrounding LSU's preparation for its Citrus Bowl game against Notre Dame at Camping World Stadium in Orlando on Monday (noon Central/ABC) has involved the future of offensive coordinator Matt Canada.
Apparently, the rocky relationship between Canada and head coach Ed Orgeron will end following the game. According to numerous sources, Canada will not be retained by Orgeron.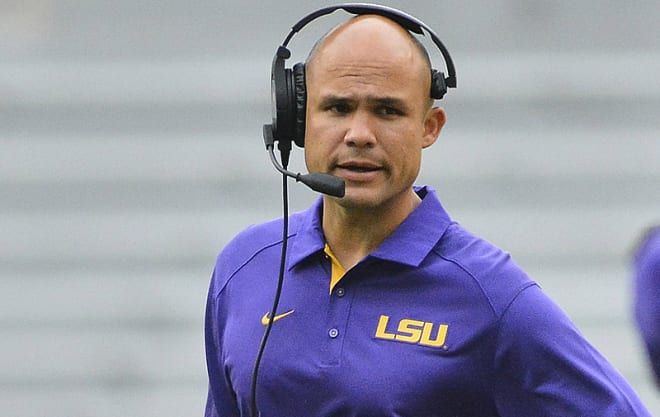 Orgeron refuses to discuss the issue as he maintains that everyone's focus is on beating Notre Dame and finishing with ten victories for the first time in four years.
If the Tigers are going to accomplish that goal, the attention needs to be placed on their defensive coordinator – Dave Aranda. It will be up to Aranda to find a way to slow down a potent Irish ground game, which is led by Josh Adams. In addition, quarterback Brandon Wimbush is a running threat.
But, Aranda loves the challenge which awaits him and his defense Monday.
"There's an intelligence in (Notre Dame's) attack," Aranda said. "I'm excited about the challenge, but nervous about covering all the bases because it's quite a lot.
"What concerns you about their run game is the misdirection and the angles and pulls they try to create. They are going to crack on the outside and pull and load inside out. There are seams they create that if you're undisciplined in getting lined up, you could be at a disadvantage."
Aranda will be missing three of his four starting linebackers for the bowl game – Arden Key and Corey Thompson outside and Donnie Alexander inside. The replacements will be K'Lavon Chaisson for Key, Michael Divinity for Thompson and Tyler Taylor for Alexander. Chaisson and Taylor are freshmen.
"I'm proud of the progress we've made," Aranda said. "It's been a challenging year. When you're dealing with young guys, you're trying to get everyone on the same page, play with the right technique and get the communication you need to effectively defend. We're just adding to our play list now."
Fast facts about LSU
The Tigers enter the Citrus Bowl on a three-game winning streak with the margin of victory being at least 20 points. LSU defeated three Southeastern Conference opponents in November – Arkansas (33-10), Tennessee (30-10) and Texas A&M (45-21). Only once previously did the Tigers beat three SEC opponents in November by at least 20 points. In 1949, LSU beat Vanderbilt (33-13), Mississippi State (34-7) and Tulane (21-0).
The Tigers will be taking on Notre Dame for the 12th time with three of the previous matchups coming in bowl games. The Fighting Irish has won six of the 11 games, but LSU has won two of the three bowls – the Independence Bowl in the 1997 season and the Sugar Bowl in the 2006 season. The Tigers lost 31-28 to Notre Dame in the Music City Bowl three seasons ago.
LSU will be participating in the Citrus Bowl for the fifth time. The Tigers defeated Wake Forest in the 1979 season and Louisville last season. LSU's losses came against Iowa in the 2004 season and Penn State in the 2009 season. The Tigers will be appearing in their 49th bowl game – one in each of the last 18 years. LSU has a 25-22-1 bowl record. The 25 bowl victories rank No. 10 in the country.
The Tigers have committed only eight turnovers this season – four fumbles and four interceptions. No team in the country has fewer turnovers this season. Alabama has also turned the ball over only eight times. Moreover, the eight turnovers equal the fewest committed by a team in a single season in NCAA history.
Inside linebacker Devin White leads the Southeastern Conference in tackles and cornerback Greedy Williams leads the conference in pass interceptions. The last time one school had the leader in both tackles and interceptions occurred 24 years ago when Ole Miss accomplished that feat. Abdul Jackson registered 140 tackles and Alundis Brice intercepted seven passes that season for the Rebels.
Quarterback Danny Etling has the second best interception-to-pass attempt ratio in SEC history. Etling has thrown one interception for every 73 pass attempts. The only SEC quarterback with a better ratio for his career was Alabama's AJ McCarron, who threw one interception for every 86 pass attempts. This season, Etling has been picked off twice out of 242 pass attempts.
Fast facts about Notre Dame
With a victory, the Fighting Irish would have its second 10-win season in the past three years. Notre Dame played ten teams who went to bowl games – all opponents except for Miami (Ohio) and North Carolina. The Irish had a 7-3 record against the ten teams who went to the postseason. Notre Dame has played only two games decided by fewer than eight points. The Fighting Irish lost to Georgia 20-19 and beat Navy 24-17.
Notre Dame will be participating in its 36th bowl game. The Fighting Irish refused to go to a bowl from 1925 through 1969. Notre Dame has a 17-18 bowl record, including a 4-4 mark against SEC teams. Six of those eight games have been against Alabama and LSU. The Irish have a 2-1 record against the Tide and a 1-2 record against the Tigers. Notre Dame beat Florida and lost to Georgia in the other bowl games against SEC teams.
Coach Brian Kelly had a bounce-back season after the Irish won just four games in 2016. Since 2001, Kelly has a 162-58 record. Only three active FBS coaches have won more games than Kelly in that span. Ohio State's Urban Meyer is No. 1 with 176 victories – followed by Alabama's Nick Saban with 165 victories and Miami's Mark Richt with 164 victories.
Guard Quenton Nelson and offensive tackle Mike McGlinchey were both consensus first-team All-Americans. Nelson played 819 snaps and did not give up a sack or a quarterback hit. Notre Dame backs had nine runs of at least 60 yards – seven by Josh Adams. No back in the country had as many runs which gained at least 60 yards. Adams also had a nation's best four runs of at least 70 yards.
Brandon Wimbush is just the third Notre Dame quarterback to pass for more than 1,000 yards and rush for more than 500 yards in the same season. Wimbush has more than 1,800 passing yards and more than 800 rushing yards. The other two Fighting Irish quarterbacks to reach those numbers are Tony Rice (1988-89) and DeShone Kizer (2015).
Linebacker Te'Von Coney, who leads Notre Dame in tackles, did not become a starter until midseason. Coney also is No. 1 on the team in tackles-for-loss. It is no surprise that Julian Love is the top playmaker in the secondary. Love was a Freshman All-American a season ago. Love has returned two of his three interceptions for touchdowns and his 17 pass breakups are a school record.
PREDICTION
These two teams are evenly matched. Both LSU and Notre Dame rely primarily on their running games. The Tigers' Derrius Guice and the Irish's Josh Adams are two of the best backs in the country. The LSU passing game with Danny Etling is more productive than that of Notre Dame. However, Irish quarterback Brandon Wimbush is a running threat. The difference in the game may be Tigers defensive coordinator Dave Aranda. It is difficult to believe a one-dimensional offense will have its way against an Aranda-coached defense. The distraction surrounding offensive coordinator Matt Canada's future will not be a factor. The Tigers will pick up that quite meaningful tenth victory of the 2017 season.
Score: LSU 27, Notre Dame 23
Here are the statistical comparisons between LSU and Notre Dame.
LSU points per game: 28.1
Notre Dame points allowed per game: 21.8
LSU rushing yards per game: 210.8
Notre Dame rushing yards allowed per game: 153.2
LSU passing yards per game: 201.3
Notre Dame passing yards allowed per game: 213.5
LSU pass completion rate: 60 percent
Notre Dame pass completion rate allowed: 57 percent
LSU total yards per game: 412.1
Notre Dame total yards allowed per game: 366.7
LSU turnovers per game: 0.7
Notre Dame turnovers forced per game: 1.7
LSU sacks allowed per game: 2.3
Notre Dame sacks per game: 1.8
LSU third-down conversion rate: 40 percent
Notre Dame third-down conversion rate allowed: 34 percent
Notre Dame points per game: 35.3
LSU points allowed per game: 18.8
Notre Dame rushing yards per game: 279.1
LSU rushing yards allowed per game: 126.4
Notre Dame passing yards per game: 175.8
LSU passing yards allowed per game: 185.2
Notre Dame pass completion rate: 51 percent
LSU pass completion rate allowed: 53 percent
Notre Dame total yards per game: 454.9
LSU total yards allowed per game: 311.7
Notre Dame turnovers per game: 1.3
LSU turnovers forced per game: 1.3
Notre Dame sacks allowed per game: 2.1
LSU sacks per game: 2.9
Notre Dame third-down conversion rate: 44 percent
LSU third-down conversion rate allowed: 35 percent
Here are the individual statistical leaders for LSU and Notre Dame.
Rushing
LSU: Derrius Guice – 216 carries, 1,153 yards, 11 touchdowns
Notre Dame: Josh Adams – 191 carries, 1,386 yards, 9 touchdowns
Passing
LSU: Danny Etling: 242 attempts, 146 completions, 60 percent, 2,234 yards, 14 touchdowns, 2 interceptions
Notre Dame: Brandon Wimbush: 267 attempts, 133 completions, 50 percent, 1,818 yards, 16 touchdowns, 6 interceptions
Receiving
LSU: DJ Chark: 35 catches, 811 yards, 3 touchdowns
Notre Dame: Equanimeous St. Brown: 31 catches, 468 yards, 1 touchdown
Tackles
LSU: Devin White – 127
Notre Dame: Te'Von Coney – 99
Tackles-for-loss
LSU: Devin White – 12½
Notre Dame: Te'Von Coney – 13
Sacks
LSU: Greg Gilmore – 6½
Notre Dame: Jerry Tillery – 4
Quarterback-hurries
LSU: Arden Key – 8 (injured – will not play)
Notre Dame: Jerry Tillery – 10
Interceptions
LSU: Greedy Williams – 5
Notre Dame: Julian Love – 3
Pass breakups
LSU: Donte Jackson, Kevin Toliver, Greedy Williams – 10
Notre Dame: Julian Love – 17
Return yardage
LSU: Clyde Edwards-Helaire – 11 kickoff returns, 233 yards
Notre Dame: C.J. Sanders – 28 kickoff returns, 633 yards
Punting
LSU: Zach Von Rosenberg – 33 punts, 43.3-yard average
Notre Dame: Tyler Newsome – 59 punts, 43.5-yard average
Kick-scoring
LSU: Connor Culp – 11-of-15 on field goals, 20-of-23 on extra points
Notre Dame: Justin Yoon – 12-of-16 on field goals, 54-of-54 on extra points